(Clearwisdom.net) On September 23, 2005, police from Daqing City arrested several Dafa practitioners and took them to Daqing Detention Center. Most of them are on hunger strike. At least eight have stopped eating for over 2 weeks. The guards force-feed them daily. Their situation is dire and requires immediate attention.
(Clearwisdom.net) Mr. Sun Lianying is from Jingxian County, Hebei Province. During the several past years, because his family members are all unwavering Falun Dafa practitioners, officials have fined his family over 80,000 yuan, which is about 10 years' salary for an average Chinese worker. Mr. Sun was detained three times and sent to a forced labor camp for a three-year term. His sister, Ms. Sun Lianping, was sent to a forced labor camp for a two-year term. His third brother, Lianjun, was sentenced to three and a half years in prison. His second brother, Lianfeng, was forced to become homeless to avoid the persecution, leaving behind two teenaged children to fend for themselves. Under pressure from Jiang Zemin's regime and the CCP (Chinese Communist Party), Mr. Sun's father, Sun Shutian, and mother, Tang Shufen, also suffered from the persecution. Among other insults, their home was ransacked, they were fined illegally, they were verbally abused, and they were forced to lie on TV.
(Clearwisdom.net) Mr. Wang Jinian, 34 years old, was born in Songjianghe Town, Fusong County in Baishan City, Jilin Province. He worked in Changchun City. Before he practiced Falun Gong, he suffered from muscular weakness (myasthenia), had no strength in his body and walked slowly. He recovered his health after he started practicing Falun Dafa. In 2001, a local policeman illegally arrested him. He was sent to the Chaoyanggou Labor Camp in Changchun City and was tortured for one year. In December, the camp authorities released him due to the extreme weakness of his body. Because of the severe torture, his condition worsened. He died in January 2002 about 20 days after he returned home.
~ Accounts of Persecution ~
~ Rallies & Protests ~
~ Parades & Other Community Events ~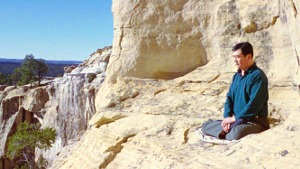 Master Li quietly watching the world from amidst the mountains after leaving New York following July 20th, 1999. (Published January 19, 2000)