Supplementary Information About the Death of Li Chunrong - Linghe Township Police in Lingyuan City Are Responsible (Photo)
(Clearwisdom.net) Ms. Li Chunrong was a worker at the Dahenan Farm Machinery Factory in Linghe Township in Lingyuan City, Liaoning Province. She had resided at the dormitories of the farm machinery factory. Ms. Li was persecuted because she practiced Falun Gong and died at age 48 due to the persecution. (Clearwisdom.net has previously reported her death)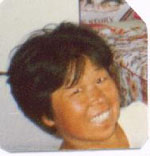 Li Chunrong (photo)
Before practicing Falun Gong, Li Chunrong suffered from high blood pressure and many other kinds of illnesses. In February 1995, she started to practice Falun Gong. After she began practicing, she became more responsible and committed towards her job. She became a more conscientious worker. Her work performance as a laboratory technician in the cast steel workshop was outstanding. Everyone who knew her acknowledged her as a good person. At home she was a virtuous wife and a caring mother. Furthermore, all the illnesses that she used to suffer from all went away.
After July 20, 1999, when Jiang's regime started to carry out the illegal persecution of Falun Gong, Li Chunrong was frequently harassed.
In July 2000, Zhou Chinghua, chief of the Linghe Township Police Station in Lingyuan City (now named Chengguan Township Police Station), political head Liu and policeman Du Jingan came to Li Chunrong's residence. They abducted her, ransacked and confiscated her property, seized the Falun Dafa books and sent her to the No. 2 Detention Center in Lingyuan City for two weeks. The police officers threatened to hurt her if she did not slander Falun Dafa and the founder of Falun Dafa. They forced her to curse at Falun Dafa or else she was not allowed to go home. Her son, who attended university, had come home for a break just three days before her arrest. She was mentally tormented, and physically abused. Three days after her husband brought her home, she suffered a brain hemorrhage and passed away.