The Situation of Zhang Haonan, Son of Late Falun Gong Practitioner Mr. Zhang Zhuo from Leshan City, Sichuan Province (Photo)
November 03, 2004 | By a Falun Gong Practitioner in Sichuan Province
(Clearwisdom.net)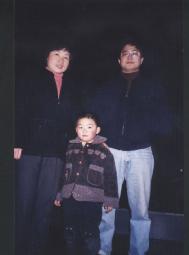 Zhang Haonan and his parents
Eight-year-old Zhang Haonan currently lives with his mother and grandmother. He is in third grade at the Leshan City Yucai Experimental Elementary School.
Zhang Haonan's address: Chuanxing Garden, 184# Jiazhou Avenue, Shizhong District, Leshan City, Sichuan Province; Postal code: 614000
Home phone number: 86-833-2430235 (Possibly monitored by the police)
After Haonan's father died from the persecution, the boy was entitled to a monthly allowance of 200 yuan from the Leshan City Agriculture Department. In addition to his mother's meager salary, this is all the income that his mother, maternal grandmother, and himself have to survive on. It is very difficult for them to make ends meet.
His mother, Ms. Yang Huiqiong, 35 years old, currently works in the business department of Hexin Stock Company Ltd. His grandmother, Ms. Gao Xianrong, is unemployed.
His father, Mr. Zhang Zhuo, was born in July 1969, and later graduated from the Beijing Agriculture University. He was an employee of the Leshan City Agriculture Department. On June 8, 2002, when he was just 32 years old, he died from maltreatment at the Zhanggongqiao Police Station in Shizhong District in Leshan City, Sichuan Province. In the winter of 1995, Zhang Zhuo began to practice Falun Dafa. Before July 20, 1999, he was the volunteer director of an assistance center for Falun Dafa practitioners, helping to coordinate practitioners to study the teachings of Falun Dafa, do the exercises, and share their experiences. After the persecution began, Zhang Zhuo was arrested when he was talking in a park in Leshan City with another practitioner, Li Shisong (currently detained in a forced labor camp). He died on the same day he was arrested. The police claimed the death was a suicide. However, there were many questionable parts to the story. His family members were not allowed to see his body until the third day after his death, and they saw that the body had been cleaned up. However, many wounds were evident on his body. Without the permission of his family, the police cremated his body.
For more information about the late Mr. Zhang Zhou, please see:
Dafa Practitioner Zhang Zhuo from Leshan City, Sichuan Province, Tortured to Death at the Zhanggongqiao Second Police Station in Leshan (Photo)
http://www.clearwisdom.net/emh/articles/2002/7/26/24537.html
Further Information on the Torture Death of Dafa Practitioner Mr. Zhang Zhuo from Leshan City, Sichuan Province