Switzerland: Anti-Torture Exhibition to Raise Awareness of the Persecution
November 29, 2004 | By a Swiss practitioner
(Clearwisdom.net) On November the 20th 2004, practitioners in Switzerland held an anti-torture exhibition in front of Glarus State Capitol in the mountainous area of southeastern Switzerland. They exposed the brutal persecution launched by the Jiang group in China and re-enacted the brutal methods used in attempts to force Falun Gong practitioners to give up their beliefs.
Practitioners explained the facts of Falun Gong to everyone they came across, stressing that not only did the Jiang group brutally persecute Falun Gong practitioners in China by utilizing various autocratic means, but they also extended the persecution to foreign countries creating terrorist incidents to oppress Falun Gong practitioners worldwide.
Swiss Falun Gong practitioners appealed to all the kind-hearted people around the world to help call on the Chinese Jiang group to immediately stop the suppression against Falun Gong and bring the primary culprits, Jiang Zemin, Luo Gan, Liu Jing and Zhou Yongkang to justice in a court of law.
Despite the snow, passers-by who learned about the facts signing the petition in support of Falun Gong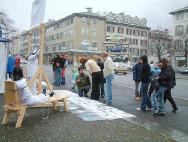 Despite the snow, Falun Gong practitioners hold anti-torture exhibition in front of the Glarus State Capitol.
Source: http://clearharmony.net/articles/200411/23371.html