Family Tragedy: A Little Girl Longs for Her Mother, Luo Zhixiang, Who Died as a Result of Persecution (Photos)
October 04, 2004 | Compiled by Huang Guohua, Luo Zhixiang's husband
(Clearwisdom.net)
Reference:
http://www.clearwisdom.net/emh/articles/2004/8/1/50913.html
Name: Huang Ying
Nickname: Happy
Gender: female
Birth date: May 18, 2001
Address: No. 12 Xincun, Rujiazhuang Village, Wujing Town, Linqu, Shandong Province
Zip code: 262603
Telephone: (86£©536-3614469) please call in the evening
| | | | | |
| --- | --- | --- | --- | --- |
| Huang Ying in early July 2004 | | Huang Ying in early July 2004 | | Huang Ying kissing the picture of her mother saying, "I miss mommy." |
Huang Ying's Life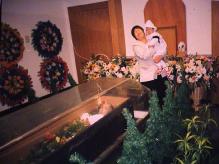 Three months after Huang Ying's birth in August 2001, she was forced to separate from her mother who was steadfast in practicing Falun Dafa and clarifying the truth about the persecution daily. Her grandmother took her back to their hometown in Shandong Province. That was the last time she saw her mother alive. On December 5, 2002, when she was one-and-a-half years old, little Huang Ying saw her mother's body. Her father was then in a labor camp and didn't know his wife had died.
Huang Ying didn't know what I, her father, looked like. Even now Huang Ying still cannot live with her parent. Recently, agents from the Tianhe District "610 Office" in Guangzhou City were looking for me. I went into exile. Huang Ying stayed with me for only three months, from February to May 2004. Right now she lives with her grandparents in a dilapidated house made of sun-dried mud bricks (adobe bricks). Her grandparents have no source of income and cannot afford to send her to a kindergarten. She often asks for me. She has never told her maternal grandmother about the death of her mother. Her grandmother's family keeps it a secret from her other grandmother because she is in poor health and they don't want to shock her.
Grandmother asks Huang Ying, "Where is your mommy?"
Huang Ying, "She is working in Guangzhou City."
When her maternal grandmother is not around and if someone asks Huang Ying, "Where is Mommy?"
Huang Ying, "The bad people killed Mommy!"
"Why don't you tell your grandma?"
"She will cry and cry!"
When Huang Ying saw her mother's picture in a truth clarification pamphlet called "A Guangzhou City Story" in the living room of a fellow practitioner she said, "That's Mommy." She acted as if nothing had happened and went out and played. We thought she wasn't feeling hurt because she was too young, but we were wrong! When we left the room, she picked up the pamphlet and looked at her mother's picture and cried. Looking at her, we all cried. She is so considerate, although she is so young! She didn't want to upset her grandmother and she didn't want us to worry about her. I thank my wife for giving me such happiness when we were together and I thank Master Li for giving me such a wonderful young practitioner for a daughter. I will try my best to have my daughter to live with me so I can take good care of her. I will not let Master down.
When I am with my daughter and I ask her, "Happy, do you want me to take you see Master?" "Good!" "What do you do when you see Master?" "Greetings, Master!" "What else?" She immediately made the heshi gesture (1).
Happy loves the Falun emblem and the lotus flower, and she can see both sides of Falun and Falun spinning. She often saw Master and her mother visiting her. No one had told her Falun is turning.
Huang Ying's Parents
Dafa practitioner Luo Zhixiang tortured to death by perpetrators from Tianhe District "610 Office"
Mother
Name: Luo Zhixiang
Age: 29
Date of death: December 4, 2002
Profession: architectural designer
Work unit: Design Office at the Nongken Construction Industry Corporation in Guangdong Province
Father
Name: Huang Guohua
Age: 32
Hometown: Rujiazhuang Village, Wujing Town, Linqu County, Shandong Province
Luo Zhixiang began practicing Falun Gong in 1997.
For more details on the persecution against Ms. Luo, please refer to torture death case No. 540 at Minghui Data Center, or Minghui Library on September 16, 2004 and to the attachment "Detailed Process of the Torture Death of Luo Zhixiang."
| | |
| --- | --- |
| Luo Zhixiang and Huang Guohua's wedding photo | |
Persecution details: On October 30, 1999 Luo Zhixiang went to Beijing to appeal for Falun Dafa and was sent back. She was detained for 20 days and fined 3,000 Yuan (2).
On June 13, 2000 she went to Beijing again to appeal and was beaten and detained for one day at the Tiananmen Square Police Station. On October 29, 2000 and November 20, 2002, Ms. Luo was sent twice to Division 2 of No. 1 Forced Labor Camp in Chini Town, Huadu District, Guangzhou City by perpetrators from the Baiyun District and Haizhu District, Guangzhou City, during which time the guards cruelly beat and force-fed her. They tortured her with a method called the "Dead Person's Bed." They shackled her and mentally tortured her.
Huang Guohua: In July 2004, the World Organization to Investigate the Persecution of Falun Gong investigated the Tianhe District's "610 Office" and people from the Tianhe District "610 Office" and the Xinghua Street "610 Office." These agencies in the Tianhe District searched for me, trying to persecute me. I went into exile. Right now I am applying for UN refugee status in Thailand, hoping to reach the USA as soon as possible in order to file a lawsuit against the perpetrators, including Jiang and those people personally responsible for my wife's death, in order to uphold justice. I wanted to take my daughter with me but the Nongken Construction Industry Corporation under which my daughter's identification was registered refused to acknowledge her ID. The Xinghua Street Police Department placed my daughter's identification under this company as part of a group. As a result, I could not obtain a copy of the group ID, so I could not apply for a passport for my daughter. I made the difficult choice to leave on my own.
Huang Ying and Her Current Caregivers
| | | |
| --- | --- | --- |
| When Huang Ying was 50 days old, I (her father) was sent to a forced labor camp, and her grandmother was taking care of her mother. Huang Ying and her grandmother are shown in this picture | | Grandfather and Huang Ying |
Huang Ying is currently in the care of my father, Huang Tianqing and my mother, He Guangrong. They live in a destitute village in Linqu County, Shandong Province. They don't have any source of income and live in a house made of adobe brick that is about to collapse.
| | |
| --- | --- |
| A corner of the house | Leaking roof. There is a crack approximately 1 cm (a little less than half an inch) wide on the roof |
Witness of Luo Zhixiang's death: Luo Zhifen, sister of Luo Zhixiang
Address: No. 8 Shangpu, Building 6, Longquanxin Village, West Renmin West Road, Zhuhai City
Zip code: 519071
Telephone: 86-756-6102208
By Huang Guohua
September 16, 2004
Notes
(1) The heshi gesture, a sign of respect, is made by pressing the palms together in front of one's chest, fingers pointing up.
(2) Yuan is the unit of currency in China; 500 is equal to the average monthly income of an urban worker in China.