Australia: Sydney Falun Gong Practitioners Hold Large-Scale Activities to Expose the Persecution (Photos)
(Clearwisdom.net) July 22nd report: At 4:00 a.m. on July 20, 2003, more than 180 Falun Gong practitioners wearing white came to a harbor in downtown Sydney. They lined up neatly and solemnly sat on the lawn. A white handmade lotus flower was placed in front of each practitioner, and candlelight flickered in each lotus flower. Every practitioner peacefully appealed in their hearts for the end to the Jiang regime's brutal persecution of Falun Gong, and memorialized those Falun Gong practitioners who have lost their precious lives in upholding their beliefs. They also called for the rescue of those practitioners who are suffering brutal persecution and family members of Australian practitioners being implicated by the Jiang regime.
At noon, Falun Gong practitioners, representatives from different circles and supporters of Falun Gong arrived at Town Hall Square in downtown to hold a rally. The rally was hosted by Mr. Stephen Sim, host of 2NSB, one of the largest community radio stations in Sydney. Speakers included representative of the World Organization to Investigate the Persecution of Falun Gong Dr. Liu Songfa, Chinese Labor Party Chairman Mr. Fang Yuan, Director of Democratic Chinese Front Headquarters Mr. Qin Jin, Democrat Party MP of the Upper House in Sydney the Hon. Dr. Arthur Chesterfield-Evans, and Falun Gong spokespersons Mr. John Dellar and Mr. Richard Chen.
They expressed a common wish in their speeches: They hoped that the Australian government would convey to the Chinese government the concern for human rights in China and the four-year persecution of Falun Gong. They also hoped that the Australia-China dialogue would have a breakthrough. Mr. John Dellar also informed the Australian community about the lawsuits against Jiang in the courts of several countries on the charge of genocide.
After the speeches, Western Falun Gong practitioners performed songs that they composed, attracting many passersby to stop and watch. The audience later watched a mock trial of dictator Jiang. They accepted Dafa truth-clarifying literature to gain more understanding of the tribunal.
A Chicago businessman came to the square and said that he had learned about the lawsuit against Jiang in Chicago. He was concerned about the persecution in China. He also hoped big companies that invest mainly in China could do something. The practitioners told him that the World Organization to Investigate the Persecution of Falun Gong expressed in its report that the Jiang regime used one quarter of China's national resources to persecute Falun Gong, and the capital sources included Western countries' investment. He said that it was not easy to do business with China, and he showed great interest in learning more about the situation.
When practitioners collected signatures for rescuing family members on the square, several young tourists from Ireland asked, "Will such signature collection be effective?" When the practitioners asked them if they had learned about Falun Gong practitioner Zhao Ming in Ireland, they excitedly said, "Yes, Yes." They had participated the rescue of Zhao Ming at that time. They understood and immediately signed their names, and expressed that they would be very much pleased to help rescue Falun Gong practitioners once again.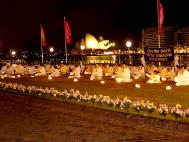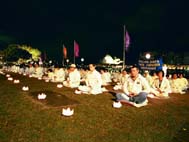 At night, Dafa practitioners held a candlelight vigil in front of the Chinese Consulate and continuously sent righteous thoughts.