Hate Propaganda, Psychological Control and Societal Discrimination - Plaintiffs and Witnesses Discuss the Consequences of Les Presses Chinoises's Slander
December 01, 2003 | By Dong Na from Ottawa, Canada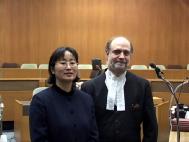 One of the plaintiffs and witnesses, Ms. Lucy Zhou (left)
(Clearwisdom.net) Through close contact with these plaintiffs, I felt that the damage done by Les Presses Chinoises's slander of Falun Gong is not personally aimed at just the plaintiffs. In the past four years, Jiang and his regime have given the order to persecute Falun Dafa practitioners, specifically as, "ruin their reputations, bankrupting them financially, and destroying them physically," but why did Jiang put "ruin their reputations" as the first and foremost item of the order?
The Jewish survivors of the Nazi's genocide are reportedly awakened often by nightmares of events that occurred over fifty years ago. Psychological trauma can last one's entire lifetime, while physical wounds are relatively easier to recover from.
Regarding the incident of Les Presses Chinoises's slanderous articles, exactly what kind of damage has the persecution of those who believe in Truthfulness, Compassion and Tolerance done to the Chinese community in Canada, or to people all over the world? Let us hear some personal accounts from our plaintiffs and witnesses.
The Struggle Between One's Conscience and Economic Reality
Alice used to work for the Chinese government-controlled media before immigrating to Canada. The persecution of Falun Dafa began soon after she had begun cultivating. Alice said, "Once the persecution began, all government-controlled media, including international broadcasting from China, received orders from the highest level to completely propagandize the criticism of Falun Dafa. I clearly understand that Falun Dafa teaches people how to be good people, and personally, I really benefited from it. This propaganda consists of nothing more than groundless fabrications. Our upper level management distributed this slanderous propaganda to us on a daily basis, as our work assignment. If we did not follow the orders, we would lose our jobs; but if we followed these orders, we would have to betray our conscience by lying to the general public. Each day I struggled between my conscience and economic reality. I often had nightmares in which assassins were chasing me. I was determined not to sell out my conscience or speak against my heart, so I applied for a job transfer to another program and prepared to escape the country altogether, as well."
"Upon arrival in Canada," Alice added, "I felt like a bird that had just escaped its cage. I finally escaped those miserable days because Canada respects human rights and the freedom of belief. Practicing Falun Dafa is not only legal, but it's also supported by the government and the people."
"When I read the slanderous articles in Les Presses Chinoises, I was again reminded of that unforgettable pain..." Alice said.
Hostile Glares from My Loving Mother
A Chinese lady who is over sixty years old said, "My mother is over ninety years old. She used to believe in Buddhism, and is a very kind and peaceful person. Prior to the persecution, she would sit behind me and meditate as I did the Falun Dafa exercises. She also read Master Li's book, and liked it very much. After the persecution began, she listened to the slander on the radio and watched it on TV every day. Her attitude toward me totally changed. I am her only daughter, and she has loved and understood me ever since I was a baby, but to my surprise, she believed the lies about the so-called í suicides' and í self-immolation' that were fabricated by the Chinese media. Now she glares at me with hostility."
A Customer is Alienated
Mary, a Falun Dafa practitioner and advertising saleswoman for a Chinese media outlet in Ottawa, told this journalist her personal account. "There was a local dentist who liked our newspaper and had decided to sign a one year advertising contract with us. A few hours before she was to sign the contract, however, she called to cancel, saying that she had changed her mind."
"I then offered her a price break, but her decision was final. When I inquired of the reason, she asked, "Is your newspaper posting articles that favor Falun Gong? I do not want to be involved with anything related to Falun Gong." Mary said, "I had finally learned that the real reason for her refusal to advertise with us was because our media often posted articles supporting Falun Gong. I had encountered situations like this far too many times in China after the 1999 crackdown."
Mary also commented, "Out of ignorance, so many people are hostile to the basic virtues of human life, simply because of some evil slander by a jealous scoundrel. Even in a western culture like that of Canada's, the slander disseminated by Les Presses Chinoises is furthering the persecution in China from overseas.
Discrimination Against Falun Gong in Ontario, Canada
One Falun Dafa practitioner was kicked out of a store by a security guard because he wore a T-shirt that read "Truthfulness, Compassion and Tolerance." Another female Falun Dafa practitioner was fired by her employer because her faith. After the slanderous articles were published by Les Presses Chinoises, Ms. Huang, in her 70's, from Ottawa was deprived of her membership in a Chinese senior association in Ottawa, because she practiced Falun. Ms. Huang said, "Recently, I was applying to the Chinese Embassy for a certificate that proves that I am still alive according to the standard legal procedures, but the officials gave me a hard time and even threatened me."
Who Was Really Behind the Les Presses Chinoises Petition?
One of the plaintiffs, Lucy Zhou, testified in court that after the slanderous articles were posted in Les Presses Chinoises, there was a movement to collect signatures in the Chinese community opposing Falun Gong. "At one of the Chinese gatherings, I saw a twelve paged petition laying on a table near where about twenty people were each holding a copy of the Chinese language newspaper, Les Presses Chinoises."
Lucy was clarifying the truth to these people, when someone shouted, "Falun Dafa breaks up families..." so Lucy tried to further clarify the truth. Some of the people overcame their misunderstandings and one of them quietly told her, "I know that what you say is the truth, but don't speak about Falun Gong here because people from the Chinese Embassy are present."
Stories of Two Children
Patrick, Lucy's seven-year-old son, used to be proud that his parents practiced Falun Gong, and often demonstrated the exercises to his teachers and friends. "But he is unwilling to even mention Falun Gong to anyone now," added Lucy.
One summer day when Patrick had returned home from the Chinese school, he asked his mother, "Why do people say that Falun Gong practitioners are stupid and bad?" Lucy asked him where he had heard this comment, and he replied, "My friends said that after they saw Daddy wearing his yellow Falun Gong T-shirt."
Lucy testified to the court, "It took my son several months to work up enough courage to tell me this."
Another incident happened to a girl about the same age as Patrick. Falun Dafa practitioner Li Sun recalled, "I sent my son to the Chinese school wearing my yellow T-shirt on which Truthfulness, Compassion, and Tolerance was printed. One young girl hid her face in terror upon seeing my T-shirt."
Lucy testified to the court, "It is unbelievable that people are spreading such hatred that it is influencing our children's hearts."
Falun Dafa practitioner Dai Gongyu said, "In fact, many people either directly or indirectly know that Falun Gong is enduring unprecedented persecution, but due to the hate propaganda, people have become so desensitized and cold in the face of such cruel persecution. Hardly any of them are trying to understand the truth of what has been going on around them. Some people, in their ignorance, believe the propaganda. On the other hand, other people have been questioning the persecuted practitioners in order to discover the truth. Some people join in the persecution and reject the practitioners in fear that they themselves might become inconvenienced by the persecution of fellow countrymen. While those who may still have a conscience would never personally harm practitioners, they still choose to idly watch as comfortably distant bystanders, knowing that innocent people are being tortured."