Students of the Xinying National Elementary School in Tainan County, Taiwan Demonstrate Falun Gong Exercises at the Graduation Ceremony (Photos)
(Clearwisdom.net) On June 18, 2002, the Xinying National Elementary School in Tainan County held its 57th Graduation Ceremony. The ceremony hall was full of graduates, their parents, representatives of students at school, and the invited honored guests including principals of the national middle schools and elementary schools in the Xinying area and officials from the County Department of Education. Over 800 people attended the ceremony.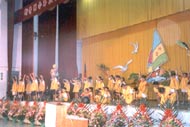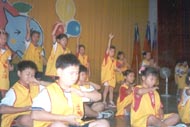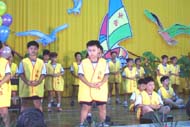 In the program of the ceremony, the school arranged that students from each grade would give one performance to warmly send off the graduates. Students of the third grade performed the Falun Gong exercises. The teachers of the third grade classes picked 36 students from the volunteers to perform the exercises. Their exercise demonstration gained the warmest applause.
The director of the school picked the photos of the exercise demonstration and posted them on the school's Internet homepage, which evidently showed how Dafa is recognized and welcomed.