French President Wishes Falun Gong Practitioners Happiness and Peace in the New Year
(Clearwisdom.net) At the beginning of 2002, the Chairman and Vice Chairman of the French Falun Dafa Association sent a New-Year greeting card to French President Jacques Chirac in the name of all Falun Dafa practitioners from France and expressed their kind wishes that "Truthfulness, Compassion, Forbearance" could bring an incomparably good future to him. The president replied personally soon after.
Jacques CHIRAC
French President
Your kind message for the New Year touched me deeply.
I thank you warm-heartedly. Please accept the most sincere wishes that I would like to convey to you, and all of you for a year of happiness and peace.
Signature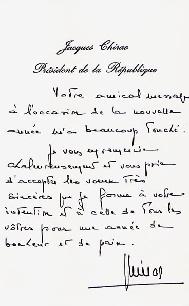 President's reply letter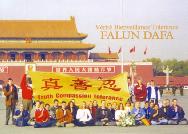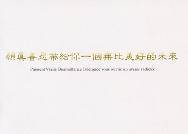 The greeting card that the practitioners sent to the president