Hong Kong Practitioners Hold Press Conference in New York; Urge UN to Pay Attention to the Sedition Laws (Photos)
(Clearwisdom.net) On the afternoon of October 29, 2002, three Falun Dafa practitioners from Hong Kong and practitioners in the greater New York Area held a press conference on the square in front of the UN. They prepared an appeal letter to UN Secretary Mr. Annan and called on all kindhearted people in the world to pay attention to a Hong Kong issue -- that under pressure from the Mainland regime, the Hong King government plans to enact Article 23 of the Basic Law and break the promise of "one country, two systems."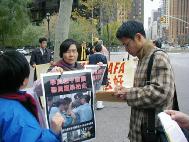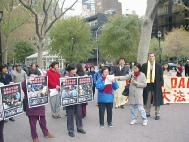 At the press conference, a New York practitioner told the story of how on March 14, Hong Kong police forcibly arrested Hong Kong and Swiss Falun Dafa practitioners while they were peacefully appealing in front of the Chinese Liaison Office and brought accusations against the practitioners, charging them with assaulting the police and obstructing the street.
Hong Kong Falun Gong practitioner Ms. Lau Yuk-ling told of her experience since March 14th , and the Hong Kong government's increasing restrictions on Falun Gong activities over the last two years.
Ms. Lau said, "The Hong Kong government violates the Basic Law. Falun Gong is a legally registered group but is discriminated against. Since last July, we have applied over 70 times to rent a site to hold a Fa conference but all of our applications have been rejected. Over 130 overseas practitioners came to Hong Kong to attend activities but were denied entry to Hong Kong. What's worse, an overseas practitioner was carried to the plane in a hemp bag. Australian artist and Falun Gong practitioner Ms. Zhang Cuiying planned an art exhibition in Hong Kong, but she was not allowed to enter. The Basic Law stipulates that a small gathering of less than 50 people doesn't need to apply for a permit. There were only 16 practitioners who participated in the peaceful appeal, and they only occupied seven square meters of a 140 square meter area. But the police mobilized a large contingent and forcibly carried us to a police van, and filed false charges of 'blocking the street' and 'attacking the police' against us. Even the judge was clearly biased, taking the side of the police for the sake of his personal fame and profits."
Ms. Lau then read a letter of appeal to UN Secretary Mr. Kofi Annan. The letter said, "Recently, under Jiang's pressure, some leaders in the Hong Kong government have proposed sweeping legislation of Article 23 of the Basic Law on subversion and secession of the country. If their plot succeeds, Falun Gong would be banned in Hong Kong as it is in Mainland China. Moreover, other religious and democratic groups would also be subjected to suppression. Hong Kong's freedoms, democracy and rule of law would be ruined by Jiang. There would be no difference between the Mainland and Hong Kong, and "one country, two systems" would completely disappear. The issue is currently "under consultation," and people from all walks of life are greatly alarmed. "
After the press conference, accompanied by New York practitioners, Hong Kong practitioners managed to deliver the appeal letter to the Secretariat of the UN.
Radio Free Asia and the World Journal came to the press conference and conducted interviews.