Falun Dafa Practitioners at Los Angeles Arts Open House (Photos)
October 21, 2002 | By Dafa Practitioners in Los Angeles, USA
(Clearwisdom.net) On October 5, 2002, Los Angeles County Arts Commission sponsored a Los Angeles Arts Open House with the support of the City of Los Angeles Cultural Affairs Department as one of celebrations of the California Arts Festival. About 28 communities held a variety of art performances simultaneously and all were open to the public for free.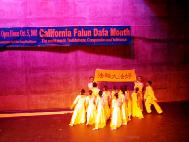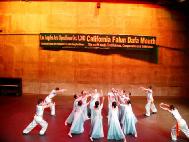 Los Angeles Falun Dafa practitioners voluntarily participated in this activity. On the afternoon of October 5, from 3:30 p.m. to 4:30 p.m., the practitioners put on a one-hour program at the downtown theatre in Los Angeles. The performances included traditional Chinese costumes show, sword dance, songs and exercise demonstration. The last program was group dance named "Journey of Returning." It depicted the experience of Dafa practitioners obtaining Dafa and beginning their cultivation, experiencing tribulations and ultimately returning to their original, true self after the Fa-rectification is completed.
In addition, area practitioners will celebrate October as the first "California Falun Dafa Month" in a variety of forms. This activity was a prelude, and many other celebration activities will follow, including free instruction of the exercises in libraries and parks, and art performances and exercises demonstration outside the city hall on October 16, 2002.