UK: Practitioners Gather in Manchester to Hold Candlelight Vigil to Memorialize Fellow Practitioners Killed by Jiang's Regime
In only 4 weeks 20 Falun Gong practitioners were tortured to death in China. The inhuman killing shocked practitioners and kindhearted people around the world. On the evening of January 12, about 30 practitioners from the middle and western areas of U.K. gathered in front of the Chinese Consulate General in Manchester to hold a candlelight vigil and send forth righteous thoughts to eliminate all evils.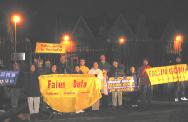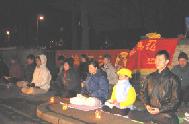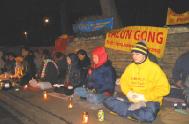 Meanwhile, memorial activities were held in London, Edinburgh and other areas and were continued until Sunday night. Some practitioners drove two hours to join practitioners around the world to support fellow practitioners persecuted in China and to end the new round of killing of practitioners who believe in "Truth-Compassion-Tolerance."