Elementary School Students Expelled from School for Speaking the Truth
April 15, 2001 | Practitioner in China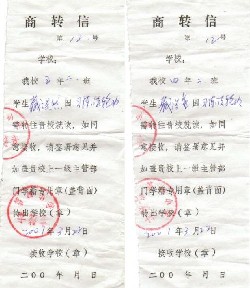 The reference letters from the principal, indicating that Zang Haoran and Zang Haotong need to transfer from their school because of their practicing Falun Gong.
Fourteen year-old Zang Haoran is a Dafa practitioner from Shuangcheng City, Helongjiang province. He is a fifth grade class 2 student of the 4th elementary school. In March 2001, all the middle schools and elementary schools in Shuangcheng City required students to write an essay criticizing and attacking Falun Gong. In order to prove Dafa's innocence, however, Zang Haoran wrote an essay entitled "Falun Dafa is the Orthodox Fa." Upon reading this, the principal and teachers threatened him, saying, "If you don't denounce Falun Dafa and your Master, and if you insist on practicing Falun Gong, you will be expelled from school!" Despite this, Haoran firmly continued to practice Falun Gong, even under enormous pressure. The principal did not dare to openly dismiss Haoran for practicing; however, in order to keep his post, he forced Haoran to transfer schools. Haoran would not be allowed to go to school if he did not transfer. Afterwards, the principal lied to his students, saying that Haoran had to change schools because he was picking fights. Haoran, however, was a good student who never fought or quarreled with others.
Haoran's younger brother, Zang Haotong, is also a Dafa practitioner. Like Haoran, he was illegally expelled from school for not renouncing his belief in Falun Dafa. They initially went to the same school, but now they are staying at home.
The phone number of 4th elementary school in Shuangcheng city: 86-451-3122440
Attachment: the following is the original essay that Zang Haoran wrote entitled "Falun Dafa is the Orthodox Fa."
---
March 8th, 2001
Falun Dafa is the Orthodox Fa
Teachers: Falun Dafa is the Orthodox Fa and it is not like what you have thought it to be. It teaches us to be good people and conduct ourselves according to the universal principles of "Truthfulness, Compassion, Forbearance" in our daily life. We are good students at school and good children at home. If you do not know the truth about Falun Dafa, it is not your fault, as I have not done my job well. I urge the principal and teachers to get to know about Falun Gong. Please consider my words carefully. All human beings are kind in nature. Please show your kind nature so as to position yourselves. The government has banned Falun Gong because they do not know the truth. If they knew the truth they would lift the ban. You also want me to be a good student. These are words from my heart. Therefore, I must continue to practice Falun Gong.
Your student,
Zang Haoran
Provided by Practitioner in China
Mar 26, 2001