Letter of Support from France's Deputy to the Foreign Minister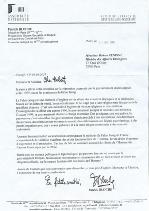 National Assembly
French Republic
Freedom - Equality - Fraternity
Patrick BLOCHE
Deputy of Paris (11th - 12th)
President of the Socialist and Radical Left Group
at the Council of Paris Councillor delegated to the 11th riding
Paris, the 20th of September 2001
Mr. Hubert VEDRINE
Minister of Foreign Affairs

Mr. Minister, Dear Hubert,
I would like to bring your attention to the repression, organized by the Chinese government since July 1999, against the practitioners of Falun Gong.
Falun Gong is a method of clean living integrating physical exercises and meditation based on the ideas of truth, goodness and tolerance. It is not a religion but makes up a part of the Chinese tradition. It is a method of clean living that is neither religious nor political. Developing since the beginning of the 1990s, the government accepted and recognized its existence. In 1999, the Chinese government changed its attitude. Practitioners were arrested, and the persecution intensified. The Chinese government continues with arrests, detentions, tortures, re-education through labour camps, confinement in psychiatric hospitals, show trials with "public witnesses" and the death of people after mistreatment.
Amnesty International and the associations representing the Falun Gong practice in France are concerned about the outright violation of fundamental Human rights, and of their rights of opinion, expression and association. This state of affairs is contrary to the United Nations treaty on Human rights, signed by China.
What are the political and diplomatic means that can be put to work by the French government, by the European and UN governing bodies, to the effect of making the point of view of the Chinese leaders evolve, on the respect of fundamental Human rights?
Rest assured of the interest that you will have in this process, I sincerely wish you the expression of my highest regards.
In loyal friendship,
Patrick BLOCHE