U.S. House of Representatives Passes Bipartisan Bill Against Forced Organ Harvesting in China
(Minghui.org) The U.S. House of Representatives passed a bipartisan bill (413 to 2) on March 27, 2023 to oppose the state-sanctioned forced organ harvesting in China. Known as H.R.1154 - Stop Forced Organ Harvesting Act of 2023, this is the first bill that was passed with a bipartisan majority to hold the Chinese Communist Party (CCP) accountable for such a crime.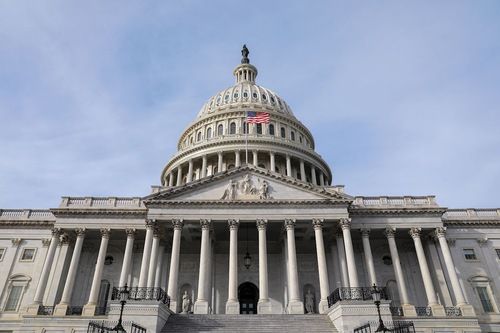 U.S. Capitol Hill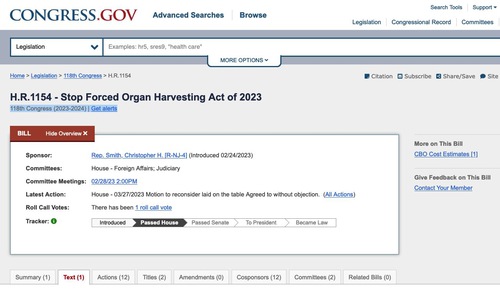 H.R.1154 - Stop Forced Organ Harvesting Act of 2023 was passed on March 27.
Up to 20 Years of Imprisonment
Full text of the act is available at: https://www.congress.gov/bill/118th-congress/house-bill/1154/text
The Act's summary states:
This bill imposes sanctions on persons (individuals and entities) involved in forced organ trafficking and authorizes the Department of State to revoke the passports of individuals convicted of certain crimes related to organ trafficking.
Specifically, the President must report to Congress a list of persons that facilitate (1) forced organ harvesting, or (2) trafficking in persons for organ harvesting. For each person on the list, the President must impose property- and visa-blocking sanctions.
Furthermore, the State Department may deny or revoke the passport of an individual who has been convicted of a federal crime of knowingly transferring any human organ for valuable consideration for use in human transplantation, if the individual (1) is subject to imprisonment or supervised release resulting from that conviction, and (2) used a passport or crossed an international border when committing that crime.
In addition, the Act imposes against such crimes: 1) civil penalties including a fine of up to $250,000, and 2) criminal penalties including a fine of up to $1 million and imprisonment for not more than 20 years for such crimes.
This legislation was authored by House Representative Chris Smith (Republican), co-chair of the Congressional-Executive Commission on China. "These crimes against humanity are unimaginable," he remarked.
"Ethnic groups targeted for mass harvesting include Uyghurs—who suffer from Xi Jinping's ongoing genocide—and the Falun Gong, whose peaceful meditation and exercise practices—and exceptional good health—make their organs highly desirable," Smith explained.
Tom Cotton, republican senator, and Chris Coons, democratic senator, have initiated a Senate version of the legislation along with over ten other senators.
"One of the Most Evil Activities on This Planet Today"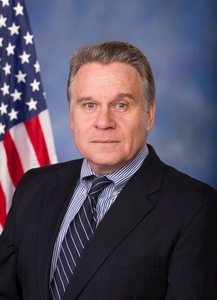 Chris Smith is a member of the U.S. House of Representatives from New Jersey's 4th district.
Smith has chaired over 85 congressional hearings and markups on China's human rights abuses, including a hearing last year that helped expose the Chinese regime's forced organ harvesting of prisoners while they are still alive.
"Nowhere is the principle of utter disregard for the dignity of the human person, and of using people as a utilitarian means to an end, more apparent than in the horrific practice of harvesting the organs of human beings, even before they meet the standard of brain death," Smith said at the time.
He called on the U.S. Congress to pass a legislation against the atrocity. Speaking of Falun Gong practitioners who were persecuted for their faith, Smith said, "We admire their courage and commitment in the face of such oppression."
The first hearing was held in Congress on September 12, 2012, titled "Organ Harvesting of Religious and Political Dissidents by the Chinese Communist Party." Dana Rohrabacher, chair of the Committee on Foreign Affairs who hosted the meeting, said that forced organ harvesting "is probably one of the most evil activities on this planet today."
"This is a crime against humanity. We should do our best to identify those specific individuals who are engaged in this and put them on the list of people to observe to be brought to justice," he added. "And specifically, that does not exclude Americans who are willing accomplices to this crime against humanity."
Then-Congress members Chris Smith, Nancy Pelosi, Frank Wolf, and others attended the hearing. At that time, two Chinese doctors, Zhou Weizhang and Qian Xiaojiang, testified. They said the victims could be killed directly for their organs.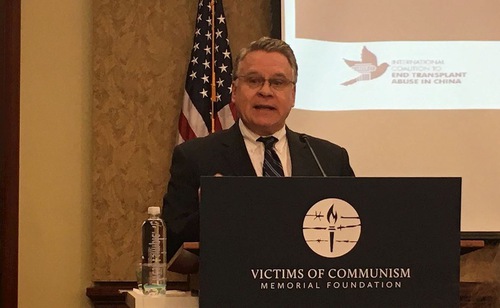 Smith condemned forced organ harvesting by the CCP in March 2020.
During the policy forum, titled "Organ Procurement and Extrajudicial Killing in China," held at the U.S. Capitol on March 10, 2020, Smith condemned the CCP for its forced organ harvesting from prisoners of conscience. He and other Congress members called on the United States and other governments, medical institutions, and human rights organizations to launch comprehensive investigations and actions to end the crime of forced organ harvesting in China.
He said the CCP's appalling Nazi-style behavior is mainstream in China. Dissidents and those who the Party does not like, such as Falun Gong practitioners and Uyghurs, are targeted for their organs. It was shocking that detained Falun Gong practitioners would escape such killings only by having a poor health.
The China Tribunal established by the International Coalition to End Transplant Abuse in China (ETAC) made a ruling in June 2019. In the final judgment, British lawyer Sir Geoffrey Nice spoke of this crime by the CCP. "Forced organ harvesting has been committed for years throughout China on a significant scale and Falun Gong practitioners have been one - and probably the main - source of organ supply," he wrote in the judgment.
Canada passed Bill S-223 into law on December 14, 2022, to create new offenses in relation to trafficking in human organs. It also amends the Immigration and Refugee Protection Act to provide that a permanent resident or foreign national is inadmissible to Canada if they commit the crime of human organ trafficking. Similarly, Israel, Taiwan, Italy, and Spain have also banned organ tourism.
Testimony from Victim's Daughter
Han Yu, a resident of New York, was interviewed on the Rick Jensen talk show on December 13, 2022, about her father, Mr. Han Junqing, who was a Falun Gong practitioner in Doudian Town in the Fangshan District of Beijing. Mr. Han was arrested in February 2004 for upholding his faith and died three months later, on May 4. Hundreds of police officers were dispatched to cremate his body without his family's consent in an attempt to cover up the crime of forced organ harvesting.
"When I saw my father's body, I could not believe it was real—he was emaciated and covered with bruises. One large area of skin was missing from his face and he had many injuries," his daughter recalled.
Jensen, a winner of the Philadelphia Region Society of Professional Journalists award for Best Talk Show, has been exposing the CCP's brutality over the past 20-plus years, including the crime of forced organ harvesting.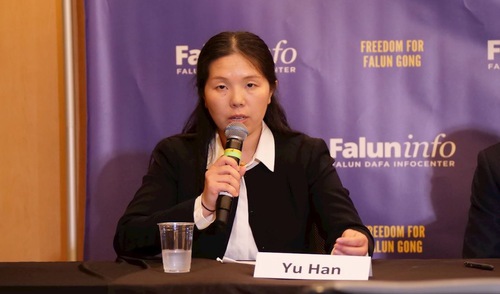 Han Yu spoke at the second annual International Religious Freedom (IRF) Summit.
Han Yu also testified at the second annual International Religious Freedom Summit about her father. Mr. Han had heart disease, high blood pressure, and blisters on both legs. These conditions were cured without medical treatment after he began to practice Falun Gong. He also stopped smoking and eliminated his bad temper.
Ms. Han recalled what she saw after her father died in 2004: "I saw his body before it was cremated. He was terribly thin and bruised all over. There was an incision extending from this throat all the way down to his abdomen. The incision was sewed up with black thread. We pressed his abdomen and could feel a hard block of ice beneath his skin."
Two years later (in 2006), forced organ harvesting by the CCP was exposed to the international community. It was not until then that Mr. Han's family realized that his organs had very likely been harvested.
All content published on this website is copyrighted by Minghui.org. Minghui will produce compilations of its online content regularly and on special occasions.