Canada: People Learn about Falun Dafa at Toronto National Home Show
(Minghui.org) The 10-day National Home Show was held at the Enercare Centre in Toronto from March 10 to 19, 2023. Over 500 vendors participated in the largest home expo in North America. Many people learned about Falun Dafa at the practitioners' booth. After finding out that the practice improves mental and physical fitness, a teacher invited the practitioners to teach the exercises at her school.
Invitation to Teach at a School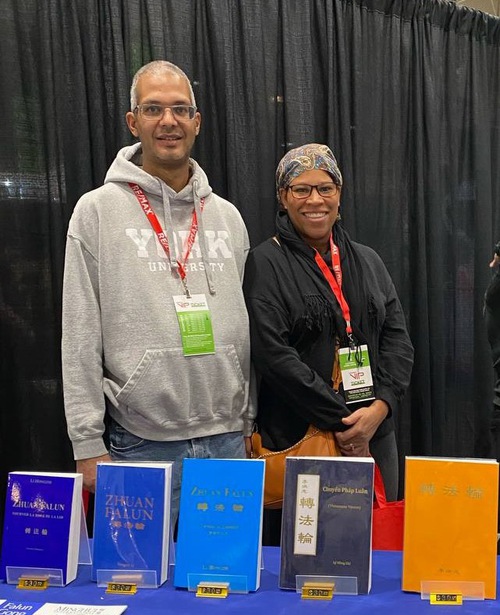 Andy and Sabrina admire Falun Dafa's principles of Truthfulness, Compassion, and Forbearance.
Andy is a computer engineer and Sabrina is a teacher. After listening to practitioners explain Falun Dafa, Sabrina was interested in introducing the practice to her students and asked the practitioners to hold a workshop at her school.
"Truthfulness-Compassion-Forbearance is very important," Sabrina said. She said that honesty and kindness from the heart can make people around you feel comfortable. "Not everyone has strong tolerance, and we need to constantly learn to have a big heart. I work with children and parents, so I need to be considerate of others. To reach the children, I need to have pure compassion and teach them patiently and peacefully."
They both agreed that Truthfulness-Compassion-Forbearance is important for health. "Especially in the fast-moving society today, if we could really follow those principles, we would have us inner peace, and our minds and bodies would be healthy," Sabrina said.
When the practitioners told the couple about the Chinese Communist Party's (CCP) ongoing persecution of Falun Dafa in China, Sabrina encouraged the practitioners to keep up their efforts. "Tell more people this important information. The world should pay attention to this," she said.
"We Need to Find Inner Peace"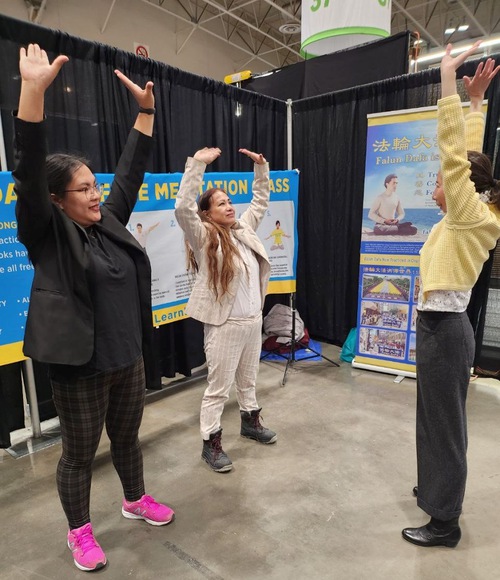 Candita (middle) and her friend Glenda (left) learn the Falun Dafa exercises.
When a practitioner told Candita and Glenda how her ailments disappeared after she learned the practice, Candita told Glenda, "You've had stomach pain recently. Let's learn the exercises together."
After they did the exercises, they both said they felt warm energy flowing through them. Glenda showed the practitioners her sweaty palms and said, "I will sign up online to learn the practice. I need to do these exercises." Candita agreed and said, "Yes, we need to find inner peace."
Retired Professor Wants to Teach Grandchild the Practice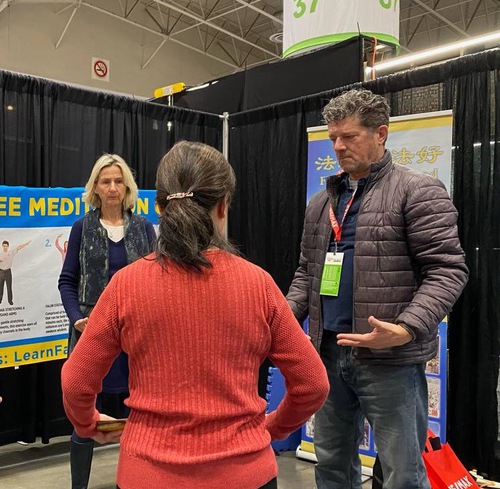 Mike and his wife learn the Falun Dafa exercises.
Mike is a retired professor and his wife taught in an elementary school. They liked to do yoga and Tai Chi. After learning the Falun Dafa exercises, Mike said that it felt great and he enjoyed it. He planned to go online and continue learning it.
"We are grandparents now, and our grandson is almost two," Mike said. "We'd like him to learn to meditate while he is young so that when he grows up, he'll be able to adjust and control his emotions and be calm. When he has troubles, meditation can help him overcome them. It might take just a couple of minutes for him to calm down."
Follow the Principles and Be Healthier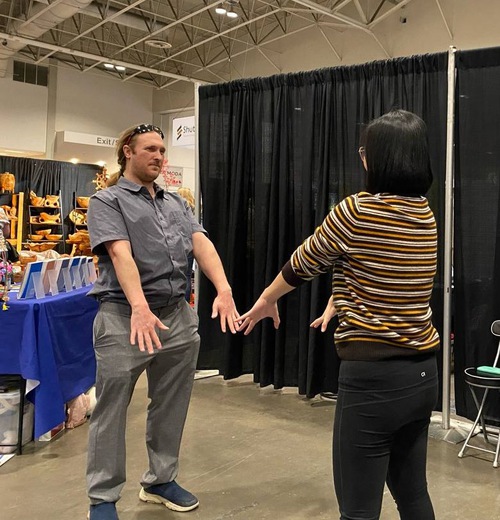 Byran (left) learns the Falun Dafa exercises.
Byran asked a practitioner at the booth to teach him the exercises. Afterwards he said, "I really like the exercises. When I did the first exercise, I felt that my body stretched open and was not as tense as it usually is. Doing the second exercise corrected my posture and made me feel really comfortable."
A practitioner explained that Falun Dafa asks practitioners to treat everything in life as a test and to eliminate negative thoughts and actions by following Truthfulness, Compassion, and Forbearance. Byran decided to sign up for the online Falun Dafa classes. "I want to become a more cultivated person. I believe that I will become more healthy as I assimilate to the standards of Truthfulness-Compassion-Forbearance. It's a good thing to be considerate. We should not harm or bully others."
"This Is What We Need"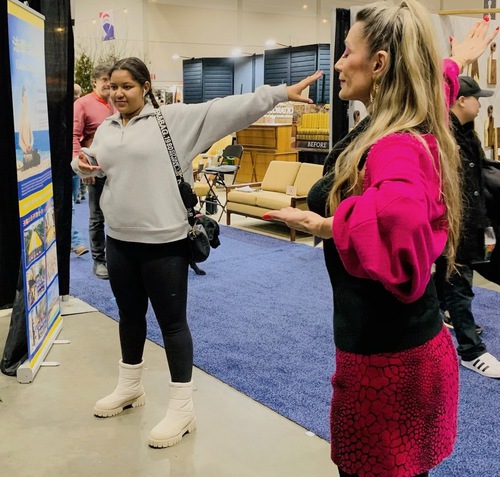 Andrea (left) and her mother Nathaly learn the Falun Dafa exercises.
Nathaly and her daughter Andrea moved to Canada eight months ago. As soon as Nathaly saw practitioners demonstrating the exercises, she said, "This is what we need." After they learned the exercises, Andrea said, "I feel very relaxed now. When I learned the movements, I could feel something flowing in my body. The movements were not complicated."
Her mother said that Andrea was a shy person, so she was surprised that she learned all the exercises since she never seemed interested in spiritual things before. They asked about the free online classes. Andrea said, "I will definitely continue to practice after we go home."
When a practitioner told Nathaly about the principles of Falun Dafa, she said, "These are what people nowadays need, especially those under extreme stress who are busy making a living. We need things to guide our hearts, and the principles can purify our mental state."
I Want to Learn Falun Dafa
Tony stood for a long time in front of Zhuan Falun, the main book of Falun Dafa's teachings. He told a practitioner that he had a friend from China who was an acupuncturist and had told him positive things about Falun Dafa. "I meditate regularly and I want to learn Falun Dafa, too. Truthfulness-Compassion-Forbearance is very good. Everyone needs to be a good person and be nice to others."
Before he left, Tony told the practitioner, "I know that there are 100 million people in China practicing Falun Dafa. With that many people learning it, it shows what kind of practice Falun Dafa is."
Background: What Is Falun Dafa and Why Is the CCP Persecuting It?
Falun Dafa (also known as Falun Gong) was first introduced to the public by Mr. Li Hongzhi in Changchun, China, in 1992. The spiritual discipline is now practiced in over 100 countries and regions worldwide. Millions of people who have embraced the teachings, which are based on the principles of Truthfulness, Compassion, and Forbearance, and have learned the five exercises have experienced improved health and well-being.
Jiang Zemin, former head of the Chinese Communist Party (CCP), perceived the spiritual discipline's growing popularity as a threat to the CCP's atheistic ideology, and, on July 20, 1999, he issued an order to eradicate the practice.
Under Jiang's personal direction, the CCP established the 610 Office, an extralegal security organization with the power to override the police and judicial systems and whose sole function is to carry out the persecution of Falun Dafa.
Minghui.org has confirmed the deaths of thousands of practitioners as a result of the persecution over the past 23 years. The actual number is believed to be much higher. Countless practitioners have been imprisoned and tortured for their faith.
There is concrete evidence that the CCP sanctions the harvesting of organs from detained practitioners, who are murdered to supply China's organ transplant industry.
All content published on this website is copyrighted by Minghui.org. Minghui will produce compilations of its online content regularly and on special occasions.