New York: Man Arrested and Charged with Assault for Attacking Falun Gong Booth
(Minghui.org) Police officers from New York's 109th Precinct arrested Zhongping Qi, a suspect who violently attacked a Falun Gong information site at the entrance to the New World Mall in Flushing, New York, at around 11 a.m. on February 18, 2023.
The suspect was charged with third degree assault and taken to the Queens County Criminal Court after the police questioned him.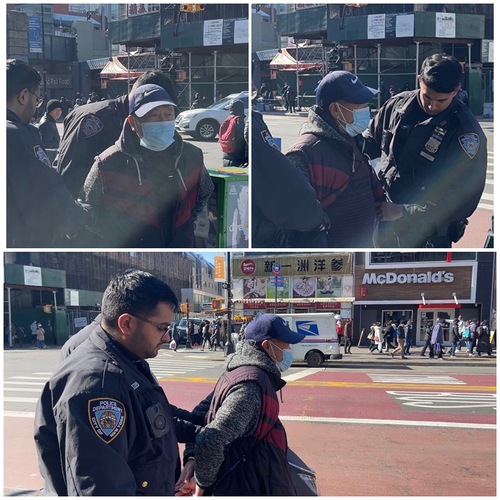 On February 18, 2023, at around 11 a.m. New York time, police officers arrested Zhongping Qi, who had attacked Falun Gong practitioners. They handcuffed him and took him away in a police car. (Photo supplied by Falun Gong practitioners)
Incident Background
Falun Gong practitioners have five booths on Main Street in downtown Flushing. Rain or shine, 365 days a year, practitioners at these booths explain the facts about the persecution and tell people about Falun Dafa. They are a familiar sight to people in the area. The booth outside the Flushing library, which started in 2000, has been around for 24 years. The other four sites have been in operation for over 10 years. Many passersby give practitioners a thumbs up and express their admiration for their persistence in exposing the atrocities in China.
Zhongping Qi, the man who was arrested, is 77. According to Falun Gong practitioner Li Xuejin, this was not the first time he'd attacked practitioners. He often swore at them yet they never replied in kind or fought back. However, his aggressive behavior irked stallholders near the practitioners' booth, and they tried to stop him.
Li Xuejin said, "One time I said to him 'You cannot do this,' but he continued to swear at us and even waved his fist in front of my face, threatening to hit me. Just then, an elderly woman who had a stall next to us told him to stop his unruly behavior. I took a photo of the incident."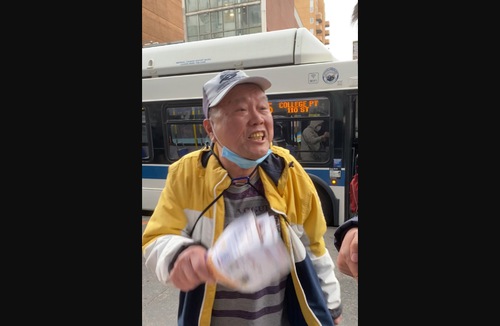 On February 16, 2023, Zhongping Qi harassed practitioners at a site in Flushing again. (Photo provided by practitioners)
On February 16, 2023, Zhongping Qi harassed practitioners at a site in Flushing again. He assaulted Falun Gong practitioner David Fang, injuring his hand, neck and chin, which bled.
Falun Gong practitioner David Fang was assaulted by Zhongping Qi on February 16, 2023. His hand, neck and chin were injured. (Photo provided by practitioners)
David Fang called the police after he was injured. Four officers quickly arrived to investigate. They told practitioners, "If you see this man, call the police at once. We will arrest him."
David Fang said a passerby rebuked Zhongping Qi, saying, "What you are doing is against the law. This is America, not China." Joe Zhang was passing by and saw what was happening. He recorded the incident on video. When interviewed by the media, Joe said, "I was shocked. In America, people have freedom of belief. It is not right to attack Falun Gong. He was so vicious. I told him, 'It is against the law for you to hit others.' I think he should be punished by law. He must have been poisoned by the CCP's propaganda."
On February 18, the suspect was seen on the streets of Flushing. Practitioners at the booth called the police immediately and asked the victim, David Fang, to identify him. But less than 10 minutes after David arrived, the suspect disappeared. The police planned to drive David around to look for him when David saw the suspect walk out of the New World Mall. The police caught the man, put him in handcuffs, and took him away.
This is not the first time Falun Gong information booths have been attacked. In February 2022, a man named Buqiu Zheng was charged with a hate crime and criminal mischief in the fourth degree for vandalizing the stands. A local resident said that practitioners were doing something good and that if people like Zheng were allowed to go free after committing such crimes, it would be a threat to security and that such criminals should be deported.
According to U.S. immigration laws, a person convicted of assault will have a criminal record, which will impact their application for legal status in the U.S.
From the video recording taken by Joe Zhang, as Qi turned to leave the scene, a man next to him patted him on the shoulder and said, "You will be fine." Falun Gong practitioner Michael Yu suspects that Qi was instigated by the CCP to make trouble at the sites.
Yi Rong from the Falun Dafa Association in New York said, "We thank the officers from the NYPD's109th Precinct for their prompt response and action in arresting the suspect. Falun Dafa is protected by U.S. law. This man has repeatedly attacked our sites. This time, he even went as far as to assault a practitioner. This is a hate crime and cannot be tolerated. Furthermore, he may have been paid by the CCP to do this. We trust that this will be dealt with justly in accordance with the law.
"We also remind Chinese immigrants living in America: Since you are in a free country with access to uncensored information, we hope you will make the right choice and distance yourself from the CCP. Don't help the CCP to persecute Falun Dafa and destroy your future."
Background: What Is Falun Dafa and Why Is the CCP Persecuting It?
Falun Dafa (also known as Falun Gong) was first introduced to the public by Mr. Li Hongzhi in Changchun, China, in 1992. The spiritual discipline is now practiced in over 100 countries and regions worldwide. Millions of people who have embraced the teachings, which are based on the principles of Truthfulness, Compassion, and Forbearance, and have learned the five exercises have experienced improved health and well-being.
Jiang Zemin, former head of the Chinese Communist Party (CCP), perceived the spiritual discipline's growing popularity as a threat to the CCP's atheistic ideology, and on July 20, 1999, he issued an order to eradicate the practice.
Under Jiang's personal direction, the CCP established the 610 Office, an extralegal security organization with the power to override the police and judicial systems and whose sole function is to carry out the persecution of Falun Dafa.
Minghui.org has confirmed the deaths of thousands of practitioners as a result of the persecution over the past 23 years. The actual number is believed to be much higher. Countless practitioners have been imprisoned and tortured for their faith.
There is concrete evidence that the CCP sanctions the harvesting of organs from detained practitioners, who are murdered to supply China's organ transplant industry.
All content published on this website is copyrighted by Minghui.org. Minghui will produce compilations of its online content regularly and on special occasions.