Falun Dafa Practitioners Who Work for Government and Law Enforcement Agencies in China Wish Master Li a Happy Chinese New Year
(Minghui.org) With the arrival of the 2023 Chinese New Year, many Falun Dafa practitioners who work in China's government agencies, including law enforcement, procuratorates, courts, and justice bureaus, sent in their best wishes to Master Li, the founder of Falun Dafa, for a happy Chinese New Year.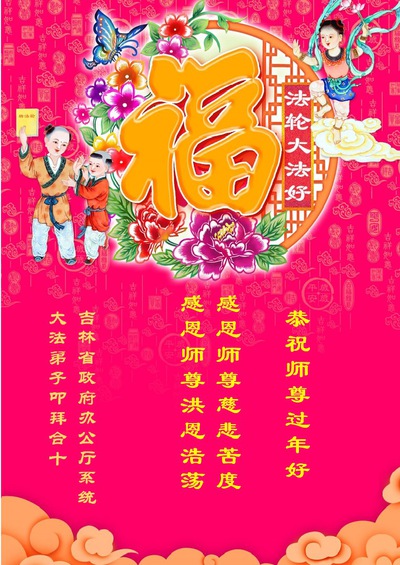 A group of practitioners from the public security system in Baoding City, Hebei Province, wrote, "We have previously been involved in persecuting Falun Gong practitioners but realized that Falun Gong is truly good after reading the Falun Gong books that were confiscated from other practitioners' homes. We started practicing Falun Gong since then.
"Practitioners working in the procuratorates began practicing Falun Gong after they read the complaints filed by the practitioners and understood the facts about Falun Gong; some understood the facts after hearing the defense statements from the human rights lawyers during the trial."
These practitioners asked Master Li for His forgiveness and promised to make up for their past sins.
The well-wishers hail from the following regions:
The Judicial System in Langfang City, Hebei ProvinceA retiree from the Judicial System in Heilongjiang ProvinceA government agency in Jilin ProvinceA government agency in Kaijiang County, Sichuan ProvinceThe Public Security System in ChinaTwo judges in ChinaThe Judicial System in BeijingThe Judicial System in Jiangsu ProvinceThe Civil System in Baoding City, Hebei ProvinceThe Judicial System in Shandong ProvinceA government agency in TianjinThe Government System in Hebei ProvinceThe County Office in Fuyu County, Qiqihar City, Heilongjiang ProvinceThe Civil System in Jilin ProvinceThe Civil System in ChinaThe Public Security System in Baoding City, Hebei ProvinceThe administrative unit directly under the Central Government in Hubei ProvinceThe Public Security System in Nanjing City, Jiangsu ProvinceThe government office in Tonghua City, Jilin ProvinceThe Civil System in Shijiazhuang City, Hebei ProvinceThe Military in Shandong ProvinceA demobilized military officer from the Second Artillery CorpsThe Military System in ChinaVeterans from the Joint Staff Department of the Central Military CommissionA compound of the Beijing Air ForceA former officer from the Military Region in Nanjing City, Jiangsu ProvinceA demobilized cadre from the Air ForceA military officer from Zhenjiang City, Jiangsu ProvinceA military compound in BeijingThe Seventh Agricultural Division of the Production and Construction Corps in XinjiangA military cadre rest center in Guangzhou City, Guangdong ProvinceA retired military officer in Jiangsu ProvinceThe Military System in Shaanxi ProvinceA demobilized cadre from the military in Dalian City, Liaoning ProvinceA former officer from Military Region in Chengdu City, Sichuan Province
Copyright © 1999-2023 Minghui.org. Content on this page may be reproduced with attribution.