A Golden Remedy for Severe Pneumonia (Part 1)
——Stories about Falun Dafa's Healing Power
(Minghui.org) "White lung" is a medical term for moderate or severe pneumonia that appears as a large white area of the lungs on an X-ray or CT scan. "White lung" manifests as pulmonary fibrosis, which is a worldwide medical problem and is irreversible. The mortality rate of the disease is higher than certain cancers. 

There is no cure for pulmonary fibrosis, and available drugs can only help to slow down the progression of the disease. When pulmonary fibrosis progresses to a certain stage, respiratory failure will occur and the patient's life would be in danger.
In the recent surge of COVID cases in China, a large number of patients were found to have "white lung." Medical experts explained that the virus infection in the lung caused fibrosis and hypoxemia (below-normal level of oxygen in the blood). The symptoms didn't only appear in the elderly but also in those in their 30s or 40s. Many of the "white lung" patients have died.
However, some patients with severe pneumonia (regardless of whether it was induced by COVID) were lucky enough to regain health after either practicing Falun Dafa or sincerely reciting the phrases "Falun Dafa is good; Truthfulness-Compassion-Forbearance is good." 
Falun Dafa, also known as Falun Gong, is an ancient body-mind discipline based on the principles of Truthfulness-Compassion-Forbearance.
Below are a few stories of how pneumonia patients recovered.
Talented Musician Lost 75% of Lung Function Survived by Reciting Auspicious Phrases
Mr. Ma Xiaojun was infected with acute lobar pneumonia when he was studying film soundtrack at the Berklee College of Music in Boston in 2008. It was a serious infection in which the air sacs were filled with pus and other liquid. He had a fever of 39-40°C (102.2-104°F) and kept coughing.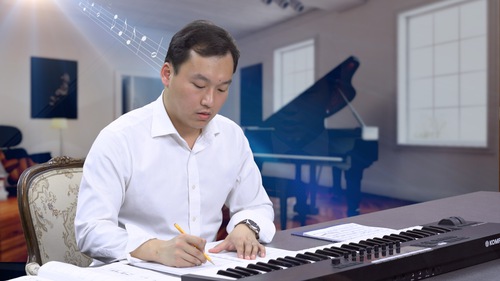 Mr. Ma Xiaojun
When he went to the hospital, the X-ray showed that 75% of his lungs had become septic and necrotic. There is no specific medicine for this lobar pneumonia and the mortality rate is very high. The only thing he could hope for was to resist the invading bacteria with his immunity. But at that time, it was extremely difficult for him to breathe, and he had severe pain in his lungs when he took a breath. 
When his girlfriend, a Falun Dafa practitioner, came to visit him, she urged him to recite the phrases "Falun Dafa is good; Truthfulness-Compassion-Forbearance is good." In desperation, Mr. Ma began reciting. 
From morning to night, he recited the phrases countless times. He recalled, "In the half-asleep state, I felt the warmth that I had never had before. Every cell in my body revived as if spring came, and my body felt very comfortable and peaceful."
Gradually, his pain subsided. His breathing became much more smooth. He coughed out sputum, one cup after another, dark and thick. His symptoms improved drastically and he was discharged a week later.
In general, when a patient has lobar pneumonia, the lungs experience septicemia, fluid accumulation, necrosis, and scarring after recovery, leaving a shadow on the X-ray film.
However, when Mr. Ma went back for a check-up a month later, his lungs turned out to be clear and transparent. The doctor exclaimed, "These are perfectly healthy lungs, beautiful!"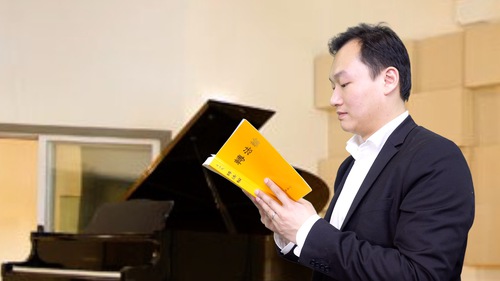 Mr. Ma reading Zhuan Falun, the main text of Falun Dafa
From that point on, Mr. Ma began to practice Falun Dafa and live by the principles of Truthfulness-Compassion-Forbearance.
In 2016, at the age of 27, he applied to the composition department of Berklee College of Music and got excellent results in the interviews. He composed the piece, "Under the Guidance of Master." He said that practicing Falun Dafa gave him wisdom. When he worked on that piece, the music was playing in his mind and he just wrote it down. His work was highly commended by his professor and he was accepted by the department months later.
83-Year-Old with Sarcoidosis Survives COVID Infection
The 83-year-old father of Ella Li, a resident of Flushing, New York, lives in Beijing and suffered from pulmonary sarcoidosis (growth of tiny collections of inflammatory cells in the lungs) not long ago. 
In December 2022, the elderly man was infected with COVID twice. When he was infected the first time, he had a fever, felt weak, and had to use a walker, but after sweating all over the second night, the fever disappeared on the third day.
However, within a few days, the old man was infected again. He had a high fever of over 39°C (102.2°F) for 4 consecutive days and could not eat. His condition was serious. His family took him to Pinggu District Hospital.
In the emergency room, he watched patients die one by one. He felt that he might not be able to make it. The doctor started an IV and asked the family to prepare for the worst.
After Ella learned about her father's condition, she called him on December 27 and urged him to sincerely recite "Falun Dafa is good; Truthfulness-Compassion-Forbearance is good," as the phrases resonate with the energy of the cosmos and could help him recover. He agreed. 
With great excitement, her brother called her the next day, "Our father is much better now. His temperature subsided, and he is video chatting with my daughter now!" 
The elderly man's condition continued to improve for the next few days and he was discharged on January 4, 2023. 
(To be continued)
Views expressed in this article represent the author's own opinions or understandings. All content published on this website are copyrighted by Minghui.org. Minghui will produce compilations of its online content regularly and on special occasions.