Malaysia: Cultivation Experience Sharing Conference Held
(Minghui.org) The 2022 Malaysia Falun Dafa Cultivation Experience Sharing Conference was held on December 25, 2022 at the Crystal Crown Hotel in Petaling Jaya, Selangor. Practitioners from all over Malaysia, as well as from Vietnam and Indonesia participated in the conference. This was the first in-person conference held since the COVID pandemic began in 2019. New and veteran practitioners cherished this rare opportunity to gather, learn from each other and move forward diligently.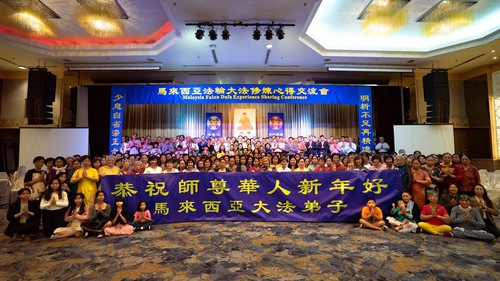 Practitioners wish Master Li, the founder of Falun Dafa, a happy New Year. 
The conference started at 9:30 a.m. Sixteen practitioners (including one from Vietnam and one from Indonesia) shared their experiences. They talked about improvements in their physical and mental health and how their morality was uplifted through practicing Falun Dafa. They explained how they cultivated solidly by reading the teachings of Master Li (the founder of Falun Dafa), sending righteous thoughts and clarifying the truth. They also talked about how they overcame various difficulties and passed tribulations. Practitioners have seized the time to clarify the truth to people, worked to end the persecution, and save people.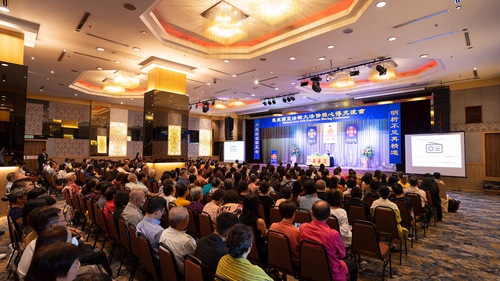 The 2022 Malaysia Falun Dafa Cutivation Experience Sharing Conference was held on December 25, 2022.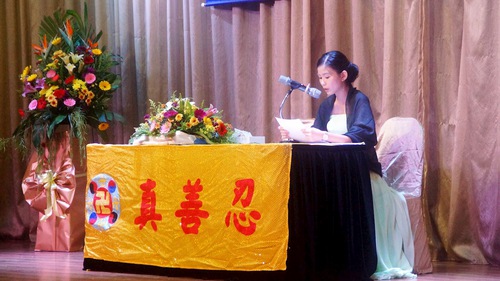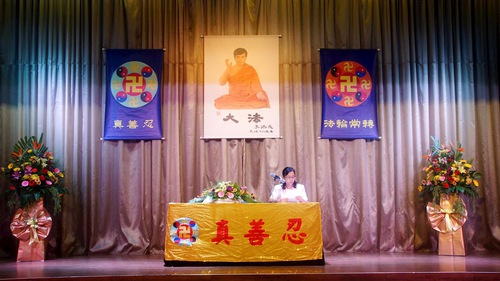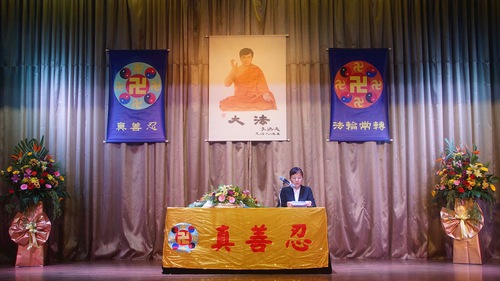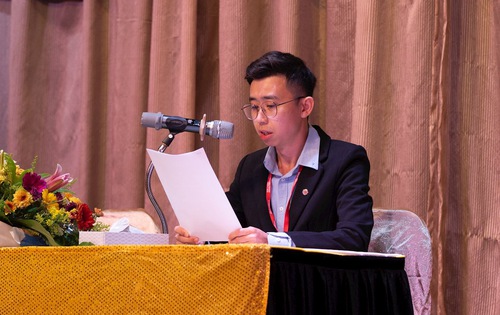 Practitioners talk about their experiences.
Character Formation Before the Conference and Wishing Master a Happy New Year
On the afternoon of December 24, the day before the conference, practitioners gathered at the Padang Astaka Field in Petaling Jaya, Selangor to do the Falun Dafa exercises. As evening came, they held a character formation, forming the Chinese characters: Fa-rectification. With grateful hearts they wished Master a happy New Year.
It is the rainy season in Malaysia. Before the event, it rained frequently, and some areas were flooded. The practitioners were amazed that the weather was beautiful on the day of the event. The sun shone, and it did not rain. The beautiful weather allowed the event to be successfully held.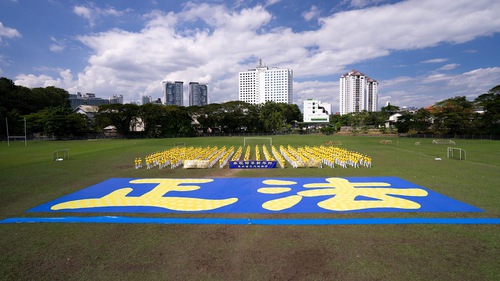 Practitioners did the exercises and wished Master happy New Year on December 24, 2022.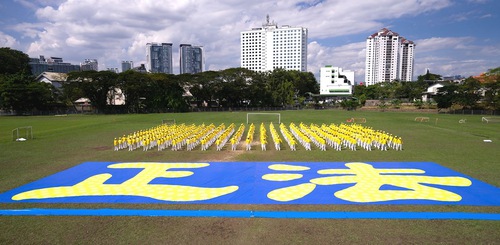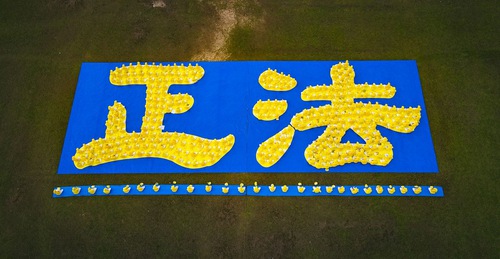 Practitioners form the Chinese characters "Fa-rectification" on December 24, 2022.
A Popular Singer in the 1970s: True Happiness Begins with Practicing Dafa
Ms. Guo Shufang from Sabah was a very popular singer in Malaysia in the 1970s and released many records. Ms. Guo, who is 69 years old this year, started practicing Falun Dafa in February 2003. She said that her real happiness, good health and happy life all started when she began practicing Falun Dafa 19 years ago.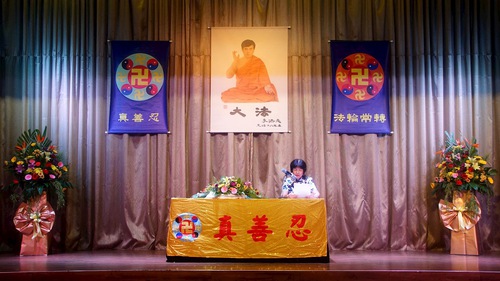 Ms. Guo Shufang from Sabah 
Ms. Guo said that she was in poor health since she was a child. She had conflicts with her former husband. After they divorced, she tried various religions, but nothing helped.
Then by chance in 2002, Ms. Guo went to a shop and noticed the words on a glass cabinet: "The world needs Truthfulness-Compassion-Forbearance." Ms. Guo took a photo of these words.
A friend told her how good Falun Dafa was and suggested she try it. A week later, that friend gave Ms. Guo a CD of Master demonstrating the exercises, and said, "See if this can help you." 
Ms. Guo took the CD and put it in the player to see what it was. The words "Falun Gong" and "Truthfulness-Compassion-Forbearance" appeared on the screen, and she was amazed. She suddenly recalled what she saw in the shop and some news she'd read in the newspaper years ago. She watched the entire CD. She exclaimed, "Master Li Hongzhi is talking about the universe. This is what I want."
Ms. Guo recalled that in the past 19 years of cultivation, she experienced many trials and tribulations. She said, "Master always took care of me, enlightened me, and gave me opportunities. Especially when I was going through illness karma, compassionate Master always worried about me. Under the protection of Master, I passed those tests. Now the Fa-rectification is transitioning to the human world, and in the short time left, I will do the three things well and live up to Master's expectations."
Letting Go of Attachments Leads to Positive Changes
He Jiawei, from Bukit Mertajam, Penang, is an engineer. He talked how he passed a big test, let go of what he was most attached to, and created a cultivation environment that he did not expect, where he could balance work with telling people about Falun Dafa and clarifying the truth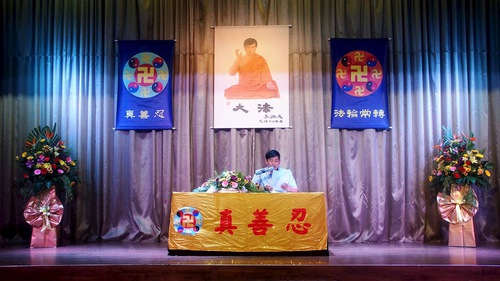 He Jiawei
Mr. He, who started practicing in 2014, was an engineer in a high-tech company. He had a salary that everyone envied. No matter how intense the pressure was, he persevered. However, his work was not going well. He began going to work early and returning home late every day. He did not have enough time to read Master's teachings or practice the exercises.
He realized that he couldn't go on like this, so he asked Master to help him. Later, he successfully changed to a new job. He realized that this was arranged by Master. Since the work went smoothly, he worked a normal schedule. He was able to establish two practice sites and Fa-study sites near his home. He was able to do all five exercises, study the Fa and send forth righteous thoughts every day. He also set up a special website to promote Dafa that has millions of viewers.
Mr. He said that if he could not let go of the high-paying job he was obsessed with, he not only would not be able to solve the problems at work, but he would also fail to improve his cultivation. He realized that as long as he was willing to take that step, his environment improved quickly.
Raising Awareness at Tourist Attractions
Mr. Fu Weisheng from Klang, Selangor, started practicing Falun Dafa in late October 2018. On the second day of the Chinese New Year in 2019, not long after he started practicing, another practitioner invited him to a scenic tourist area to clarify the truth to tourists. At that time, he didn't know how to clarify the truth or persuade Chinese tourists to quit the Chinese Communist Party (CCP) organizations. The only thing he could do was to distribute informational materials and hold a display board.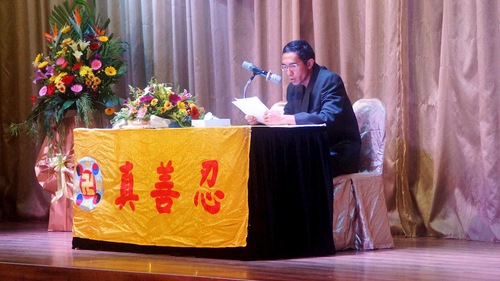 Fu Weisheng from Klang, Selangor
He said they were occasionally challenged by law enforcement officers, or verbally abused by Chinese tourists. Some tour guides did not let their clients take the materials. But some tourists came to them and asked for truth-clarification materials. One day he met a Dafa practitioner who was traveling and who had persuaded a tourist to quit the CCP. That practitioner gave Mr. Fu the tourist's name and then got back on the bus.
The conference was concluded at 5 p.m. Practitioners who attended said they cherished the opportunity to get together and discuss their cultivation. They appreciate Master for his compassionate salvation.
Views expressed in this article represent the author's own opinions or understandings. All content published on this website are copyrighted by Minghui.org. Minghui will produce compilations of its online content regularly and on special occasions.