New York: Falun Dafa Group Rallies Against Persecution in China During 77th UN General Assembly
(Minghui.org) The 77th United Nations General Assembly had its general debate from September 20-26, 2022, Falun Dafa practitioners held a rally outside the UN Headquarters urging an end to the ongoing suppression in China. 
At Dag Hammarskjöld Plaza, practitioners held banners to raise awareness of the persecution that started in 1999. They called for the release of practitioners who are detained in China and urged that the perpetrators be held accountable for the atrocities.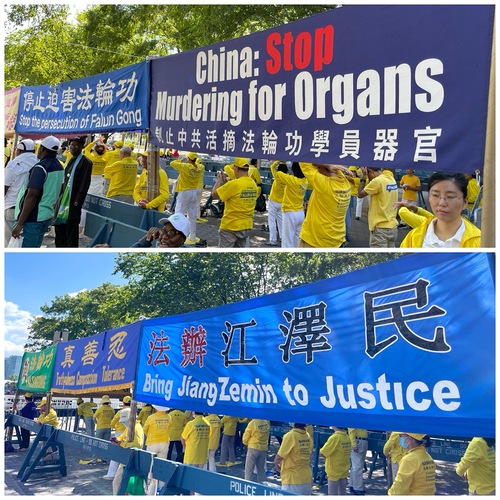 Practitioners gathered at Dag Hammarskjöld Plaza outside the UN Headquarters between September 19-24 for a peaceful rally. 
After virtual events of the 75th and 76th UN General Assembly in the previous two years, representatives from over 150 nations gathered in New York. They consisted of heads of state and high-level representatives. To call their attention to Falun Dafa and how it is persecuted in China, practitioners drove cars along Second Avenue which had signs about the persecution, and some distributed materials at nearby street corners. 
Some of these practitioners were from mainland China and they experienced the brutal suppression first-hand or their family members were persecuted for their belief. "That is why we hope the UN Human Rights Council will take action to stop the brutality since this is the largest human rights violation in China," said Yi Rong from the Falun Dafa Association in New York. 
Ms. Zhang Weidi, dean of the Fine Arts School in Shenyang Advanced Computer Science College, was mistreated for practicing Falun Dafa. "Besides imprisonment, I was also kept at Masanjia Labor Camp twice—four and half years in total," she explained, "All this happened because I did not want to give up my belief in Truthfulness-Compassion-Forbearance."
China's Masanjia Labor Camp is notorious for torturing Falun Dafa practitioners. Guards and inmates viciously beat Ms. Zhang and hung her up to torture her. After coming to the United States, she comes to the events that are held in front of the UN General Assembly. "We hope the international society and United Nations will say 'No' to the Chinese Communist Party (CCP) so that practitioners in China can freely practice their belief," she said.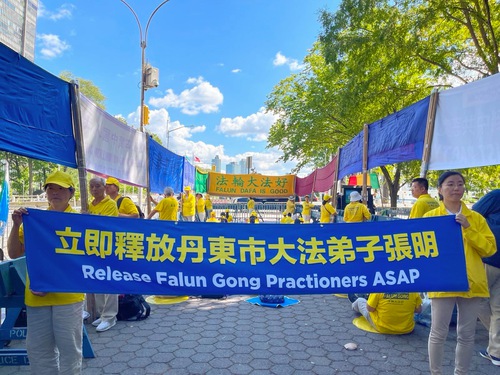 A banner calls for the release of Mr. Zhang Ming, a Falun Dafa practitioner detained in China. 
New York Falun Gong practitioner Ms. Zhang Hongyu also came to rescue her father, Mr. Zhang Ming. He lives in Dandong City in Liaoning Province and the CCP officials arrested him on August 10. This was the third time he has been detained for his belief. 
Ms. Zhang's mother, Ms. Xiu Jinqiu, was also a practitioner. After being arrested in September 2013 for telling someone about Falun Dafa, Ms. Xiu was kept in the police station and her health deteriorated. She died on November 28, 2013, at age 52. 
To help rescue her father, Ms. Zhang Hongyu has reached out to New York Senators, Chuck Schumer and Kirsten Gillibrand, as well as Representative Grace Meng. In response to a news media question, US State Department spokesperson Ned Price recently said thousands of Falun Dafa practitioners are arrested, harassed, and tortured in China every year for practicing their belief. The U.S. government urged China to stop persecuting Falun Dafa, release those detained for their belief, and find those who went missing.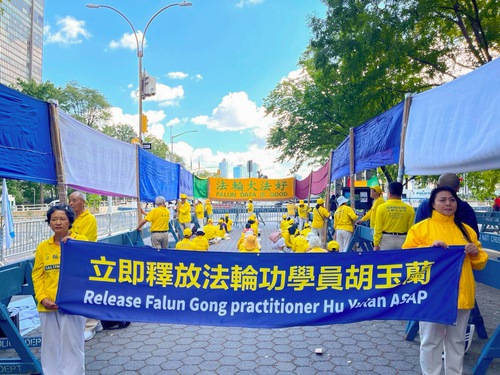 Another banner calls to rescue detained practitioner Ms. Hu Yulan.
Ms. Gao Hongmei, another practitioner who joined the rally in front of the UN Headquarters, said her mother Ms. Hu Yulan was sentenced to a five-year term. Already 76, she is still detained in a Chinese prison. Because Ms. Hu was arrested numerous times for her belief, her husband was also affected, became sick and died several years ago. Ms. Gao could not even go back to attend her father's funeral because of the persecution. 
Ms. Gao said her family's story is only one of the countless tragedies happening in China caused by the suppression. "Falun Dafa is well received in over 100 countries and has brought tremendous benefits to practitioners around the world. Inside China, people are detained or jailed for their belief, plus being brainwashed and losing their jobs and even their lives. We sincerely hope the international society and the UN can help end this," said Ms. Gao.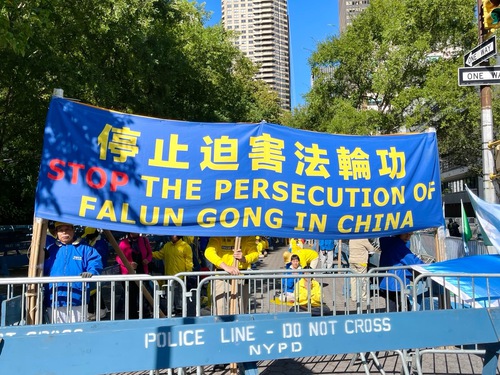 Practitioners peacefully rally outside the UN General Assembly between September 19 and 24.
Background: What Is Falun Dafa and Why Is the CCP Persecuting It?
Falun Dafa (also known as Falun Gong) was first introduced to the public by Mr. Li Hongzhi in Changchun, China, in 1992. The spiritual discipline is now practiced in over 100 countries and regions worldwide. Millions of people who have embraced the teachings, which are based on the principles of Truthfulness, Compassion, and Forbearance, and have learned the five exercises, have experienced improved health and well-being.
Jiang Zemin, former head of the Chinese Communist Party (CCP), perceived the spiritual discipline's growing popularity as a threat to the CCP's atheistic ideology, and on July 20, 1999, he issued an order to eradicate the practice.
Under Jiang's personal direction, the CCP established the 610 Office, an extralegal security organization with the power to override the police and judicial systems and whose sole function is to carry out the persecution of Falun Dafa.
Minghui.org has confirmed the deaths of thousands of practitioners as a result of the persecution over the past 23 years. The actual number is believed to be much higher. Countless practitioners have been imprisoned and tortured for their faith.
There is concrete evidence that the CCP sanctions the harvesting of organs from detained practitioners, who are murdered to supply China's organ transplant industry.
All content published on this website are copyrighted by Minghui.org. Minghui will produce compilations of its online content regularly and on special occasions.