Poland: European Fa Conference Attendees Describe How They Benefited from Fellow Practitioners' Experiences
(Minghui.org) Over 1000 Falun Dafa practitioners from 35 countries attended the 2022 European Experience Sharing Conference held in Warsaw, Poland on September 11, 2022. This was the first large scale event held by practitioners in Europe since the pandemic started.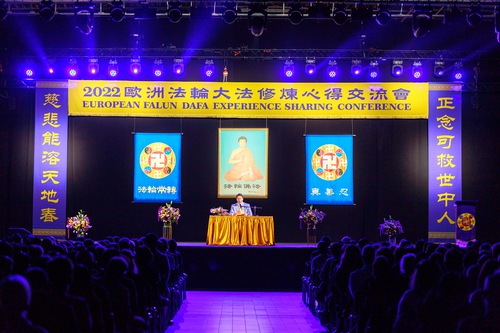 The 2022 European Falun Dafa Experience Sharing Conference was held in Warsaw on September 11, 2022.
Many attendees said they gained a lot from the conference. By comparing themselves with fellow practitioners, they saw room for improvement in their own cultivation. It also boosted their confidence and resolve to practice steadfastly. Several commented how encouraged they felt by the written greeting that Master Li Hongzhi, the founder of Falun Dafa, sent to the conference.
After the conference a double rainbow appeared over Warsaw.
A rainbow appeared outside the venue at the end of the conference.
Master Arranged My Cultivation Path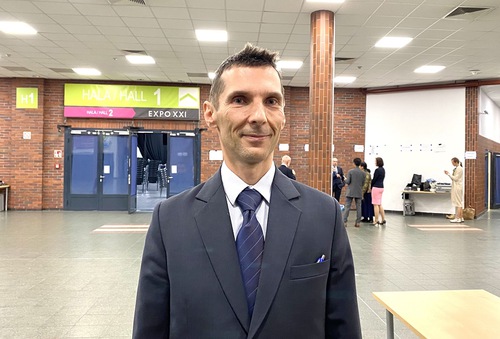 Andrzej from Poland
Andrzej who works in the real estate sector in Poland said the conference was, "An extremely important opportunity" because "I could listen to the sharing articles by different practitioners. I hope to learn from their experiences, avoid many mistakes and eliminate my attachments."
He said it was hard to find words to describe his feeling after he heard Master's greeting message, "It struck my heart."
Andrzej thought it was very important to hold this conference to provide practitioners with an opportunity to share cultivation experiences with those from other European countries because everyone had been isolated during the pandemic. He said he learned a lot, "I learned many things while being involved in organizing these activities for the past month. Many attachments were exposed and I eliminated them.
"All the practitioners' speeches were excellent. Especially those on promoting Shen Yun and working on media projects. They deeply impressed me. For example, one practitioner spoke of taking the role of security guard during Shen Yun performances as well as finding a venue for the shows. Listening to his experiences gave me insight into my cultivation.
"The sharing of another practitioner who only started to practice recently was very touching as well. I was reminded of how I felt when I first started to practice, and the challenges we all go through initially."
Andrzej has been practicing cultivation for 13 years, "This is the path I must stay on." Recalling when he first began to practice he said, "I was on holiday in Bulgaria. I saw people doing the second exercise in the morning." He said he was drawn to Falun Dafa and wanted to know more about it. "Things did not go smoothly but in the end, I got in contact with two young practitioners. I was given information. It turned out these young men were from Moldova and were on holiday in Bulgaria. I found a practice site when I returned to Poland and began to practice Falun Dafa."
"I experienced a great transformation physically and mentally after I began practicing. My health improved and I no longer suffered from illness. I learned to distinguish good from bad. My tolerance and kindness gradually increased, too. My friends and family can see the positive changes in me."
"Everything becomes so simple when one follows Truthfulness, Compassion, Forbearance in their everyday life. Master has arranged our paths. We just need to walk on this path and believe in Master."
Grateful to Attend This Conference
Nguyen is a Vietnamese practitioner from Finland whose occupation is a UX designer.
Nguyen is a UX designer from Finland. She said, "I am honored to attend this conference. I thank Master for everything. I feel grateful and cherish Dafa and the opportunity to practice cultivation. 
"Master's greeting message made me realize the solemness of the things we do. Cultivating well is the foundation of everything."
The speeches by other practitioners resonated with her, especially the first speaker, a Polish practitioner who talked about the process of finding a venue for Shen Yun performances. No matter what difficulties he encountered, he acted according to Master's teachings and accomplished his mission in the end.
"He kept repeating a phrase from one of Master's lectures. It left a deep impression on me and I enlightened to many things."
She also learned a lot from other practitioners' speeches, with a recurring reminder: "Faith in Master and Dafa. I have many human thoughts and they must all be relinquished."
Nguyen began to practice Falun Dafa in 2014. "My mother is a practitioner. She told me about Dafa in 2013, and I began to practice a year later.
"I used to evaluate things using contemporary moral standards. Through cultivation, I discovered how terrible these thoughts are. Now, I am slowly returning to tradition. I found it difficult to talk to my mother in the past. Now, there are no barriers between us."
Boosted Confidence in Participating in Truth Clarification Projects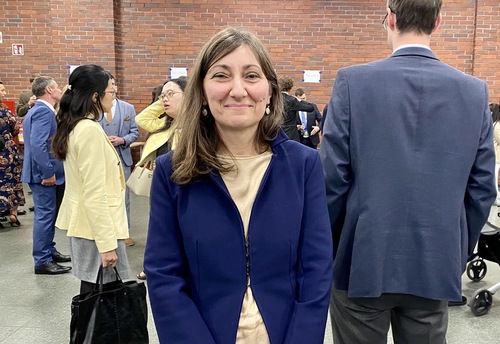 Erika from Italy
Ms. Erika from Italy started to practice Falun Dafa in 2007. "I feel especially fortunate to hear Master's greeting message today. It is an encouragement.
"I took on some responsibilities during Shen Yun performances. During his speech today a practitioner talked about the same responsibilities. What he said was related to my job and it was very beneficial. I understood what he went through because I experienced it as well.
"The conference had a positive influence on me and boosted my confidence in undertaking future truth clarification projects, particularly assisting in hosting Shen Yun."
She was touched by a practitioner who spoke of coordinating the kitchen during Shen Yun performances. "He got up at 5 a.m every day to do the exercises. That's why he is able to take on such a laborious job and did it so well. I was especially moved by his sharing.
"My daughter accompanied me in taking part in the activities for the past few days, handing out fliers." Erika referred to a 17-year-old practitioner's sharing, "I listened carefully. The issues encountered by this young practitioner are what my daughter will face in school in the future. Young practitioners feel they are different from their peers in society. His sharing touched my heart."
Strengthened Resolve to Cultivate Diligently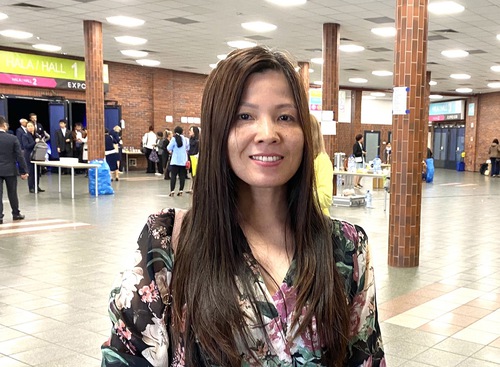 Ms. Nguyen, a Vietnamese practitioner from Slovakia
Ms. Nguyen from Slovakia owns a business and said, "I feel honored to attend this Fa conference. I am also delighted to come to Poland to show people how amazing Dafa is.
"Every time I hear Master's teaching, I am so moved I want to cry. I must be more diligent in introducing Dafa to more people.
"Every practitioner's speech was so touching. Of course, every sharing helped me find my inadequacies," she said. "The Vietnamese practitioner from France left the deepest impression on me. She had only been practicing for three years. Yet she established an art gallery in Paris to showcase artworks from the Truthfulness, Compassion, Forbearance Art Exhibition. I was amazed that a new practitioner was able to do so much."
Ms. Nguyen began to practice Dafa in 2014. She obtained a flier about Dafa while getting a haircut and has practiced since then.
She said, "I learned many things from this conference. Every speech brought me different perspectives. I have to look within and find out which areas I am lacking so that I can correct them and do better."
Views expressed in this article represent the author's own opinions or understandings. All content published on this website are copyrighted by Minghui.org. Minghui will produce compilations of its online content regularly and on special occasions.