Los Angeles County, California: Town Council Member Sends Mid-Autumn Festival Greetings to Falun Dafa's Founder
(Minghui.org) Elizabeth Ahlers, a Crescenta Valley Town Council Member, in Los Angeles County, California, expressed her respect and sent Mid-Autumn Festival greetings to Mr. Li Hongzhi, the founder of Falun Dafa. The festival falls on September 10 this year and is one of the most important Chinese holidays.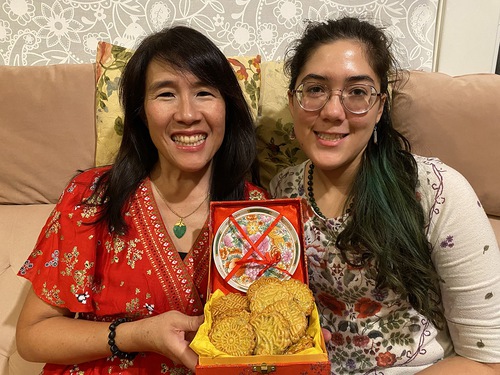 Elizabeth Ahlers and her daughter Victoria with their home-made moon cakes. (The photo is from Elizabeth Ahlers.) 
Ms. Ahlers is a descendant of the first Chinese immigrants to the United States. Her ancestors came to America during the gold rush era, and her great-grandfather was born in California.
"I am so glad to wish Mr. Li and all of his followers 'Happy Moon Festival Day!'" she stated. "As an American of Chinese descent, I have fond memories of celebrating Chinese holidays. 
"Mr. Li, as a local Council member of Crescenta Valley, I would like to honor you on this auspicious occasion for leading a movement of peace and goodwill with courage and wisdom. 
"To those who are imprisoned and cannot celebrate today with your families, to those who have been forced to flee your homes and scatter across the seas into other countries far from your families and your culture, to those who are persecuted and oppressed by unrighteous governments, to you, I pray a word of peace and a word of hope. You are not without friends. You are loved. God in heaven sees the injustice and hears your cries. Call out to Him for salvation. We pray for you and we bless you, our dear ones, our family. We will work towards your freedom and redemption.
"My Chinese ancestors came to America over a century ago because the suffering in China was too much to endure, though they loved China very much. Christian American missionaries gave them refuge and aid. We are grateful to have found a new homeland in the United States. 
"As a proud Chinese American citizen and Town Council member, I join you in advocating for humanitarian causes around the world. The peaceful peoples of all backgrounds are equally created by God and deserve protection and opportunities to prosper. 
"Finally, Mr. Li, I wish you and your movement all the dignity and freedom and joy."
Copyright © 1999-2022 Minghui.org. Content on this page may be reproduced with attribution.