Poland: One Thousand Falun Dafa Practitioners Parade in Warsaw
(Minghui.org) "People marched in the streets in Warsaw. With music, banners, and waist drums, they told spectators what's happening in China, about Falun Dafa, and the facts about the persecution (in China). The messages on the banners were very clear and easy to understand," Karolina Gruczek, who works in the private sector, said as she explained to her family and friends what she saw on September 9, 2022.
At noon that day, over one thousand Falun Dafa practitioners from more than 30 European countries paraded through downtown Warsaw. Led by the Tian Guo Marching Band and an exercise demonstration team, practitioners from various European countries dressed in traditional clothes hoisted banners in their native languages as the procession marched by the Prime Minister's Office, the Embassy area, the main entrance of Warsaw University, and finally arrived at the Old City.
Many display boards were set up to explain the persecution Dafa faces in China. Dragon dancers, lion dancers, and the resounding waist drum team brought up the rear. It was a spectacle for all to see.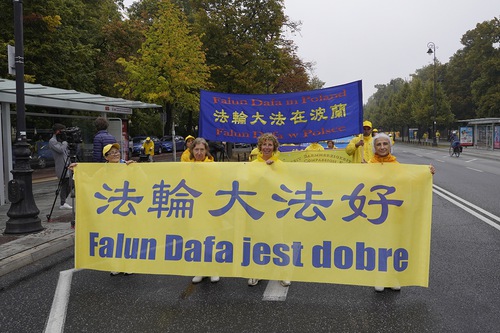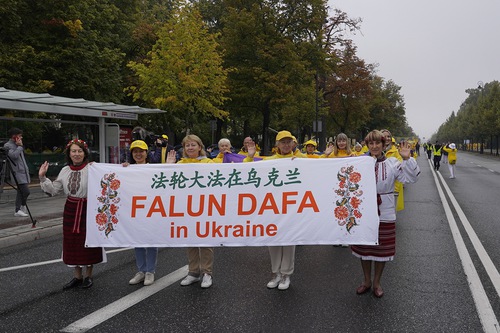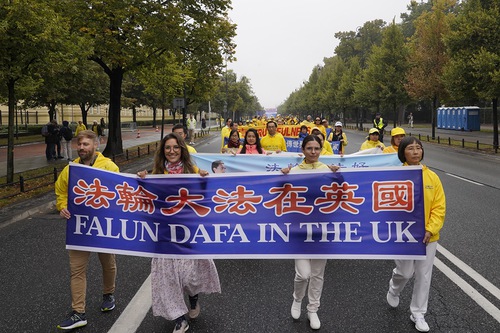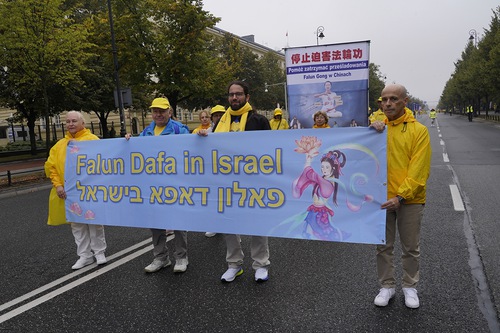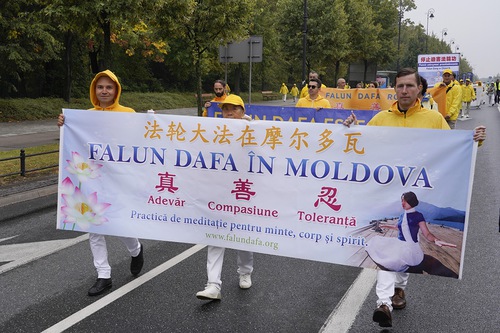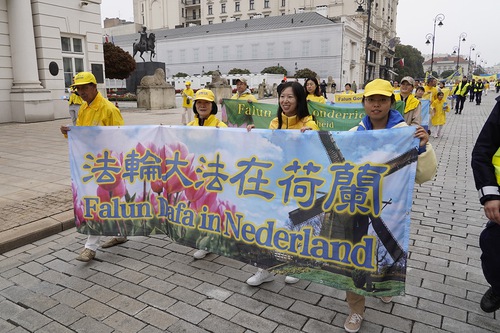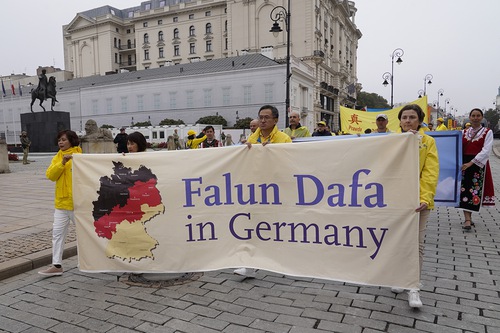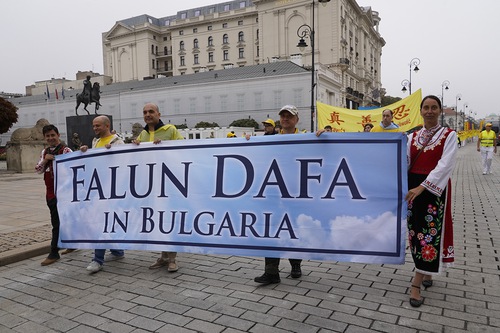 Practitioners from more than 30 European countries paraded in Warsaw, the capital of Poland, on September 9.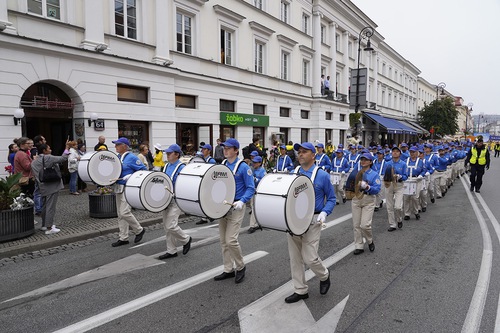 The Tian Guo Marching Band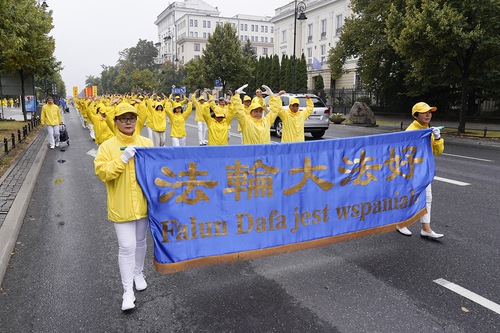 Practitioners demonstrated the exercises.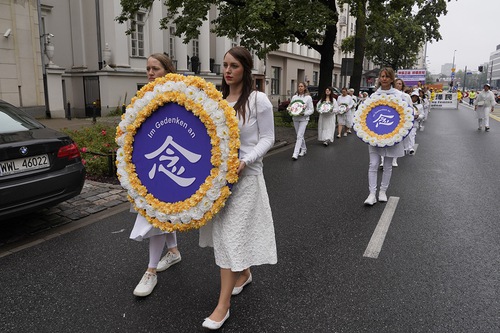 Commemorating fellow practitioners who were persecuted to death in China
Waist drum performance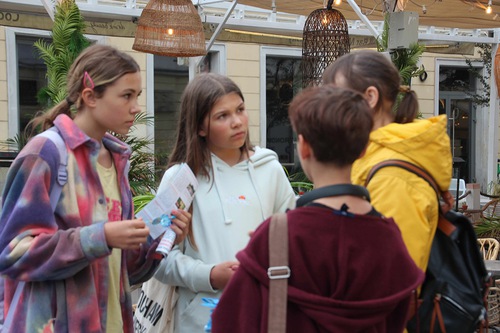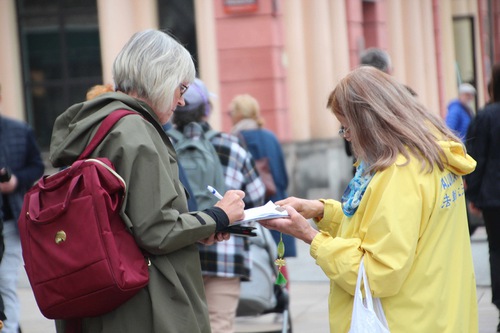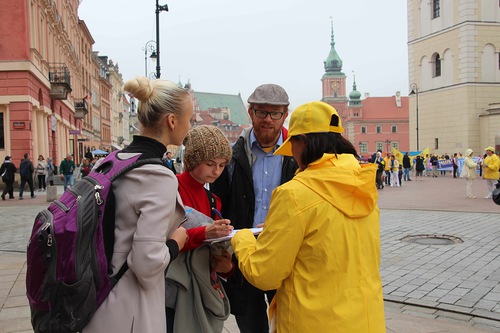 Passersby sign a petition to end the persecution of Falun Dafa in China.
Peaceful and Inspiring Parade
"I love the beautiful golden dragon, the drumbeats, their costumes, and the dancing to the drums. The music is calming, but the drumbeats are uplifting," Karolina said. She is a college student majoring in culture who stopped to watch the dragon dance and waist drum team at the end of the parade. She commented that it was a rare scene in Warsaw so she took some video footage to share with her friends.
Product manager Robert Świątek and his wife came to Warsaw to visit their son and recorded the parade on their mobile phones. "It's a very good march. People in the parade are smiling and very peaceful which makes people feel calm." He wished that all protest marches would be so peaceful and quiet.
The Persecution Is Heartbreaking
But Mr. Świątek also clearly understood from the banners that Falun Dafa practitioners are being persecuted by the Chinese Communist Party (CCP). "It is a pity that they are being persecuted in China and in their own country." He said while signing his name on a petition to support practitioners. He said he planned to share the video he recorded with his friends, hoping that more people would know the information. "The more signatures, the closer to the goal, and the greater the influence," he added.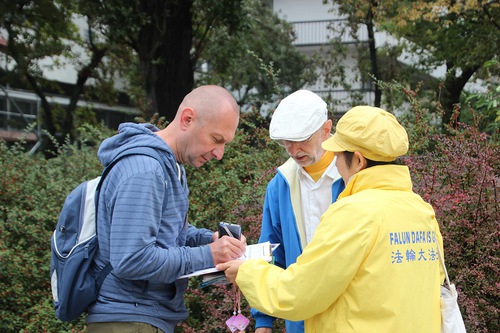 Robert Świątek signs a petition to support practitioners.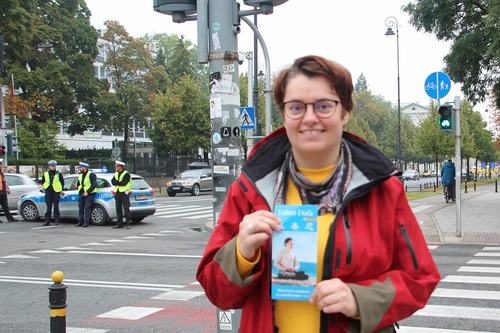 Karolina Gruczek said, "The facts about the persecution of practitioners in China deeply saddens me. This should be completely stopped and condemned. The parade is very meaningful."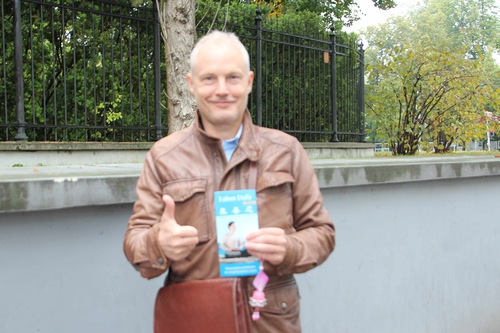 Vyacheslav Kriuchkov, a Russian who owns his own art promotion company, said, "The parade was beautiful, peaceful, and the message was clear and upright."
In English, Vyacheslav Kriuchkov said, "It's too bad that Falun Dafa practitioners are persecuted in China." Then he switched to Russian and added, "If more people know about the persecution of practitioners in China, it will end."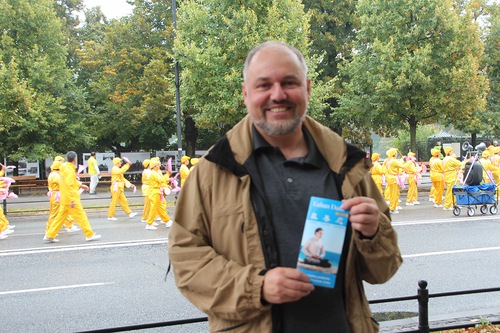 Sebastian Lisowski, who works in pharmaceutical sales, still remembers when Poland was ruled by the Communist Party, so he understands what practitioners are going through in China. He was very willing to support them.
The Kindness and Dedication of Falun Gong Practitioners Touched Passersby
History professor Martyna Milewska was enjoying coffee in a nearby cafe as the parade passed the gates of Warsaw University. When a practitioner approached her and invited her to sign a petition, she commented that the huge parade amazed her and this was a powerful, worth watching, and not to be missed parade.
Commenting on the banner that read, "Truthfulness-Compassion-Forbearance," she said that compassion is particularly important in the current difficult time "Because our life would be particularly difficult and difficult to get along with others without compassion."
Mr. Andrzej Skłodowska and Ms. Gabriela Skłodowska had a long conversation with practitioners. They were moved that so many practitioners came to Warsaw from all over Europe to tell their message and encourage people to learn about Falun Dafa and the persecution. "We should go forward hand in hand to make the world a better place. Especially for young people, so that young people can learn from it, so that they can have a better world," Gabriela said.
Background: What Is Falun Dafa and Why Is the CCP Persecuting It?
Falun Dafa (also known as Falun Gong) was first introduced to the public by Mr. Li Hongzhi in Changchun, China, in 1992. The spiritual discipline is now practiced in over 100 countries and regions worldwide. Millions of people who have embraced the teachings, which are based on the principles of Truthfulness, Compassion, and Forbearance, and have learned the five exercises have experienced improved health and well-being.
Jiang Zemin, former head of the Chinese Communist Party (CCP), perceived the spiritual discipline's growing popularity as a threat to the CCP's atheistic ideology and on July 20, 1999, he issued an order to eradicate the practice.
Under Jiang's personal direction, the CCP established the 610 Office, an extralegal security organization with the power to override the police and judicial systems and whose sole function is to carry out the persecution of Falun Dafa.
Minghui.org has confirmed the deaths of thousands of practitioners as a result of the persecution over the past 23 years. The actual number is believed to be much higher. Countless practitioners have been imprisoned and tortured for their faith.
There is concrete evidence that the CCP sanctions the harvesting of organs from detained practitioners, who are murdered to supply China's organ transplant industry.
All content published on this website are copyrighted by Minghui.org. Minghui will produce compilations of its online content regularly and on special occasions.