Germany: Dignitaries Condemn Communist Regime's 23-Year Long Persecution of Falun Gong
(Minghui.org) Ten dignitaries in Germany sent letters to Falun Gong practitioners in July 2022 to support their efforts to end the 23-year-long persecution, which began on July 20, 1999. They condemned the CCP (Chinese Communist Party) for its crimes against humanity.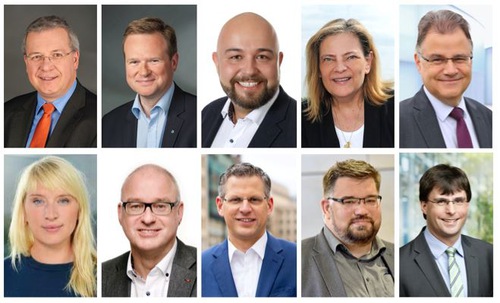 Ten dignitaries, including Member of European Parliament (MEP) andMembers of the German Parliament (MGP), sent letters to condemn the CCP's persecution of Falun Gong.
Photos on the top from left to right are MEP Markus Ferber, MGP Frank Schwabe, MGP Dr. Jonas Geissler, MGP Sabine Weiss, MGP Jürgen Braun. Photos on the bottom from left to right are MGP Luise Amtsberg, MGP Birkwald W. Matthias, MGP Christoph de Vries, member of North Rhine-Westphalia State Parliament Benjamin Rauer, member of North Rhine-Westphalia State Parliament Dr. Marcus Optendrenk.
Europeans Cannot Turn a Blind Eye to the Persecution
Markus Ferber, MEP, wrote in his letter that the CCP has been suppressing Falun Gong for 23 years, even before there were allegations of systematic organ harvesting from imprisoned practitioners. He said that China has shown a worrying side that Europeans cannot turn a blind eye to.
He wrote, "The Chinese government must respect the rights of Falun Gong practitioners as well as the rights of members of other religious and ethnic minorities, and immediately stop the current inhumane treatment. At the European and international levels, we must continue to uphold these values and defend human rights. The EU and its member states must continue to publicly defend the rights of vulnerable groups and condemn China's organ harvesting while calling on China to make concessions." He said he would continue to work in this direction in Europe.
Fight to Protect Practitioners' Rights
Frank Schwabe, Member of Parliament and Commissioner for Global Freedom of Religion, mentioned in his letter that this day reminded people of the CCP's crimes committed against Falun Gong practitioners. "We must do our utmost to draw attention to the tragic fate of these people in China."
He stated, "Harassment, imprisonment and killing - for more than 20 years, the Chinese government has persecuted Falun Gong extremely severely. I am deeply concerned by reports that thousands of Falun Gong practitioners have been illegally detained, tortured, and murdered. There is also an unimaginable charge (against the CCP) of illegally harvesting organs from Falun Gong members."
He called on the Chinese government to abide by international law, protect human rights, including the right to freedom of religion and belief, and disclose how donor organs are obtained and transplanted in China. "Allowing the international community free access to court hearings and prisons is the only way to deal with this serious charge."
He asked practitioners to seek his help if they needed it, and that he would work with them to protect their rights.
Condemning Live Organ Harvesting
Jürgen Braun, MGP, said that 23 years ago the CCP began to systemically persecute Falun Gong practitioners. "The then head of the CCP Jiang Zemin vowed to ruin their reputations, cut them off financially, and destroy them physically when he launched the persecution on July 20, 1999. Hundreds of thousands of practitioners were incarcerated, tortured, and killed as a result. This is still happening. Last year alone about 10,000 practitioners were arrested and detained."
Braun said that for many years people have accused the top CCP officials of using prisoners of conscience as organ donors. The victims are mostly Falun Gong practitioners because they have a healthy way of living.
Jonas Geissler, MGP and Human Rights Committee of the Christian Social Union (CSU), wrote in his letter: "Falun Gong practitioners have become victims of organ harvesting. This is one of the most terrible crimes violating human rights in history.
"As a Member of Parliament, we will not stop protesting against top-level officials in the CCP's large-scale action against international law. I want to call on friends in Germany and other countries: We will uphold individual rights in China, and we will see the end of the CCP's suppression and tyranny!
"The whole world knows the CCP is not China. The 21st century absolutely cannot become an era of totalitarian rule. Therefore, I call on the Chinese government to respect international standards and the International Covenant on Civil and Political Rights that it signed, stop the persecution of Falun Gong in China at once, release all detained Falun Gong practitioners and other prisoners of conscience, and stop live organ harvesting! As a member of a human rights committee, I will try my utmost to reach this objective."
Luise Amtsberg, MGP and Federal Government Commissioner for Human Rights Policy and Humanitarian Aid, said: "The brutal persecution of Falun Dafa, which has been going on since 1999, shows the dramatic state of religious freedom in China. Reports have showed that thousands of practitioners have died in the persecution, and that the suspicion of CCP's systematic, involuntary organ harvesting is far from cleared. The European Parliament passed a resolution in May 2022. I agree with the demand of the European Parliament for a complete investigation by the Chinese side and independent observers."
Support Practitioners' Efforts to End Persecution
Sabine Weiss, MGP, thanked practitioners for tirelessly setting an example by fighting for human rights. "Thank you for voicing for those who don't have a voice.
"The brutal persecution of Falun Gong has lasted 23 years in China. The facts and numbers are not only shocking but terrifying."
She said that so far there have been thousands of confirmed deaths. "I think we need to pursue more clear policies when we deal with China. Its human rights conditions are terrible and worsening. Minorities are being systemically eliminated. Their human rights violations must be pointed out, and they should be punished by more strict sanctions than ever.
"The European Parliament passed a resolution on May 5, 2022 on the reports of continued organ harvesting in China. This is one step toward the right direction. More importantly the Chinese leadership has been called out for their blatant crimes against humanity committed before the eyes of the world.
In her letter Ms. Weiss urged: "1. The CCP must abide by the United Nations Universal Declaration of Human Rights and implement the signed human rights conventions; 2. The CCP must respect and protect all rights of ethnic minorities; 3. The CCP must finally stop the persecution of the peaceful meditation movement, Falun Gong.
"I sincerely thank all of you, and I ask you not to let up your sense of responsibility for upholding human rights. This is also help and support for us."
Support for Practitioners
Birkwald W. Matthias, MGP, wished the practitioners success in what they do, and hoped that they get attention from the dignitaries in Germany and Europe. "I hope you find the appropriate way and measures to end China's persecution of Falun Gong practitioners." "Everyone should live a peaceful life without fear, and practice his belief."
China's Crime Must be Stopped
Christoph de Vries, MGP, said that Falun Gong movement is still persecuted in China, and its members are arbitrarily arrested and persecuted. He believed that the CCP has taken relentless, cruel, and inhumane actions against dissidents, and these crimes must be stopped and independent investigations must take place.
He is convinced that freedom and human rights will prevail in the end. "For this to happen, we must not timidly bow to the pressure of dictators, and we must not back away from the universal ideas of basic freedoms and human rights."
Side with Falun Gong
Benjamin Rauer, member of North Rhine-Westphalia State Parliament, said that in China Falun Gong practitioners have suffered 23 years of sad times, "I hope all Falun Gong practitioners have great courage and power. I stand with Falun Gong practitioners, and promise to do all I can on the job to provide support. My thoughts are with people suffering from the persecution, and my condolences to them and their families."
Cannot Turn a Blind Eye
Dr. Marcus Optendrenk, member of North Rhine-Westphalia State Parliament, praised Falun Gong practitioners' efforts to stop the persecution.
"We are deeply concerned that people in many parts of the world have a different understanding of human dignity and human rights from us. The persecution of Falun Gong practitioners in China is an example of this worldview divergence.
He called to commemorate the tens of thousands of victims of the CCP's crimes. "As a free society that sees human dignity, bodily integrity and freedom of belief as core elements of living together, we cannot turn a blind eye (to the persecution). We must draw attention to wrongdoing and resist the (wrong) ideas."
Views expressed in this article represent the author's own opinions or understandings. All content published on this website are copyrighted by Minghui.org. Minghui will produce compilations of its online content regularly and on special occasions.