Long Island, New York: Practitioners Introduce Falun Dafa at Shopping Mall
(Minghui.org) A Falun Dafa information booth was set up at Walt Whitman Mall in Huntington Station, on Long Island, New York on July 29, 2022 and was kept up for the month of August. Dafa practitioners introduced the mind and body practice to staff and shoppers in the mall.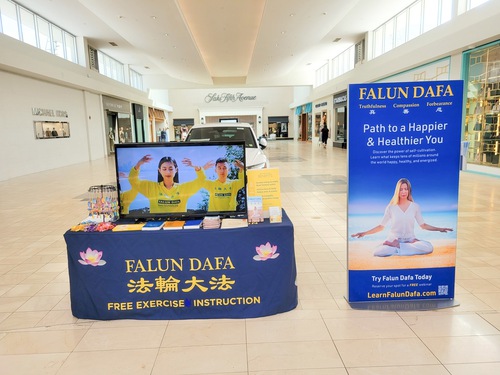 The Falun Dafa information booth at Walt Whitman Mall on Long Island, New York.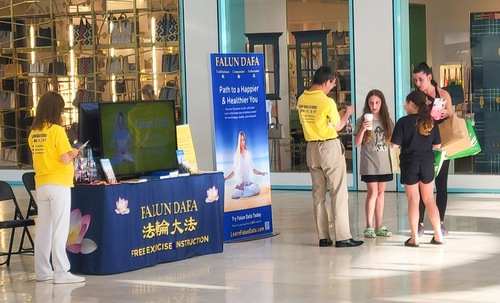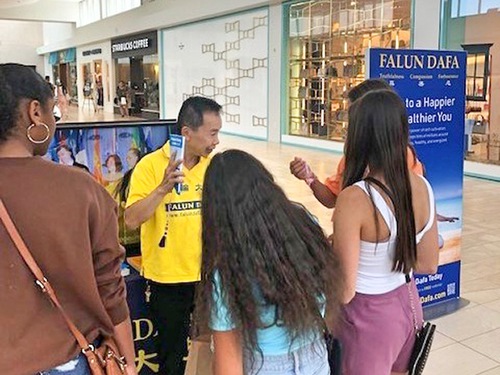 Practitioners introduce Falun Dafa to shoppers in the mall.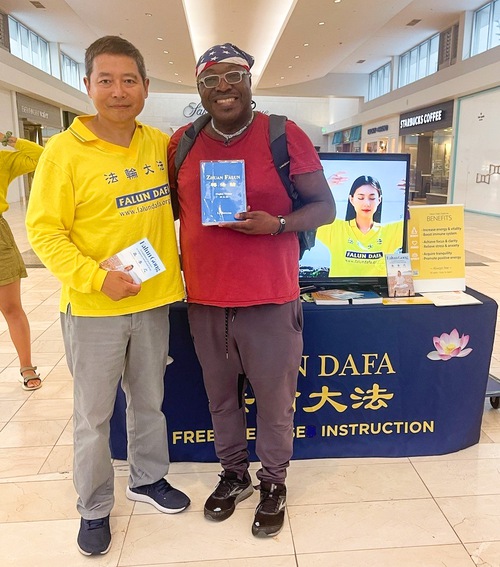 A Long Island resident learns about Falun Dafa while shopping at the mall.
Woman Plans to Tell Coworkers to Stop by the Booth
The first person to stop by the booth at 9:45 on July 29 initially observed from a distance but did not leave. A practitioner approached her and struck up a conversation. The woman told the practitioner she was delighted to know about Falun Dafa. Practitioners told her about the Dafa books and where she could learn the exercises. They also gave her a lotus flower with information about Falun Dafa. She happily accepted it and said she would hang it in her car. Before leaving, she also said she would tell all her coworkers to come and visit the booth.
"My Stomach Stopped Hurting After Reciting 'Falun Dafa Is Good'"
Five young people came by as practitioners were introducing Falun Dafa to passersby. The two girls listened intently as a practitioner told them what Dafa is while the three boys had their attention elsewhere. The practitioner told them, "Saying 'Falun Dafa is good, Truthfulness, Compassion, Forbearance is good' frequently will give you positive energy. Practicing Dafa makes people healthy." 
A practitioner later saw the youngsters in another part of the mall. One of the boys told him, "What you said really works. I recited 'Dafa is good' for a while and my stomach stopped hurting!" It turned out the boy's stomach started to ache after he left the booth with his friends. He said he remembered what the practitioner said. He said after he recited "Falun Dafa is good," the pain in his stomach went away.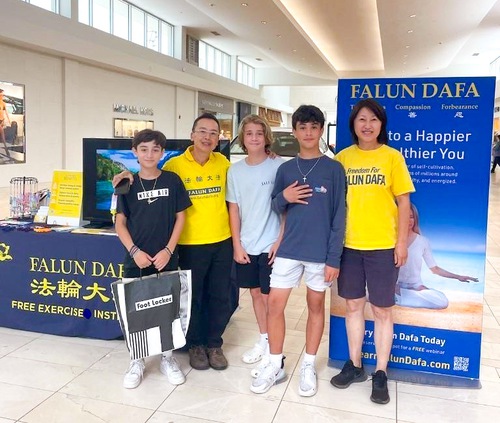 The boy in the center said his stomach stopped hurting after he recited "Falun Dafa is good."
The three boys returned to the booth half an hour later to thank practitioners and learn more about Falun Dafa. They took information and lotus flowers.
Woman Felt Powerful Energy at Falun Dafa Booth
Practitioners talked to a woman on August 19 about Falun Dafa and how it is persecuted in China. She took out her phone and signed the online petition to call for an end to the persecution. Before she left, she mentioned that her neck hurt. Practitioners suggested that she repeat, "Falun Dafa is good, Truthfulness, Compassion, Forbearance is good." She came back 45 minutes later and told them that the phrase was magical. She said she kept saying the words after leaving the booth and the pain in her neck disappeared.
Practitioners then told her about Zhuan Falun, the main book of Falun Dafa. They explained that the book was translated into 40 languages and could be found in many parts of the world. She asked, "Do you have the book, can I take a look?" They showed her the English version of Zhuan Falun and explained how the contents guide one to practice cultivation towards high levels. She decided to buy the book.
Before leaving, she told practitioners she felt a powerful energy field while standing next to the booth and chatting with them.
The Phrase Brought Me Good Luck
A young woman who works at a high-end store in the mall was handed a lotus flower when she passed by the booth. Practitioners also told her the meaning of the phrase "Falun Dafa is good, Truthfulness, Compassion, Forbearance is good" printed on the flower. She gladly accepted a flier and signed the petition to support the end of the Chinese Communist Party that is responsible for the persecution of Falun Dafa in China.
A few days later, she returned to the booth and told practitioners that good things came to her the second day after she kept saying the phrase. She had been anxiously looking for a suitable place to live for months. The day after she started to recite "Falun Dafa is good," she found two good places. She knew at once that the phrase brought her good luck. She said she felt a strong energy field coming from the Falun Dafa booth. She thanked practitioners again.
Man Feels Better after Reciting "Falun Dafa Is Good"
Several high school girls stopped by the booth and chatted with the practitioners. One of them came back several days later and shared a recent experience. She'd told her severely ill father about reciting "Falun Dafa is good" after she heard practitioners say that these words brought people good fortune. Her father indeed felt much better after repeating the phrase over and over again. He was excited and wanted to learn about Falun Dafa. He told his daughter to go to the mall and thank practitioners for telling them about Falun Dafa. When practitioners showed her Zhuan Falun and explained what the book was, she bought the book at once and kept thanking practitioners.
"At Last, I Found a Way to Practice Cultivation to Higher Levels"
One day, a middle-aged man from India stopped by the booth. Practitioners told him about Zhuan Falun. He was deeply moved by practitioners' stories of the changes they experienced after practicing Falun Dafa. After reading the preface to Zhuan Falun, "On Dafa," he purchased the book. He said excitedly, "I am really fortunate today. All these years, I have been searching for a way to practice cultivation to higher levels. It looks like I found it at last!"
Invitation from Shopping Mall Manager
The shopping mall manager sent a text message to the organizer of the Falun Dafa information booth. In her message, she wrote, "Your booth and displays are beautiful. Your staff is courteous and kind." She invited practitioners to participate in some upcoming health and fitness events to be held in the mall from September 10-23. She said practitioners could demonstrate the exercises all day and hold classes. She also said she would invite practitioners to attend other events at the mall in the future.
The booth was set up in Walt Whitman Mall for a month. During this time, many people had the opportunity to learn about the practice and even experience how wonderful Falun Dafa is.
All content published on this website are copyrighted by Minghui.org. Minghui will produce compilations of its online content regularly and on special occasions.