London, UK: Rally Celebrates 400 Million People Who Quit the Chinese Communist Party Organizations
(Minghui.org) Falun Dafa practitioners held activities in London on August 27 to celebrate 400 million people who quit the Chinese Communist Party (CCP) and its affiliated organizations. The number of resignations from the CCP organizations as of August 3 had reached 400 million, a significant milestone.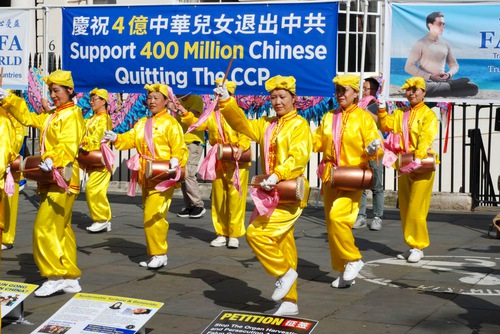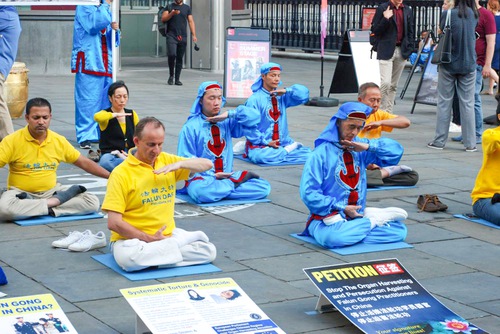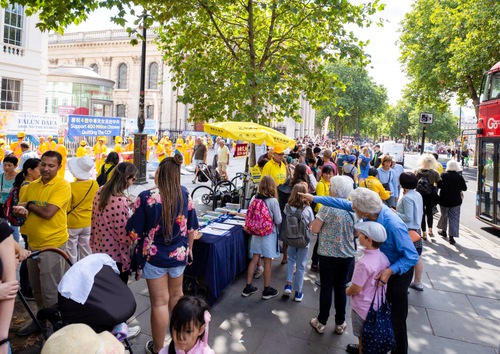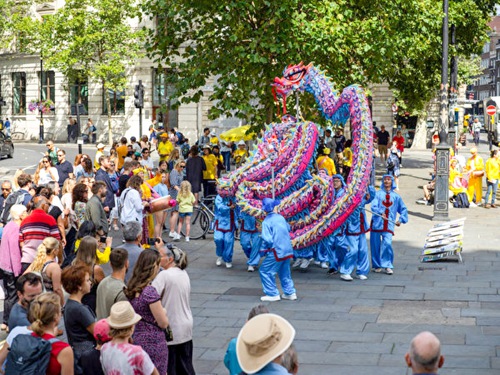 Practitioners in London celebrate 400 million people who have quit the CCP organizations.
Banners displayed on St. Martin's Square conveyed the important message of the event. There were also performances by the waist drum team and dragon dancers and an exercise demonstration.
Zhang Lanrong, a practitioner who volunteers for the UK Service Center for Quitting the CCP, said that 400 million Chinese people quitting the Party is significant, "Due to our efforts to clarify the truth, many Chinese people now understand that the CCP destroys traditional culture and causes trouble for them. After years of hard work, 400 million people have quit the CCP and its affiliated youth organizations for a bright future."
Many people paused to watch the events. Some learned the Falun Dafa exercises and signed a petition to condemn the CCP's persecution.
"You are doing a great thing"
Marasca, an art therapist, said she was moved to tears when she heard the exercise music. She looked at the flyer a practitioner handed her and said, "This is a kind of spiritual experience. I don't know anything about Falun Dafa. I just came here, and when I saw the practitioners doing the exercises, my heart was touched. When these people meditated, I felt a strong energy, an energy of love, which connected me to it."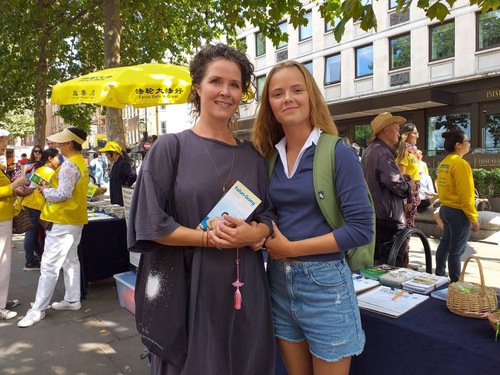 Marasca (left)
Regarding the 400 million Chinese quitting the CCP organizations, she said, "It is very brave and it takes a lot of courage. I am from the Netherlands, where people have freedom. We can do anything. From childhood we know we have freedom.
"It's hard for me to imagine an entire country without freedom. You are doing a great thing bringing freedom to everyone; you are very courageous. I pray for you. You spread the energy of love around the world by doing things like this. That's why I'm touched and why I'm supporting you."
Former BBC News Editor: Falun Dafa Is Peaceful and Helpful
Ken Burrows, a retired BBC news editor, said, "It's really sad that the CCP persecutes people with different opinions and people with religious beliefs."
He said that the UK was a multicultural country with hundreds of different religions, none of which is persecuted. In China, there are no human rights. The CCP threatens people with violence and does not obey the will of the people. He said that Falun Dafa is peaceful and helpful.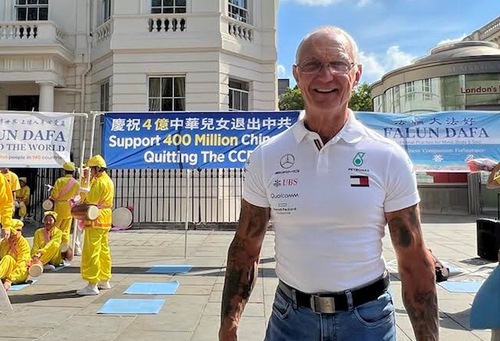 Ken Burrows
"I have been to the former Soviet Union, Cuba, and China," he said. "I have been to all these communist countries. It is strange that communism controls people's minds. It controls people's souls. People have their own thoughts and can do their own things. In a communist country, you need a permit to do everything. There are secret police everywhere—the communist countries I have been to are like this."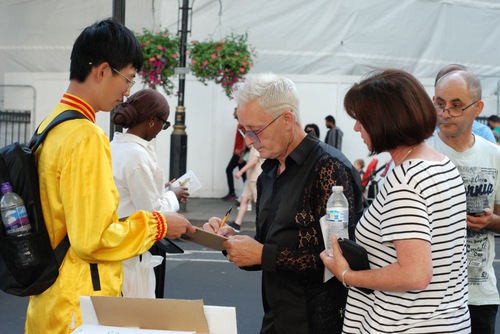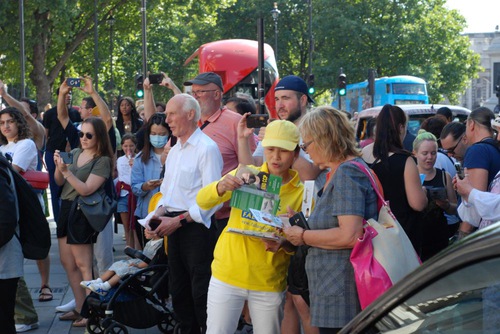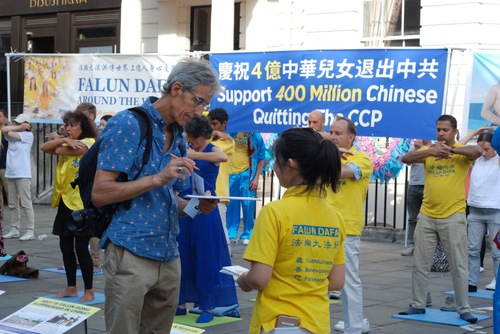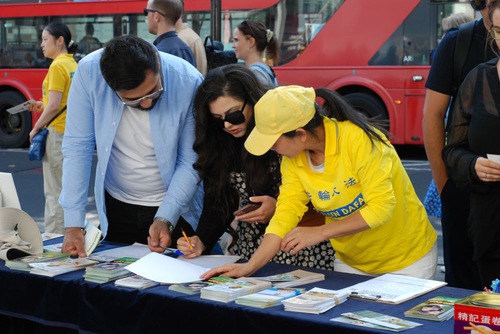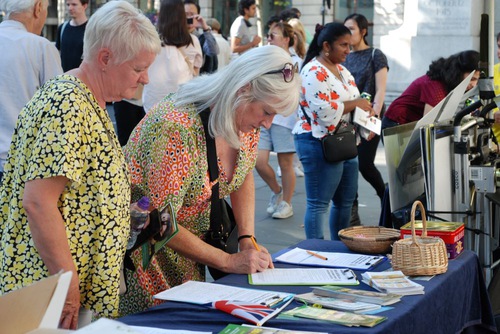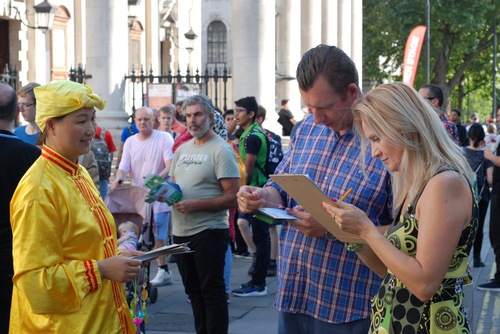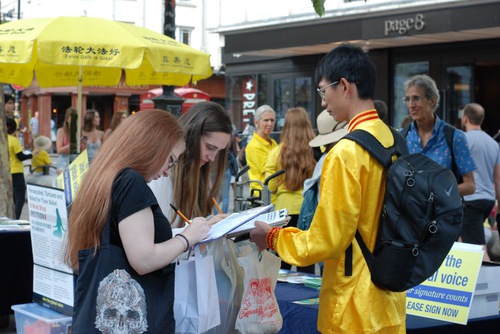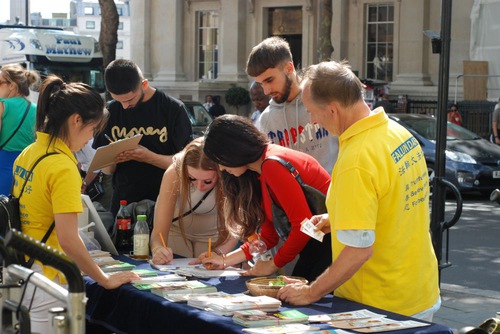 People sign the petition supporting the withdrawal from the CCP organizations.
Advising People to Withdraw from the CCP Organizations
Jack is a Ph.D. in the field of economics. He began going to London in 2015 to clarify the truth in Chinatown and advise people to quit the CCP organizations.
"Clarifying the truth in Chinatown, I meet all kinds of people," he said. "The deepest impression is that a lady I advised to quit the CCP has become a fellow practitioner. She is now a major player in clarifying the truth."
He recalled, "She was on her way to a Chinese medicine clinic in Chinatown. When she came out, I talked to her about Falun Dafa and the principle of 'good will be rewarded and evil incurs retribution.' She had a good understanding and was very interested in Falun Dafa, so she began to read the Falun Dafa books."
He said she had quit the CCP organizations before but did not understand the significance of withdrawing. After she understood why it is important to quit, she joined the effort to advise Chinese people to quit the CCP organizations. Now she can advise over 10 people a day to renounce the CCP.
A Chinese Doctor Commends Practitioners
Ms. Liang, who has been clarifying the truth at the British Museum for a long time, recalled a Chinese man who took some informational materials. During their conversation, he said he was a surgeon and that he supported Falun Dafa. He said the Communist Party was both bad and evil. Over the past 30 years, of all the groups pursuing democracy and freedom, he thought Falun Dafa practitioners had done the best because they have faith.
He said, "There is no faith in China. It [the Communist Party] destroys those who have faith. That's what it does with Falun Dafa. You have to persevere. Outside of China, I see you people wherever there are Chinese. I'm so proud of you." He gave practitioners a thumbs up.
When Ms. Liang asked if he'd ever joined any CCP organizations, he said he had not.
Background: What Is Falun Dafa and Why Is the CCP Persecuting It?
Falun Dafa (also known as Falun Gong) was first introduced to the public by Mr. Li Hongzhi in Changchun, China, in 1992. The spiritual discipline is now practiced in over 100 countries and regions worldwide. Millions of people who have embraced the teachings—which are based on the principles of Truthfulness, Compassion, and Forbearance—and have learned the five exercises have experienced improved health and well-being.
Jiang Zemin, former head of the Chinese Communist Party (CCP), perceived the spiritual discipline's growing popularity as a threat to the CCP's atheistic ideology, and on July 20, 1999, he issued an order to eradicate the practice.
Under Jiang's personal direction, the CCP established the 610 Office, an extralegal security organization with the power to override the police and judicial systems and whose sole function is to carry out the persecution of Falun Dafa.
Minghui.org has confirmed the deaths of thousands of practitioners as a result of the persecution over the past 23 years. The actual number is believed to be much higher. Countless practitioners have been imprisoned and tortured for their faith.
There is concrete evidence that the CCP sanctions the harvesting of organs from detained practitioners, who are murdered to supply China's organ transplant industry.
All content published on this website are copyrighted by Minghui.org. Minghui will produce compilations of its online content regularly and on special occasions.