Tortured to Mental Breakdown 20 Years Ago, Shandong Woman Sentenced Again for Her Faith
(Minghui.org) Having suffered a mental breakdown due to inhumane torture in a forced labor camp two decades ago, a 62-year-old woman was secretly sentenced to three years for her faith in Falun Gong, a spiritual discipline that has been persecuted by the Chinese communist regime since 1999.
Ms. Xue Yuchun of Qingdao City, Shandong Province, was arrested on August 8, 2021, while talking to people about Falun Gong at a wholesale market. For over a year, her family was kept in the dark concerning her situation. Only recently did they confirm that she had been sentenced to three years by the Huangdao District Court.
Ms. Xue used to work as a QC inspector at a clothing factory. Due to poor health, she had to quit her job and stay at home. Shortly after she took up Falun Gong in early 1999, she recovered her health and went back to work.
Because she refuses to renounce Falun Gong despite the persecution, she has been arrested at least ten times and harassed countless times over the past 23 years.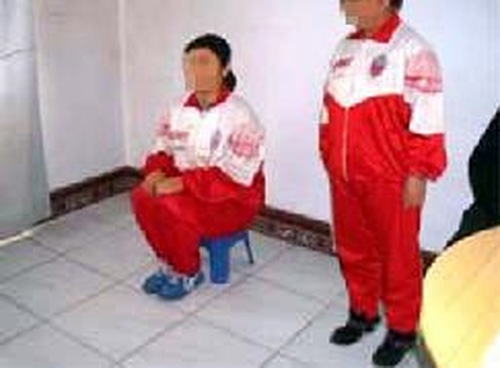 Torture reenactment: Sitting on a small stool
On February 7, 2002, Ms. Xue was admitted to the Wangcun Forced Labor Camp to serve a two-year term. Because she didn't write the required statement to renounce Falun Gong, she was solitarily confined in a completely dark room. The guards and inmates threatened and verbally abused her. They forced her to either stand or sit on a small stool for long hours without moving. Even after her buttocks festered, they still forced her to keep sitting.
Sometimes she was deprived of sleep for days and not allowed to use the restroom or wash. When she started to smell, the inmates spit in her face and on her tableware.
Ms. Xue suffered a mental breakdown. When she was released on medical parole in May 2003, all of her hair had turned gray. She was only in her early 40s back then.
All content published on this website are copyrighted by Minghui.org. Minghui will produce compilations of its online content regularly and on special occasions.