Surviving Lung Cancer (Part V)——A Series of Stories about Falun Dafa's Healing Power
(Minghui.org) Lung cancer is the most lethal of cancers. According to the latest data released by the International Agency for Research on Cancer (IARC) of the World Health Organization, 19.29 million new cancer cases were reported worldwide in 2020, including 4.57 million new cancer cases (23.7% of total cases) in China.
Despite the fact that cancer is still a difficult problem for modern medicine to overcome, many people have recovered quickly through the practice of Falun Dafa. Below are several such stories.
(Continued from Part IV)
A Flyer Brings Unexpected Blessings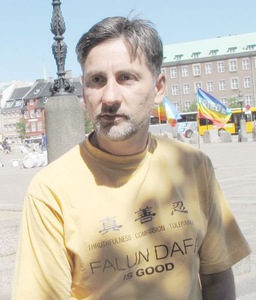 Dejan Markovic
Dejan Markovic, 58, is from Serbia. While doing business at a tourist city one winter, a man meditating near a tourist attraction caught his attention. The man was in his 30s. The expression on his face was calm and peaceful. He didn't seem to mind the temperature of minus 20 degrees Celsius and the hustle and bustle on the street. He meditated as if he were sitting inside of an eggshell. Markovic's eyes were glued on him.
Seeing that Markovic was interested in what they were doing, a friend of this young man approached him and told him about the persecution of millions of Falun Dafa practitioners in China. The peaceful meditation the young man was doing was Falun Dafa.
It was the first time Markovic heard about it. He recalled that as an atheist, he had never been interested in anything spiritual, but as a secular person, he did care about human rights issues. He thanked them for the information and accepted the flyer.
Upon returning home, he continued to be occupied with life and work. He kept the flyer in a drawer and never read it. Meanwhile, his wife struggled with failing health and was later diagnosed with terminal lung cancer, the same disease that claimed her father's life. Only then, did Markovic remember his encounter with that ancient Chinese meditation practice two years ago.
The practitioner told Markovic that many people in China recovered from serious illnesses through practicing Dafa. He found the flyer in the drawer.
He and his wife learned the exercises together and started to practice. One month later, his wife's examination showed that she was cancer free! He also experienced elevation of his energy and he became a calmer and more peaceful person as well.
Believing that Falun Dafa Is Good, Dying Cancer Patient Regained Health
Ms. Li Yaxiang, a 55-year-old Changchun City, Jilin Province, resident, suffered some stomach problem in May 2008. After having a checkup in Beijing, she was told that she had lung cancer. She was dealt a heavy blow. Another hospital in Changchun also confirmed her cancer diagnosis.
Twenty days later, she went to a hospital in Dalian City, Liaoning Province, but the oncologist there told her that the lung cancer had already metastasized all over her body. The oncologist prescribed her some Chinese herbal medicine and discharged her.
She felt hopeless and had a nervous breakdown. She said she just waited to die. The whole family was desperate.
When a relative visited her, he urged her to recite the phrases "Falun Dafa is good; Truthfulness-Compassion-Forbearance is good." She was willing to try anything so she recited the phrases whenever she could. She read Dafa materials as well.
She felt better a few days later and began reading Zhuan Falun, the main book of Falun Dafa. The more she read, the better she felt. She did not feel sick anymore and her appetite returned.
When she went back to the hospital for a checkup, the doctor said she no longer needed any more visits, because she was cancer free! She thanked Falun Dafa Master for saving her life and her joy was beyond words.
Believing in Dafa, Husband Blessed with Health
Ms. Meng Yuxian is a 56-year-old resident of Zhengzhou City, Henan Province. Her husband had a cold with a cough in the spring of 2007. He did not get better after two months of treatments. She took him to Zhengzhou No. 1 People's Hospital. After having a CT scan, the doctor said he had lung cancer. They were shocked.
They went to the provincial hospital the next day. The diagnosis was the same.
In the hospital, the doctors took a piece of his tumor for pathology. Before the result came out, Ms. Meng was so nervous that she could not sleep or eat. She suddenly remembered that her sister-in-law had asked her to recite "Falun Dafa is good; Truthfulness-Compassion-Forbearance is good" whenever she encountered danger. She recited for three days.
When the result came out, it was not cancerous. Her husband was fine. She witnessed the power of Falun Dafa and is grateful for Dafa's Master in saving her husband!
(The end.)
* * * * * * *
Falun Dafa is extraordinary and magnificent, and its mighty power reaches both the macrocosm and the microcosm. The case detailed in this article is just a tiny manifestation of the power of Dafa on the level of the secular world. While Dafa can bring blessings to humankind, Dafa's extraordinariness and magnificence are more for people to return to their true origins.
All content published on this website are copyrighted by Minghui.org. Minghui will produce compilations of its online content regularly and on special occasions.