The United States: Members of the US Congress Call for an End to the Chinese Communist Regime's 23-Year-Long Persecution (Part 2)
(Minghui.org) Continued from Part 1
Falun Dafa practitioners held a rally and march in Washington D.C. on July 21 to condemn the Chinese Communist Party's (CCP) 23-year-long persecution. They also called for the brutality to end. 
Before the rally, U.S. senators and congressmen sent letters to the Falun Dafa Association, which hosted the rally, expressing their solidarity with Falun Gong and condemning the CCP's persecution and the CCP's  organ harvesting from living Falun Gong practitioners.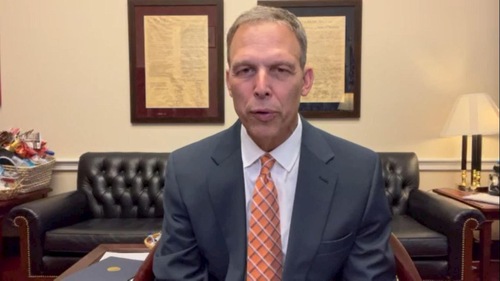 Scott Perry, Member of the House of Representatives from Pennsylvania and chair of the House Freedom Caucus, expressed his support through a video message. 
Rep. Scott Perry is the sponsor of H.R.6319 – the Falun Gong Protection Act. In the video, Rep. Perry thanked the Chinese Falun Gong practitioners for their unimaginable courage when they stood up against the CCP. He said, "You are fighting the good fight. Your bravery is to be commended, and I want you to know that it matters. People all around the world are hearing you, so keep speaking out and keep fighting."
He said, "Our nation continues to witness the distressing examples of the Communist Party of China's depravity as they orchestrate their organ harvesting program on the Falun Gong. We believe that as many as one and a half million practitioners have already been lost."
Rep. Perry referred to the Falun Gong Protection Act which is being discussed in the House of Representatives, and said, "Last December I introduced the Falun Gong Protection Act which authorizes President Biden to sanction anyone thought to be involved with or contributing to forced organ harvesting in China. The bill also instructs the Secretary of State to determine whether these acts constitute a genocide or an atrocity. The Human Rights Bill of 2018 helps to define the atrocity, as a genocide or a crime against humanity."
He further stated, "China's persecution of the Falun Gong—whether it's forced organ harvesting, unjust imprisonment or forced labor, is evil. It's perverse. Congress absolutely must act to ensure that millions of Falun Gong practitioners are not denied the freedom to exercise their religious belief."
He finally stated, "Thank you very much for your courage and bravery against the atrocities of the Communist Party of China. I encourage you to stay strong! May God continue to bless you and your mission."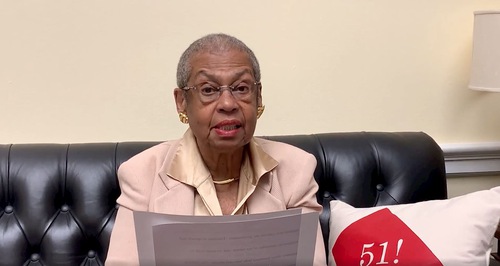 Rep. Eleanor Holmes Norton from Washington D.C. sent a video greeting. 
Rep. Eleanor Holmes Norton expressed her support via a video greeting. She said as the former Assistant Legal Director of the American Civil Liberties Union, constitutional attorney, and life-long civil rights advocate, she opposed the CCP's persecution of Falun Gong practitioners and honored those who died for their beliefs.
She said that Falun Gong is peaceful and teaches people to improve themselves through meditation and slow-moving exercises. "Falun Gong has suffered mercilessly at the hands of the Chinese government for over two decades. Reports of this persecution include detention, torture, and organ harvesting. The only crime of those who practice Falun Gong, is to be born into a society of intolerance."
She firmly stated, "Freedom of speech and religion are bedrocks of our nation and we must work to preserve these freedoms, both here and abroad. The Chinese government's acts of suppression and violence are a reminder for Americans that these rights must not be taken for granted.
"We must fight to raise awareness of those persecuted in China, who cannot raise awareness themselves.
"I support the many individuals calling for freedom in China, including Falun Gong practitioners. I hear you, and I stand with you here today, and every day."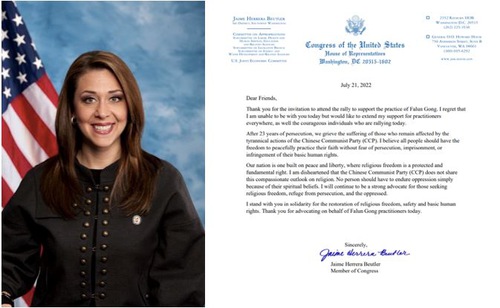 Rep. Jaime Herrera Beutler from the 3rd Congressional District of Washington State and her letter
Rep. Jaime Herrera Beutler stated in her letter, "I believe all people should have the freedom to peacefully practice their faith without fear of persecution, imprisonment, or infringement of their basic human rights."
She stated, "No person should have to endure oppression simply because of their spiritual beliefs. I will continue to be a strong advocate for those seeking religious freedom, refuge from persecution, and the oppressed."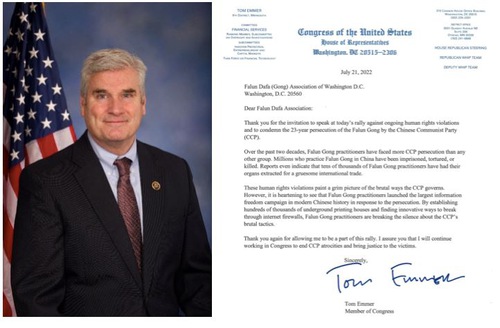 Rep. Tom Emmer from the 6th Congressional District of Minnesota State and his letter 
Rep. Tom Emmer of Minnesota stated in his letter, "Over the past two decades, Falun Gong practitioners have faced more CCP persecution than any other group. Millions who practice Falun Gong in China have been imprisoned, tortured, or killed. Reports even indicate that tens of thousands of Falun Gong practitioners have had their organs extracted for a gruesome international trade. 
"These human rights violations paint a grim picture of the brutal ways the CCP governs. However, it is heartening to see that Falun Gong practitioners launched the largest information freedom campaign in modern Chinese history in response to the persecution. By establishing hundreds of thousands of underground printing houses and finding innovative ways to break through internet firewalls. Falun Gong practitioners are breaking the silence about the CCP's brutal tactics."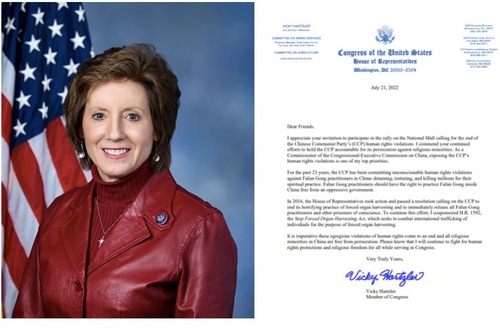 Rep. Vicky Hartzler from the 4th Congressional District of Missouri and her letter
Rep. Vicky Hartzler is a member of the Congressional-Executive Commission on China. She stated in her letter that exposing the CCP's human rights violations was one of her top priorities. 
She stated, "For the past 23 years, the CCP has been committing unreasonable human rights violations against Falun Gong practitioners in China – detaining, torturing, and killing millions for their spiritual practice. Falun Gong practitioners should have the rights to practice Falun Gong inside China free from an oppressive government. 
"In 2016, the House of Representatives took action and passed a resolution calling on the CCP to end its horrifying practice of forced organ harvesting and to immediately release all Falun Gong practitioners and other prisoners of conscience. To continue this effort, I cosponsored H.R.1592, the Stop Forced Organ Harvesting Act, which seeks to combat international trafficking of individuals for the purpose of forced organ harvesting.
"It is imperative these egregious violations of human rights come to an end and all religious minorities in China are free from persecution. Please know that I will continue to fight for human rights protection and religious freedom for all while working in Congress."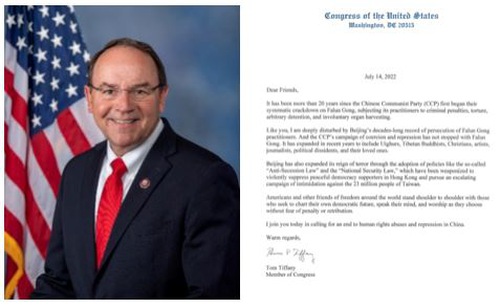 Rep. Tom Tiffany of the 7th Congressional District of Wisconsin State and his letter 
Rep. Tom Tiffany for Wisconsin stated in his letter he was deeply concerned about Beijing's record of persecution of Falun Gong practitioners. "The CCP's persecution doesn't stop at Falun Gong. In recent years, it has extended to Xinjiang Uyghurs, Tibetan Buddhists, Christians, artists, journalists, political dissidents and their families."
He pointed out that, "Americans and their allies should stand shoulder-to-shoulder with those who fight for freedom, let them choose their own democratic future, express their will, freely choose their beliefs without being punished for it." 
(To be continued)
Background: What Is Falun Dafa and Why Is the CCP Persecuting It?
Falun Dafa (also known as Falun Gong) was first introduced to the public by Mr. Li Hongzhi in Changchun, China, in 1992. The spiritual discipline is now practiced in over 100 countries and regions worldwide. Millions of people who have embraced the teachings, which are based on the principles of Truthfulness, Compassion, and Forbearance, and have learned the five exercises, have experienced improved health and well-being.
Jiang Zemin, former head of the Chinese Communist Party (CCP), perceived the spiritual discipline's growing popularity as a threat to the CCP's atheistic ideology and on July 20, 1999, he issued an order to eradicate the practice.
Under Jiang's personal direction, the CCP established the 610 Office, an extralegal security organization with the power to override the police and judicial systems and whose sole function is to carry out the persecution of Falun Dafa.
Minghui.org has confirmed the deaths of thousands of practitioners as a result of the persecution over the past 23 years. The actual number is believed to be much higher. Countless practitioners have been imprisoned and tortured for their faith.
There is concrete evidence that the CCP sanctions the harvesting of organs from detained practitioners, who are murdered to supply China's organ transplant industry.
Views expressed in this article represent the author's own opinions or understandings. All content published on this website are copyrighted by Minghui.org. Minghui will produce compilations of its online content regularly and on special occasions.