Woman Tortured in Custody, Deprived of Sleep for Six Nights
(Minghui.org) Ms. Li Dongmei, a resident of Shijiazhuang City, Hebei Province, was arrested on July 18, 2019 after being reported for talking to people about Falun Gong, a spiritual practice that has been persecuted by the Chinese Communist Party since 1999. She was sentenced to ten months in April 2020, and released on May 18, 2020.
While Ms. Li was detained, her husband had high blood pressure and heart failure, and their two daughters often cried, as they missed her. The younger daughter wanted to jump from a building while the elder daughter became overworked from taking care of her father and sister, and could not defecate normally. The daughter also developed four epidermoid cysts and had to undergo surgery; her stomach became bloated and she could not eat anything. Her hair also felt like straw and she had difficulty climbing up the stairs.
Below are the details of the torture Ms. Li suffered while in custody.
Arrested and Sentenced for Talking About Falun Gong
Ms. Li, 57, used to suffer from severe rheumatoid arthritis and other illnesses. Many of her joints were deformed, and she was bedridden for a long time and couldn't even hold a bowl. She often had headaches and fever, and was given the nickname "old woman" before she reached age 30.
After taking up Falun Gong in 1998, she completely recovered, leaving her family and friends in awe. When the persecution of Falun Gong started, Ms. Li would tell people how she had benefitted from the practice. 
She was arrested on July 18, 2019, along with another practitioner, Ms. Geng Shulan, for talking to people about Falun Gong. Both were taken to the Zhongshanlu Police Station for interrogation. They were transferred to Shijiazhuang No. 2 Detention Center on July 20, 2019. Both of them refused to sign any documents or undergo a physical exam. Ms. Li was held in room 202.
Both women's arrests were approved on August 3, 2019. The Qiaoxi District Procuratorate indicted them on October 11 and submitted their cases to the Qiaoxi District Court. They stood trial on December 11 and their lawyers entered not guilty pleas for them. The Qiaoxi District Court sentenced both women to ten-month prison terms in April 2020.
Tortured in Detention Center
Beaten and Deprived of Sleep
Ms. Li believed that she had not committed any crime, and shouted "Falun Dafa is good" in protest upon arriving at the Shijiazhuang No. 2 Detention Center. A female guard instigated five or six inmates to beat her. An inmate in her 30s and another who was slightly plump beat Ms. Li continuously. During the beating, Ms. Li couldn't see what was used to beat her. Afterwards, there was a circular red bloodstain about four centimeters wide on her body, and she felt as though a needle was pricking her. Her face and nose were bloodied. The inmates also pinched, punched, and slapped her in the face.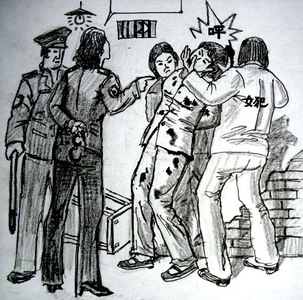 Torture illustration: Beatings
On the second and third day, the guards ordered inmates to handcuff Ms. Li's hands and feet together for a long time. As Ms. Li resisted, they stopped eventually.
Since her arrival, the guard in charge of room 202 deprived Ms. Li of sleep for six days. Eight inmates in groups of two watched over her every night and tugged her when she closed her eyes. She was on the verge of collapsing. She had only three steamed buns, and nothing else to eat, in six days.
Humiliated, Put on IV Drip
Ms. Li refused to wear an inmate uniform, and wore only her own clothes. As she was not given any pants, she had only one pair of underwear to wear and was humiliated by the inmates. When the inmates were given an outdoor break, they dragged Ms. Li around on the ground, which resulted in bruises on her body.
Ms. Li's husband and two daughters were worried when she was detained. When they finally saw her, they were shocked to see how she had been tortured. Yet the guards were proud of their "achievement."
After being deprived of sleep for nearly a week, Ms. Li couldn't open her eyes, and had a fever. A doctor pinched and dug his fingernails into her flesh. He pried her mouth open with an electrified instrument for two minutes to force-feed her an unknown drug. Her teeth became loose afterward. She was also put on an intravenous drip. Though she pulled out the needle the first time, the doctor continued to put her on a drip. She was transferred to room 106 after six days.
Doused with Cold Water, Force-fed, Manual Work
On July 27, 2020, the guards in room 106 lied by saying that Ms. Li had lice, and cut her hair very short. They also sprayed a lot of disinfectant on her head. As she resisted this humiliation, she was doused with buckets of cold water. She felt that she was about to suffocate. Afterwards, the inmates soaked her pants in the dirty water on the restroom floor and stuffed them into her mouth.
Ms. Li went on a hunger strike to protest the violence, but was dragged to the infirmary to be force-fed twice a day. Three inmates pinned her down and refused to let her speak. Her clothes were torn. If she talked, they stuffed her mouth with a bun. A plump inmate often sat on her stomach, causing her to have difficulty breathing.
Ms. Li was force-fed corn paste and given a saline IV, which caused much damage to her kidneys. After the drip, she had difficulty relieving herself.
Ms. Li's health deteriorated due to the abuse and she developed dangerously high blood pressure. When she met her lawyer the second time, one side of her body felt numb and her neck was stiff. She felt like her brain was stuffed with shards of glasses, had no strength on her left leg, and often fell over when trying to stand up. She also suffered severe memory loss. Fearing that she might die there, the detention center guards requested her release, but the police didn't agree.
Ms. Li was also forced to do flower arrangement work at the detention center. She was assigned to work with two other people, and one of them told her not to work if she couldn't. The person also commented that her face looked dark due to the torture.
Ms. Li was once arraigned by the judge. After returning to the detention center, the guards had a doctor measure Ms. Li's blood pressure but didn't tell her the result. Instead, Ms. Li was given some medicine. During that period, she felt her heart was about to jump out of her chest, especially when the television volume was turned up to the maximum.
After Ms. Li stopped her hunger strike and wanted to buy food in the detention center, she found that 200 yuan was missing from her card. She asked the guards, but the guards denied knowing anything.
She was put on an IV drip again when her health became worse. A few days after the treatment, Ms. Li felt as though her body had shrunk and her limbs were numb. She had to rub her legs and hands together to regain her feeling. She told the head inmate about it and requested not to be put on an IV drip again, but the inmate did not agree, and tried persuading Ms. Li to finish the six-day treatment.
During this period, Ms. Li was also told to monitor the restroom use, though she could not stand steadily. She had to stand guard outside the restroom for six to seven hours, and make sure there were no more than three people in the restroom at once. She was also assigned to sweep the floor.
The guards allowed her to do the Falun Gong exercises and her health became better. But not long after, she was no longer allowed to do so.
Many inmates bought padded shoes when the weather turned cold. Ms. Li didn't buy them initially but when she finally wanted to buy them due to the cold weather, she was told that the shoes were sold out. Ms. Li and several inmates were put on a waiting list. When the shoes finally arrived, they were sold at a price of 178 yuan per pair though the original price was around 30 to 50 yuan. Ms. Li only knew about it after an inmate told her.
All content published on this website are copyrighted by Minghui.org. Minghui will produce compilations of its online content regularly and on special occasions.