Auckland, New Zealand: Experience-Sharing Conference of the Oceania Tian Guo Marching Band
(Minghui.org) The New Zealand-Australia Tian Guo Marching Band Falun Dafa Experience Sharing Conference took place in Auckland on June 25. Practitioners talked about their stories as they matured while following Falun Dafa's principles of Truthfulness-Compassion-Forbearance. Most said participating in the Tian Guo Marching Band is not only a project that involves musical skills, but also an opportunity to cultivate by constantly looking within and improving themselves.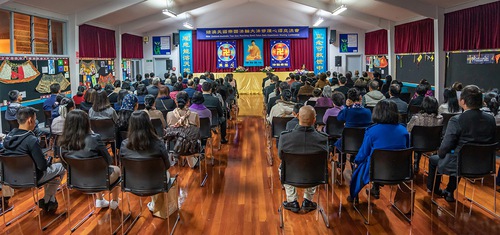 Falun Dafa Experience Sharing Conference of Oceania Tian Guo Marching Band was held on June 25, 2022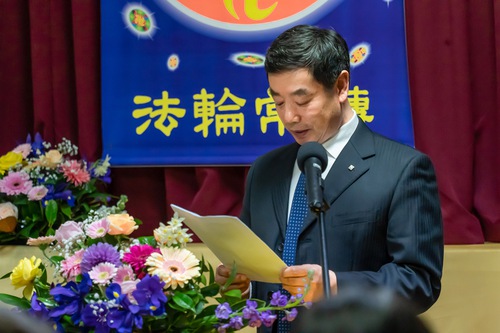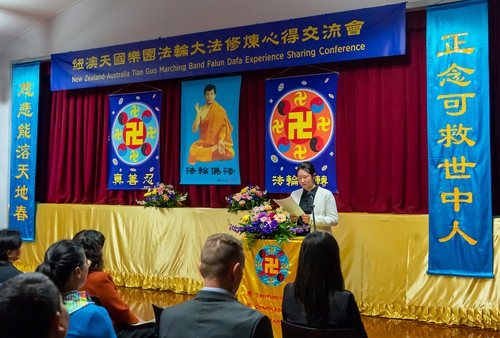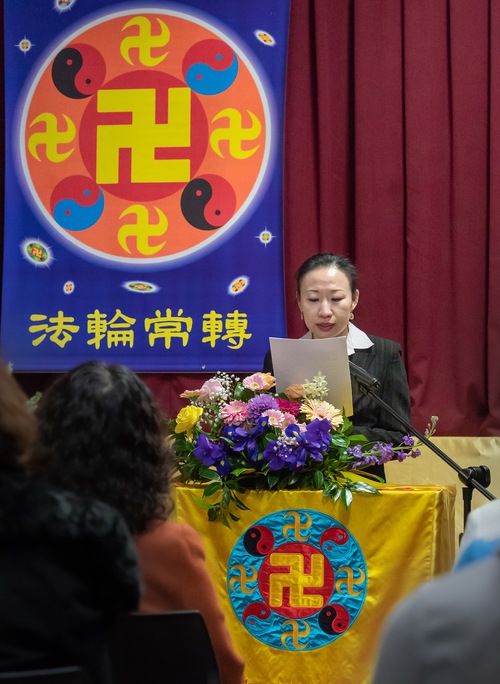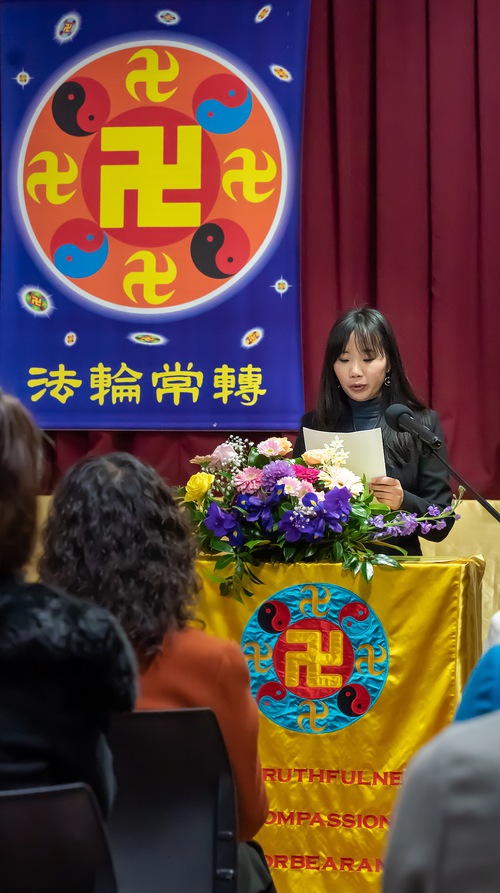 Practitioners talked about their cultivation experiences at the conference.
Back on Track
Hope Zhao began practicing Falun Dafa in 2008. After finishing middle school, she moved to New Zealand to continue her studies. Having played flute since childhood, she double majored in classical music performance and business in college. After joining the band she did not understand that participating offered her a unique cultivation opportunity and she soon quit.
Hope said that she was under a lot of pressure and almost forgot she was a practitioner. Her busy college workload and the huge psychological pressure was overwhelming. She felt exhausted, both mentally and physically, and even resorted to harming herself. She even wondered: was she on the right path in pursuing such modern-day professionalism? Was there a better way for her?
Then she remembered Falun Dafa and realized it was a hint from Master, the founder of Falun Dafa. Instead of feeling lost and desperate she felt her clear choice was to return to cultivation. She let go of her negative thoughts, rejoined the local practitioners' meetings, and returned to the Tian Guo Marching Band. "Walking on the path arranged by Master, I felt productive and confident," she explained, "It is different from accomplishment in everyday society. It is a sense of belonging, since I am back on the path walking toward the divine."
As a professional flutist, Hope volunteered to coordinate the flute players. She was later given more responsibilities and also provided feedback for other sections. During these two years she also experienced ups and downs. Through studying Falun Dafa's teachings, however, she learned to look inward and become selfless.
Hope eventually became the band director for some indoor performances. Being an introverted person with little conducting skills or experience, this was a steep learning curve for her. Along with fear, she also found she had resentment as well as attachments to comfort and ego. Through studying Falun Dafa's teachings, she made progress constantly. Encouragement from other practitioners also helped her find the strength from Dafa and the power of looking within.
Hope said she is very thankful for the cultivation opportunities arranged by Master. "When I'm able to let go of my attachments and human notions, I can feel myself improving and getting closer to the requirements of Dafa," she said.
A Process of Improvement
Li Fan is from Melbourne, Australia. She agreed that the activities of Tian Guo Marching Band are closely related to her cultivation.
"It's critical to let go of one's human notions," she said. "As practitioners who cultivate according to the principles of Truthfulness-Compassion-Forbearance, the situation will change once we really assimilate ourselves to these teachings by looking inward. As soon as I had that thought, I could feel all my pores open up and the sound, both from my own musical instrument and the group," she continued, "It was as if I was a particle of Dafa and the entire energy field was very strong, dissolving the bad elements and saving people."
"I feel very fortunate to be a member of Tian Guo Marching Band," she added. She felt touched by the feeling of improving in cultivation while working together with other practitioners and said she is very grateful to Master for this precious opportunity.
Letting Go of Notions
Xu is from Taiwan and plays the flute. She found the biggest challenge for adults to learn music is their stubborn old notions. "I am learning the flute to save people. So all the interfering human notions accumulated in the past need to go, including my thought karma," she said.
After identifying this issue, she found improving her technical skills was much easier. "Right now, I have a better understanding of the areas that Teacher often reminds us or things I neglected in the past," she explained, "I used to evaluate things this way or that way. Now it seems many of my notions were wrong."
"Nothing a practitioner experiences is accidental," she said. "The effect the Tian Guo Marching Band's performances has is closely related to our attitude, our understanding of the project, and our cultivation. This involves constant learning, persevering, and overcoming interference."
Walking the Path Well
Zhao has practiced Falun Dafa for 25 years and she's had many cultivation experiences after she joined the Tian Guo Marching Band. From learning sheet music (as opposed to numbered music notation in China) to failing tests, from technical improvement to breaking through bottlenecks, she's had many experiences, some sweet and some sour. "I am an insignificant particle of the band, but I do my best to contribute," she said, "I am happy to be part of the team and I am always so thankful to Master."
One march that she remembers well was the an anti-extradition parade in Hong Kong joined by 550,000 residents. "We were right in the middle of the parade and we could hear cheers and applause all along the way," she said. "Some spectators also called out to 'end the CCP' (Chinese Communist Party). I know they really love our band."
Zhao said she does not know how much more time remains for cultivation, but she knows her mission is aligned with the principles of Truthfulness-Compassion-Forbearance and helping Master save people. "This is like homework for me and I will do it well," she said.
Views expressed in this article represent the author's own opinions or understandings. All content published on this website are copyrighted by Minghui.org. Minghui will produce compilations of its online content regularly and on special occasions.