Jilin Woman Tortured During Ten-month Prison Term for Distributing Information about Her Faith
(Minghui.org) A Yanji City, Jilin Province resident was sentenced to ten months for speaking up for her faith in Falun Gong, a spiritual discipline that has been persecuted by the Chinese communist regime since 1999. She was denied family visits and was forced to sit on a small stool without moving for 17 hours each day.
Ms. Yu Xiuying was arrested on March 20, 2020, after being reported for distributing information about Falun Gong. The police confiscated 15 Falun Gong banners and 127 banknotes with information about the persecution of Falun Gong printed on them. Due to strict information censorship in China, many practitioners use creative ways to raise awareness about the persecution, including printing information on banknotes like this.
Ms. Yu was first held at the Yanji City Lockup. Upon finding out that she was having a fever, the police unbuttoned her clothes and forced her to stand in the cold wind, trying to bring her temperature down. As her temperature stayed at 37.5°C (99.3°F), the police released her on bail on March 27. They also ordered her family to pay the 570 yuan physical examination fee for her.
Between May 2020 and July 2021, the police harassed Ms. Yu twice and attempted to force her to sign some case documents. She didn't comply.
The police informed Ms. Yu on July 20, 2021 that she was scheduled to appear in Yanji City Court three days later. On the day of the trial, judge Li Junjie sentenced Ms. Yu to ten months, only ten minutes into the session. Ms. Yu was taken back into custody at Yanji City Detention Center after the trial and transferred to the Jilin Province Women's Prison on November 3.
Tortured in the Prison
Because Ms. Yu refused to renounce Falun Gong, the prison guards forced her to sit on a small stool without moving every day from 5 a.m. to 10 p.m. They also prohibited her family from meeting with her, calling her or making deposits to buy daily necessities. She didn't have toilet paper to use while in prison. The inmates often verbally abused her. For two months, they didn't allow her to wash her face or change her clothes, including her underwear.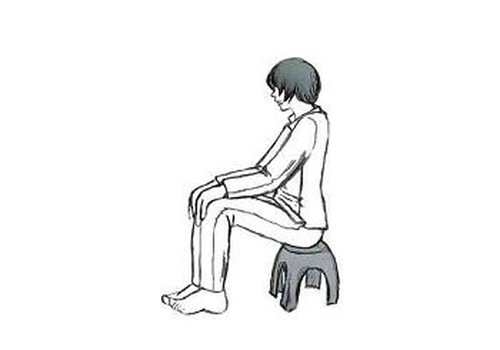 Torture reenactment: sitting on a small stool
On December 14, 2021, two inmates poured cold water over Ms. Yu to soak her jacket. They next poured water on the tile floor, opened the window and forced her to stand barefooted on the tiles, from 2 p.m. to 9: 40 p.m.
They repeated the torture next day from 4 a.m. until 9 a.m. A group of inmates then pushed Ms. Yu to the ground, forced her to wear a pair of wet shoes and dragged her from the third floor to a room on the second floor. Guard Tian Xiaoyun ordered her to sit on a small stool with pointed protrusions that punctured her buttocks and caused it to bleed. When the wound formed scars, the protrusions would injure the same area again.
She was released on May 15, 2022.
Past Persecution
Ms. Yu took up Falun Gong on October 24, 1997. She lives by its principles of Truthfulness, Compassion, Forbearance and enjoys good health since.
Because of upholding her faith, Ms. Yu was arrested on July 22, 2008 and later given one year at the Changchun Forced Labor Camp. She was handcuffed for a day for refusing to wear the inmate's clothes.
Ms. Yu was arrested again on August 13, 2018 after being reported for putting up informational materials about Falun Gong. She was detained at the Longjing Detention Center.
All content published on this website are copyrighted by Minghui.org. Minghui will produce compilations of its online content regularly and on special occasions.