San Francisco: Parade and Rally Mark 23 Years of Persecution
(Minghui.org) Falun Dafa practitioners held a rally and parade in San Francisco on July 16, 2022, to raise awareness of the ongoing persecution in China and call for an end to the atrocities.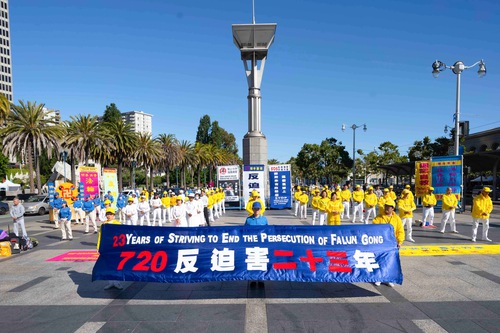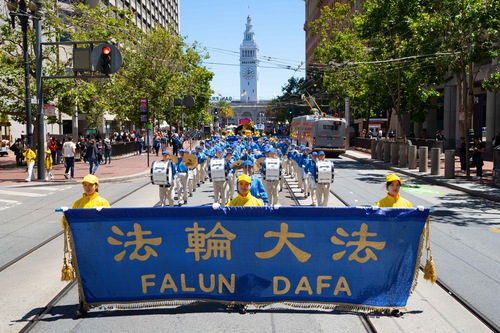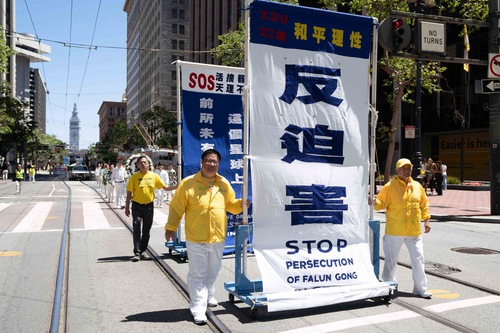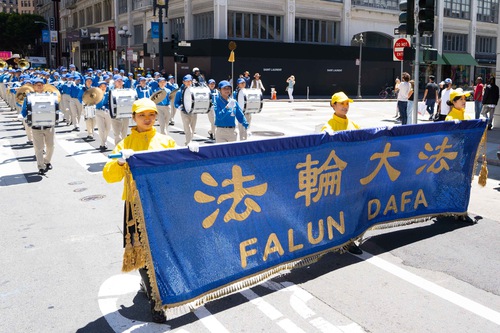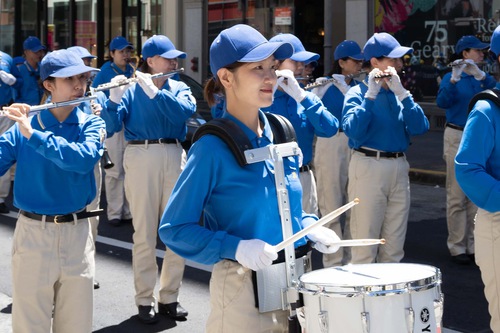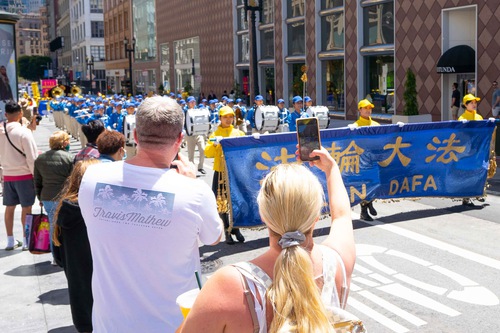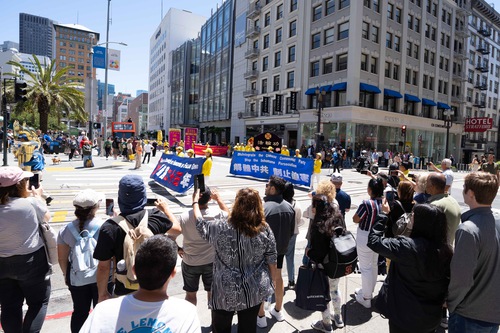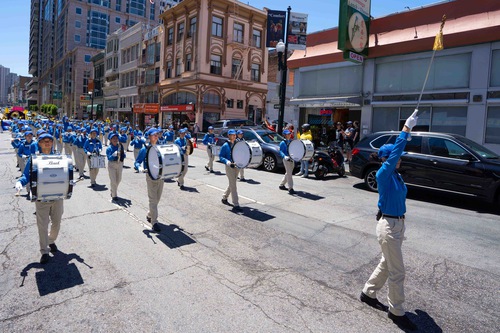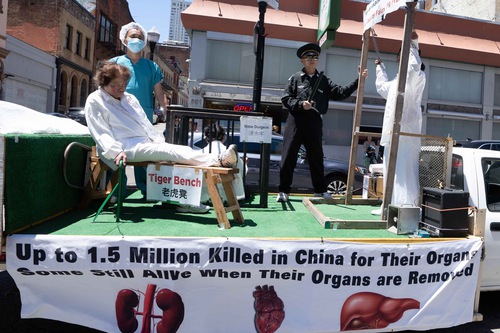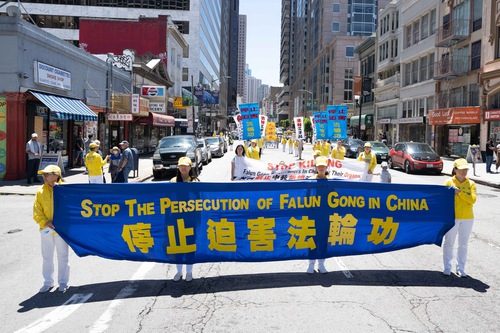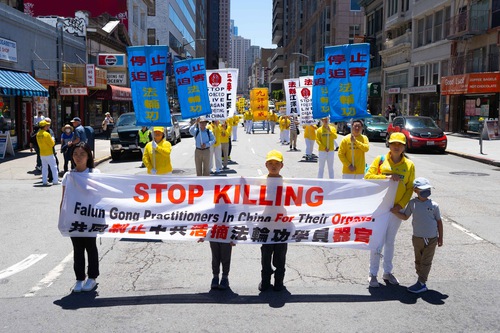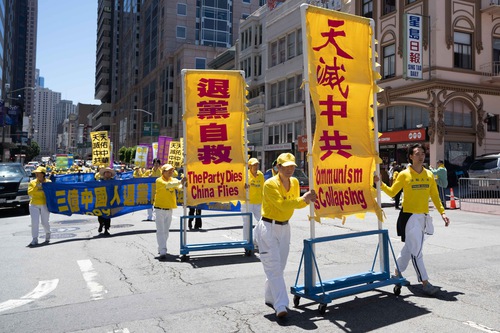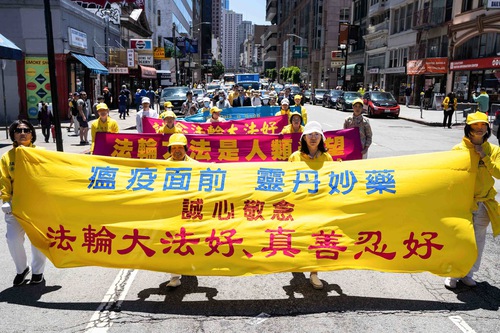 Practitioners held a rally and parade in San Francisco on July 16.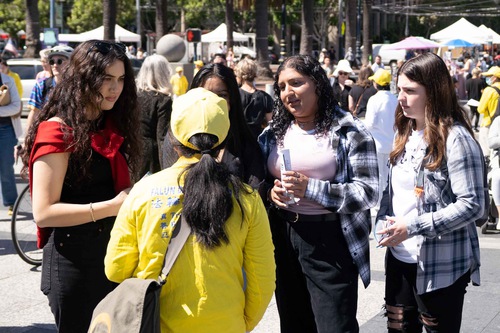 Passersby hear about the persecution in China.
The parade began at noon with the procession setting off from the Ferry Building, going down Market Street through Chinatown and ending at Portsmouth Square.
Mayor Sends Letter of Support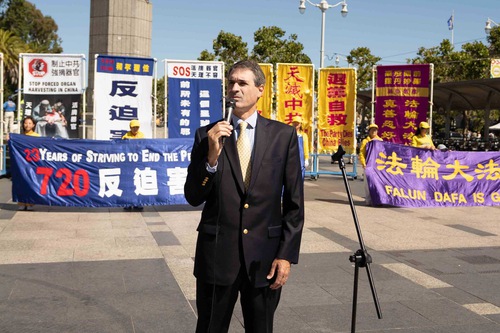 MC Li Ding read Mayor Lucas Ramirez's letter of support at the rally.
The mayor of Mountain View, Lucas Ramirez, sent a letter of support thanking practitioners for informing him of the unjust treatment of Falun Dafa in China. He wrote, "I am proud to send this letter to support your rally on Saturday, July 16.
"It makes one deeply uneasy knowing Falun Gong practitioners are detained indefinitely and worse still subject to brutal torture. I condemn such terrorist acts."
He appreciated hearing about the principles of the practice—Truthfulness, Compassion, and Forbearance—and learning about these important issues. He wished practitioners success at the rally and hoped that everything would go well.
Western Practitioner Hopes People Learn about the Persecution in China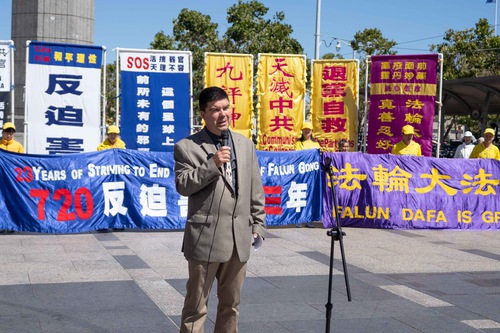 Steve Ispas, a business owner who practices Falun Dafa, spoke at the rally.
Steve Ispas said he was always interested in Asian culture and saw an advertisement for Falun Gong classes in a bookstore 22 years ago, so he signed up for it. The class left a deep impression on him. He learned that practicing cultivation meant following Truthfulness-Compassion-Forbearance and reflecting on one's shortcomings.
Steve, who is originally from a communist country in Eastern Europe, said he knows the communist regime is capable of heinous brutalities and how it fabricates rumors that can turn black into white. He began to take part in activities exposing the Chinese Communist Party's suppression. He said the persecution is still going on and hopes people can learn the truth as well as lend a hand to help stop it.
Doctor Condemns Organ Harvesting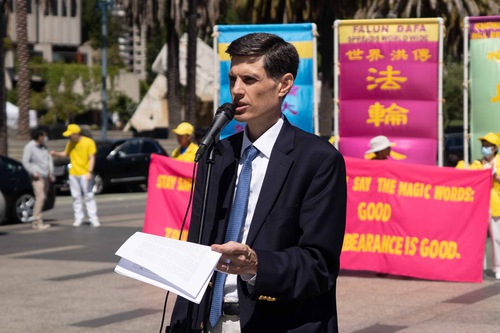 Alejandro Centurion, a member of Doctors Against Forced Organ Harvesting, addressed the rally.
Alejandro Centurion, who is a member of Doctors Against Forced Organ Harvesting, said that over the past 15 years he has worked hard to let people know about and help stop this century's most terrible crime—the live organ harvesting taking place in China.
He said, "This is an appalling and depraved medical crime that is inconceivable. Independent investigators David Kilgour and David Matas called it, 'A form of evil that is unprecedented on this planet.' Even former CCP premier Wen Jiabao admitted he was shocked by the crimes. According to reports, he asked Bo Xilai: 'Removing one's organs without any anesthesia and selling them for profits—is this something a human would do?'
"We will continue our efforts to tell the medical sector as well as the whole world about the brutal act of organ harvesting by the CCP and demand that this be stopped."
Practitioners Appeal for an End to the Brutalities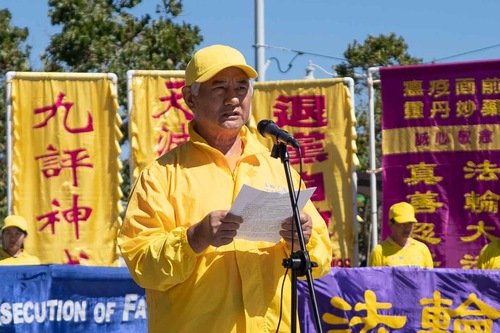 Wang Zhansuo, a Falun Dafa practitioner, appeals for an end to the persecution.
Wang Zhansuo began practicing in 1998 and puts the principles of Truthfulness, Compassion, and Forbearance into practice in his daily life. He finds out what he has done wrong in conflicts and considers others' points of view. His physical and mental wellbeing greatly improved. His many ailments—including osteoporosis—went away without medical intervention.
He and his wife were arrested in China for mailing information about Falun Dafa and tortured during their interrogations. Two policemen shackled his arms behind his back on an iron chair for 24 hours. He was not able to lift his arms for seven weeks after that. He was sentenced to four years in prison by the Huangdao District Court in Qingdao City, Shandong Province.
He said, "This persecution is still going on today. Every day practitioners are harassed, arrested, and tortured, and their organs are removed by force. This is not just a persecution of Falun Gong practitioners, it is also a tyranny of all Chinese citizens and humanity. I call on governments in countries around the world to stand up and stop the CCP's persecution of Falun Gong."
Calling for the Release of All Detained Practitioners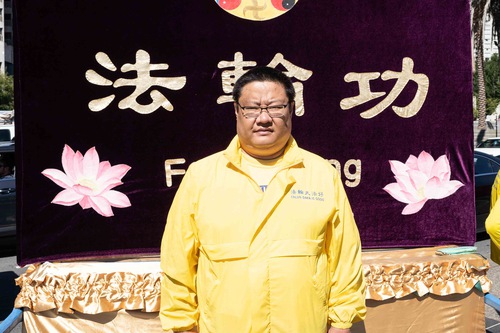 Practitioner Wang Xia calls for the release of all detained Falun Gong practitioners.
Wang Xia, who started to practice Falun Dafa in 2004, said his parents became healthy after they began practicing. They also became better people. Witnessing the amazing health benefits of the practice, he decided to practice it, too. His health improved and he got rid of many bad habits such as smoking and drinking.
The police broke into Wang Xia's house in March 2010 and arrested him along with his parents and wife for practicing Falun Gong. They confiscated many personal belongings. He was detained for 38 days and forced to do intense labor every day.
He said, "I take part in today's parade and demand that the CCP stop persecuting Falun Dafa at once. Release all detained practitioners."
Radio Station Commentator Urges Governments in All Countries to Help Stop the Persecution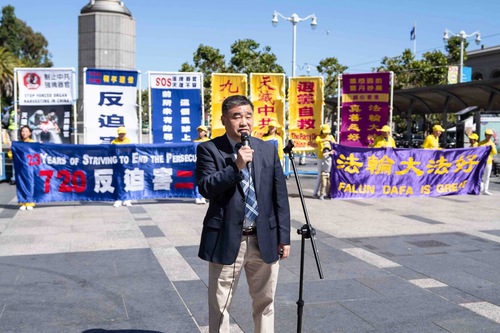 Lan Shu, a commentator for Sound of Hope radio, urged the governments in countries all over the world to help end the persecution.
Lan Shu, a commentator for the Sound of Hope radio station, said, "This is the 23rd year since the CCP launched its persecution of Falun Gong in 1999. Tens of thousands of practitioners continue to be illegally incarcerated in Chinese prisons today. We come here today to urge governments and people to help end this.
"Falun Dafa is rooted in traditional Chinese culture. The principles of the practice are Truthfulness, Compassion, and Forbearance. By persecuting Falun Dafa, the CCP is oppressing the core of humanity's survival. Stopping the regime's persecution of Falun Gong is also saving all of humanity."
June 4 Student Protest Leader Salutes Practitioners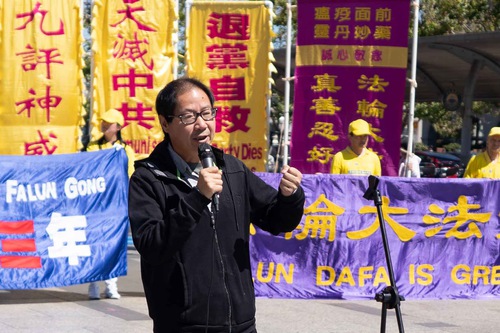 Zhao Xin, a leader during the June 4, 1989, student protests, expresses his respect for Falun Dafa practitioners in peacefully resisting the persecution.
Zhao Xin, who helped lead the June 4, 1989, student protests and one of the founders of the Democracy Party of China, said, "Falun Dafa practitioners have already been persecuted for 23 years. The CCP's suppression of Falun Dafa is unprecedented in human history and brutal, including the crime of organ harvesting.
"Although practitioners had been mistreated for so long, they continue to live by the principles of Truthfulness, Compassion, and Forbearance, resisting the persecution peacefully and rationally. This is remarkable. As a Christian, I have heartfelt respect for Falun Dafa practitioners."
Support from Passersby
Many people stopped to watch, video record, and take photos of the parade and the rally, just like a young couple from Guangzhou. They said, "This is very stirring!"
Marcus, a police officer who lives in San Francisco said, "I came to support your activities today. My parents were killed by the CCP, so I know all too well just how evil the regime is. Your activities (resisting the persecution) have deep meaning, I support you."
Chinese Immigrant: Only When the CCP Falls Will There Be Hope for Chinese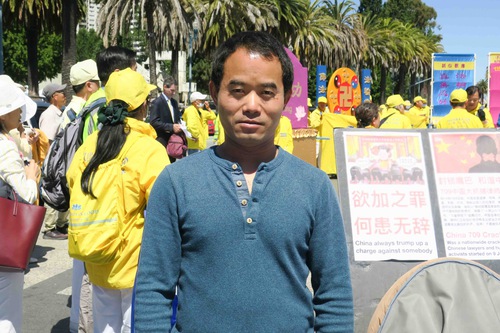 Mr. Peng Zhengping said, "Falun Gong practitioners are very kind."
Mr. Peng Zhengping, who moved to the US from Hunan Province in China seven years ago. brought his daughter to the activities that day to show his support. He said, "I read a lot of news and learned the truth after coming to the U.S. I realized what I'd read in China was all fake news. I realized how bad the CCP is and that the society in China is dark. I truly enjoy freedom of speech here in America.
"I don't believe at all the lies vilifying Falun Gong spread by the CCP. The practitioners I know are kind. They only want an environment to practice freely. At the same time, the principles they live by—Truthfulness-Compassion-Forbearance—I think these are excellent and I agree with them."
In regard to organ harvesting by the CCP, Mr. Peng said, "I believe the CCP is capable of doing such things because it is evil. They lock you up in prison and no one will ever know if they casually kill someone.
"I truly hope the CCP will collapse because what it does is not for the Chinese. It destroyed China's 5,000 years of traditional culture. People's moral values have deteriorated. Only when the CCP falls and traditional Chinese culture is restored will there be hope for Chinese."
Organ Harvesting Is Sinful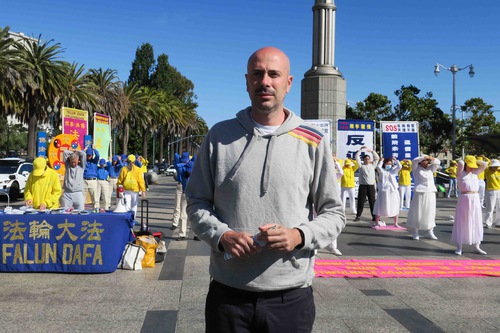 Frank Sanchez, a student at Berkeley University, condemns the CCP for taking the organs of Falun Gong practitioners by force.
Frank Sanchez who is studying at Berkeley University and his family passed by the rally. He was shocked by the messages on the signs about organ harvesting and thought he misread them. He said, "The CCP's removal of organs from Falun Gong practitioners and selling them for huge profits is appalling. This is fanatical and sinful. How can it treat its people like this? This is beyond the bottom line of human morality. I think the US government should step in to stop this.
"I thank you for holding this event here and telling us the truth about the suppression Falun Gong is going through in China. I think such activities are important. Many people in the world still don't know about this. I support you."
Background: What Is Falun Dafa and Why Is the CCP Persecuting It?
Falun Dafa (also known as Falun Gong) was first introduced to the public by Mr. Li Hongzhi in Changchun, China, in 1992. The spiritual discipline is now practiced in over 100 countries and regions worldwide. Millions of people who have embraced the teachings, which are based on the principles of Truthfulness, Compassion, and Forbearance, and have learned the five exercises, have experienced improved health and well-being.
Jiang Zemin, former head of the Chinese Communist Party (CCP), perceived the spiritual discipline's growing popularity as a threat to the CCP's atheistic ideology and on July 20, 1999, he issued an order to eradicate the practice.
Under Jiang's personal direction, the CCP established the 610 Office, an extralegal security organization with the power to override the police and judicial systems and whose sole function is to carry out the persecution of Falun Dafa.
Minghui.org has confirmed the deaths of thousands of practitioners as a result of the persecution over the past 23 years. The actual number is believed to be much higher. Countless practitioners have been imprisoned and tortured for their faith.
There is concrete evidence that the CCP sanctions the harvesting of organs from detained practitioners, who are murdered to supply China's organ transplant industry.
All content published on this website are copyrighted by Minghui.org. Minghui will produce compilations of its online content regularly and on special occasions.