Singapore: Practitioners Mark 23 Years of Peacefully Resisting the CCP's Persecution
(Minghui.org) Falun Dafa practitioners in Singapore held activities in Hong Lim Park on the afternoon of July 8, 2022. They did the exercises, displayed photos and artworks, and held a candlelight vigil. Through the event they hoped to inform people of the Chinese Communist Party's (CCP) atrocities targeting Falun Dafa over the past 23 years and called on everyone to help end the persecution.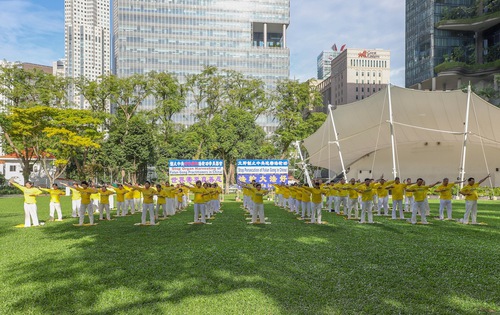 Doing the exercises together in Hong Lim Park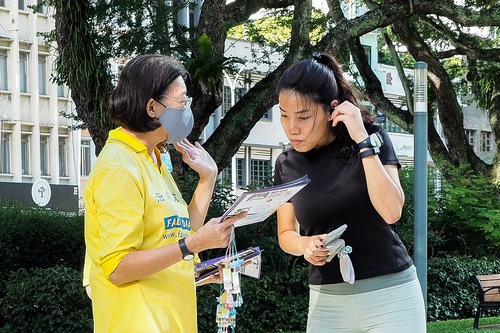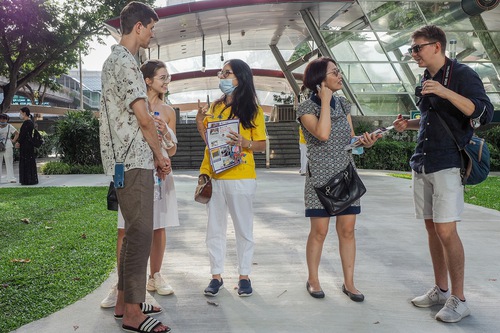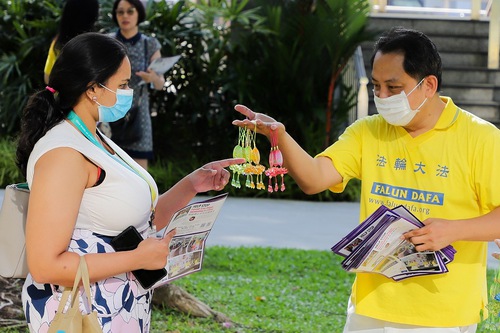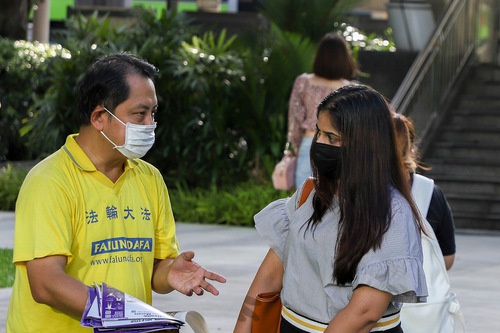 People from different countries learn about Falun Dafa.
A continuous stream of people came to the park and learned about Falun Dafa. "Gorgeous!" a man from Scotland said as he watched practitioners do the exercises. He took pictures and videos and wanted to learn more about the practice.
A young Indian man studied each photo in the exhibition and took pictures. He told a practitioner that he majored in art and he could tell how brutal the persecution was from the photos on display. He was interested in learning Falun Dafa after hearing the practitioner's introduction.
A man from the U.S. stopped to ask about the activities. When he was told about the CCP persecution of Falun Dafa, he said, "The Chinese Communist Party wants to control what people do and how people think." He asked about Falun Dafa in Singapore and took some information to read.
Many people condemned the CCP's atrocity of harvesting organs from practitioners while they are alive. Muhammad from Great Britain said, "It's terrible! It must stop!"
A young couple from Poland stopped to talk to a practitioner. The woman said that she knew the Communist Party was cruel and autocratic. The man said he had heard about the CCP's organ harvesting crimes. A young man from Germany said that he was shocked by the CCP's inhuman crimes, even though he knew it was evil. His friend gave the practitioner a hug to express her support. All four of them thanked the practitioner for explaining and took flyers to read.
Caiyin, a computer engineer who practices Falun Dafa, said that she learned about Falun Dafa from an online article about the persecution. She thought, "Falun Dafa must be special." She read the book Zhuan Falun online and said, "This is exactly what I have been looking for all my life!"
"I was an achiever since I was young. I was competitive and had a strong combative mentality," Caiyin said. "After cultivating myself according to Falun Dafa, I learned to be considerate of others and look for benevolent ways to solve problems." She said that cultivation helped her get along with her parents-in-law. "Now I put myself in their shoes and help them as much I can. They also help me by taking on many chores."
Caiyin looks forward to the day the persecution will end.
Shuhui, 63, has practiced Falun Dafa for 24 years. She looks young and full of energy. "I used to be weak and had low blood pressure. I was so dizzy that I almost blacked out whenever I stood up. After I began practicing, all my health problems were resolved and I'm now energetic and happy."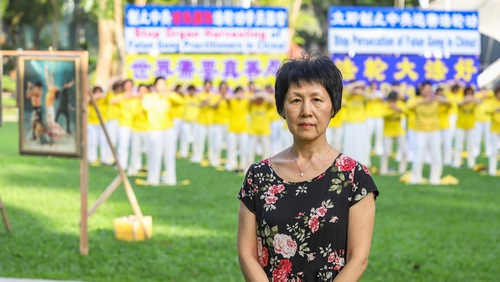 Shuhui hopes the people who work in the Chinese Embassies and Consulates learn the truth about Falun Gong.
The CCP has extended its persecution overseas. The Chinese Embassy in Singapore refused to renew Shuhui's passport just because she practiced Falun Dafa. She had to leave her family in Singapore and go to Canada by herself. She just happened to be visiting Singapore and got a chance to participate in the activities. "I hope that people who work in the Chinese Embassies and Consulates will learn the truth about Falun Gong. Truthfulness, Compassion, and Forbearance are universal values. Don't assist with the persecution! Choose a bright future for yourselves!"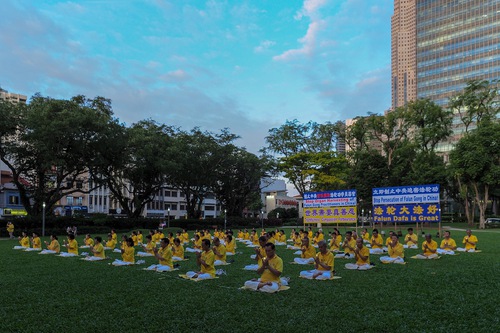 Candlelight vigil to mourn Falun Dafa practitioners who have died as a result of the CCP's persecution
Background: What Is Falun Dafa and Why Is the CCP Persecuting It?
Falun Dafa (also known as Falun Gong) was first introduced to the public by Mr. Li Hongzhi in Changchun, China, in 1992. The spiritual discipline is now practiced in over 100 countries and regions worldwide. Millions of people who have embraced the teachings, which are based on the principles of Truthfulness, Compassion, and Forbearance, and have learned the five exercises have experienced improved health and well-being.
Jiang Zemin, former head of the Chinese Communist Party (CCP), perceived the spiritual discipline's growing popularity as a threat to the CCP's atheistic ideology and on July 20, 1999, he issued an order to eradicate the practice.
Under Jiang's personal direction, the CCP established the 610 Office, an extralegal security organization with the power to override the police and judicial systems and whose sole function is to carry out the persecution of Falun Dafa.
Minghui.org has confirmed the deaths of thousands of practitioners as a result of the persecution over the past 23 years. The actual number is believed to be much higher. Countless practitioners have been imprisoned and tortured for their faith.
There is concrete evidence that the CCP sanctions the harvesting of organs from detained practitioners, who are murdered to supply China's organ transplant industry.
All content published on this website are copyrighted by Minghui.org. Minghui will produce compilations of its online content regularly and on special occasions.