73-Year-Old Woman Sentenced to Three Years for Seeking Justice Over Wrongfully Suspended Pension
(Minghui.org) Ms. Hu Dongxia, a 73-year-old retired employee of the Manganese Ore Electromechanical Company in Xiangtan City, Hunan Province, was informed by the local social security bureau on August 11, 2020 that her pension was to be suspended to pay back the funds she received between 2007 and 2012, when she was serving time for practicing Falun Gong.
The social security bureau claimed that according to a new policy, no retirees are entitled to any benefits while serving time, although no Chinese labor law has such a stipulation.
Two months after Ms. Hu filed complaints against the social security bureau with the Hunan Provincial Public Security Department and Xiangtan City Political and Legal Affairs Committee, the authorities arrested her on April 7, 2021 in retaliation. The Yuhu District Court sentenced her to three years in May 2022.
Ms. Hu took up Falun Gong, an ancient spiritual and meditation discipline, in September 1996. She credits the practice for curing her severe heart and kidney condition.
After the Chinese Communist Party ordered the persecution of Falun Gong in July 1999, Ms. Hu was repeatedly arrested and detained for not renouncing her faith. She was given a 1.5-year labor camp term in 2004 and sentenced to 5 years in prison in 2007.
While serving time at the Baimalong Women's Forced Labor Camp, the guards forced her to do a split, pulled her limbs in four directions, pressed her head against her legs and inserted steel needles into her fingers. Her leg was broken as a result.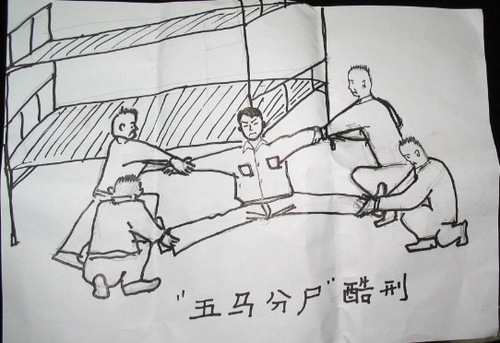 Torture illustration: pulling in four directions
Years later when she was incarcerated at the Changsha Women's Prison, the guards shocked her with electric batons, forced her to stand all day long with only one hour of sleep and denied her restroom use. They also injected her with unknown drugs that caused her to experience palpitations and hallucinations.
All content published on this website are copyrighted by Minghui.org. Minghui will produce compilations of its online content regularly and on special occasions.