Heilongjiang Woman Develops Cancer While in Custody, Dies Months after Release
(Minghui.org)
Name: Yan JinxiaChinese Name: 闫金霞Gender: FemaleAge: 59City: HarbinProvince: HeilongjiangOccupation: FarmerDate of Death: January 17, 2022Date of Most Recent Arrest: September 22, 2020Most Recent Place of Detention: Harbin City No.2 Detention Center
A Harbin City, Heilongjiang Province, woman developed uterine cancer while being detained for her faith in Falun Gong. Her condition continued to deteriorate after she was released. She passed away on January 17, 2022. She was 59.
Falun Gong, also known as Falun Dafa, is a spiritual discipline that has been persecuted by the Chinese communist regime since 1999.
Ms. Yan Jinxia was arrested on the evening of September 22, 2020, as part of the "Zero-out" harassment campaign that was sweeping across the country in 2020. Every Falun Gong practitioner on the government's blacklist was targeted and ordered to renounce their faith.
In an operation headed by Hao Weifu, the deputy secretary of Heilongjiang Province Political and Legal Affairs Committee, the authorities in Harbin arrested over 20 Falun Gong practitioners on a list on September 22 , including Ms. Yan, who was seized by officers from the Youzheng Police Station.
Ms. Yan was first held at the Harbin City No.4 Detention Center. When she refused to recite the detention center rules or write a statement to renounce Falun Gong, the authorities transferred her to the Harbin City No.2 Detention Center. The guards there forced her to sit on a small stool for long hours and exposed her to low temperatures, which led her to have excessive vaginal bleeding. The guards wouldn't get her any medical attention until her family paid them first. Although she was diagnosed with late-stage uterine cancer, the guards refused to release her and continued to pressure her to write statements to renounce Falun Gong.
Despite her condition, Ms. Yan was later made to stand trial at the detention center and sentenced to six months. She was released after serving the full term.
Ms. Yan's condition continued to deteriorate after she returned home. Although her family took her to the hospital, the doctor said she was beyond help. She passed away in less than a year, on January 17, 2022.
Past Persecution of Ms. Yan
Ms. Yan took up Falun Gong in early 1996 and she credited the practice for curing her rhinitis, gastric ulcer, and low blood pressure. She had a son and a daughter. She and her husband worked hard to support their children so that they could attend college.
The family's peaceful life was turned upside down when the communist regime ordered the persecution in 1999. For upholding her faith, Ms. Yan faced constant harassment by the authorities.
Local Party secretary Du Zhanchen and his driver Sun Jinjiu took Ms. Yan to the police station on February 1, 2000, when she returned from grocery shopping and ordered her to write a statement to renounce Falun Gong. They threatened to take her to the brainwashing center if she didn't comply.
The authorities held Ms. Yan and other practitioners at the village office in late June 2001 to prevent them from going to Beijing on July 1 (the anniversary of the Chinese Communist Party's founding) to appeal for Falun Gong. Her husband, who didn't practice Falun Gong, also faced huge pressure from the persecution.
While on her way to a hospital to visit a relative on November 14, 2012, Ms. Yan gave out DVDs with information about Falun Gong. She handed one to Zhang Xumin, an officer with the Nangang District Domestic Security Office. Zhang held her and called in more officers, resulting in her arrest.
The police station eventually handed Ms. Yan's case over to the Domestic Security Office, which assigned the case to the arresting officer, Zhang. Ms. Yan's family spent 7,000 yuan trying to get her released earlier through their connections but to no avail.
At the detention center, because Ms. Yan refused to wear the inmate uniform, she was denied family visits. Eight days later, without due process, the Domestic Security Office handed her a labor camp term.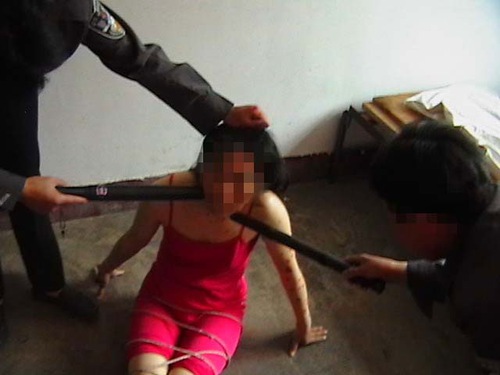 Torture reenactment: Shocking with electric batons
In the Qianjin Forced Labor Camp, the guards shocked her on her hands, ears, and back with electric batons when she refused to write statements to renounce Falun Gong. They also slapped her in the face, kicked her, and forced her to sit on a small stool without moving. She was transferred to the second ward on November 29, 2012, and forced to do unpaid labor.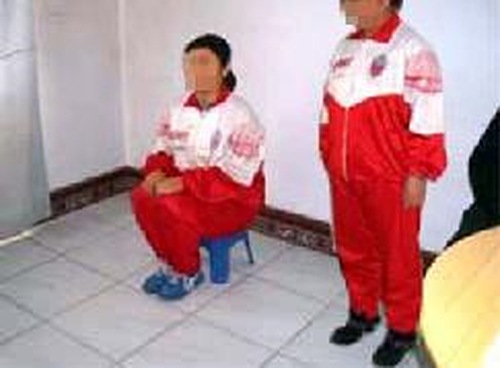 Torture reenactment: Sitting on a small stool without moving for hours
Similar to the Gulags in the Soviet Union, the Chinese forced labor camps were also used to detain intellectuals and dissidents. With the onset of the persecution of Falun Gong in 1999, the government renovated and expanded the labor camps to persecute practitioners.
Qianjin Forced Labor Camp was formerly known as Wanjia Forced Labor Camp, which became notorious and was condemned by the international community for its cruel persecution of Falun Gong practitioners. Although the authorities changed its name, the camp continued to carry out its mission to persecute practitioners.
In the labor camp, two inmates were usually assigned to monitor one practitioner. The practitioners were subjected to long-term physical torture and mental torment and forced to do unpaid labor, such as making chopsticks, braiding car seats and mats, and stringing beads. The guards constantly ordered them to recite the labor camp rules and write thought reports to enhance the brainwashing results. How many practitioners were forced to give up their faith was closely related to each department's annual performance rating and bonuses.
The practitioners were beaten, verbally abused, shocked with electric batons, deprived of sleep, made to stand and sit for long hours, doused with cold water in the winter, not allowed to wash, and denied restroom use.
Although the labor camp system was abolished in July 2013 due to international scrutiny and Ms. Yan was released, the persecution nevertheless continued, which eventually claimed her life.
All content published on this website are copyrighted by Minghui.org. Minghui will produce compilations of its online content regularly and on special occasions.