Bariloche, Argentina: Hundreds of Tourists Per Day Visit "The Art of Zhen, Shan, Ren" Exhibition
(Minghui.org) The International Exhibition 'The Art of Zhen-Shan-Ren' (Truthfulness-Compassion-Forbearance) was held in Bariloche for five days in 2022.
Bariloche is a tourist city that draws big crowds in the summer and winter—located in the southwest of Argentina, surrounded by lakes and mountains. It is called the "Switzerland of South America." Bariloche is visited by a great number of tourists, not only from Argentina but also from all over the world. Statistics show that more than 200,000 tourists visited in January 2022. Therefore, it was an excellent opportunity to clarify the truth through the art exhibition to a variety of visitors.
The exhibition was held at the Frey Gallery of Bariloche's Civic Center. It was sponsored by Bariloche's Subsecretary of Culture and by Angostura Express, a local company that transported the paintings.
Over a hundred visitors per day learned about Falun Dafa and the persecution through the exhibition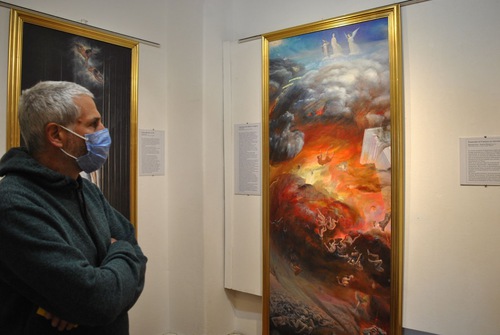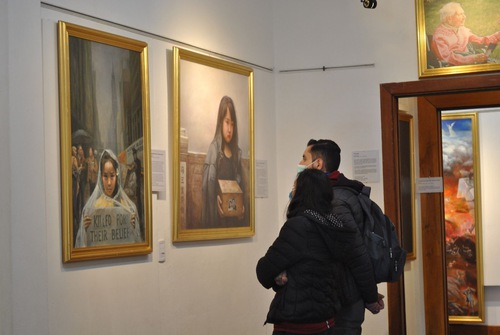 People appreciate "The Art of Truth, Compassion, Forbearance" exhibition in Bariloche, Argentina.
A selection of poems from Hong Yin IV was placed at the entrance of the gallery; some people stayed to read them carefully.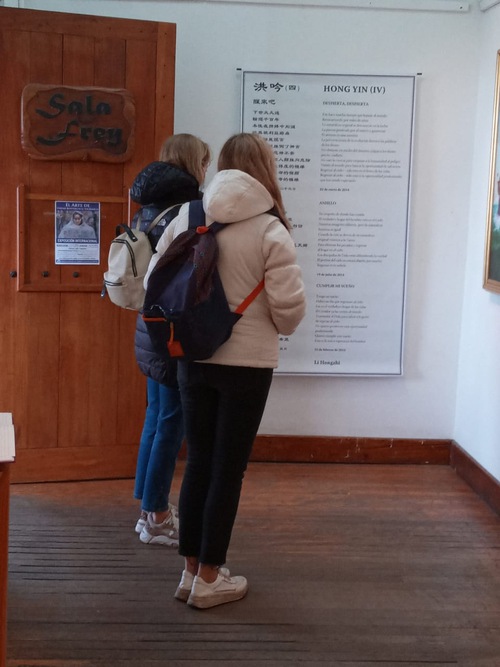 People reading a selection of poems from Hong Yin IV
Many visitors were moved by the artistry and spiritual energy of the artworks and the stories the paintings conveyed about the brutal persecution of Falun Dafa practitioners in China.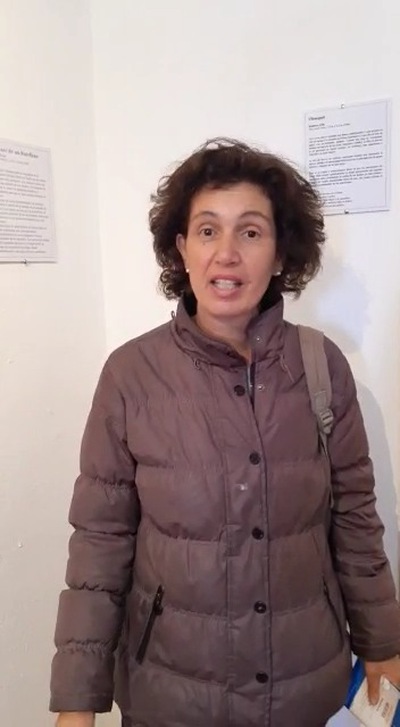 Sandrin from Tigre, Buenos Aires, Argentina
Sandrín from Tigre, Argentina, said, "It is a very interesting, enlightening, and revealing exhibition." She also added, "Few people know about what is going on in China, and I just learned about it thanks to this exhibition."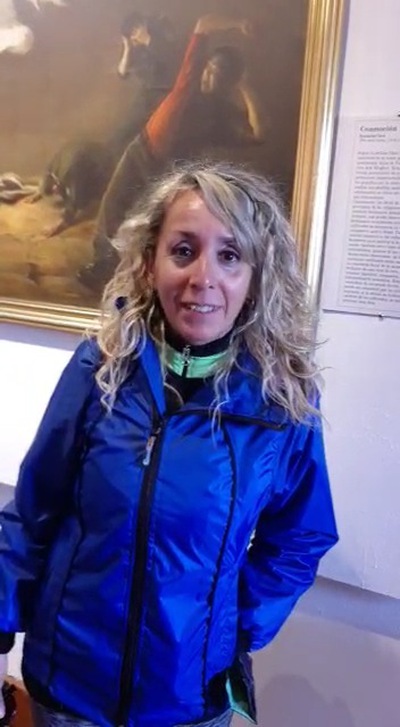 Anahí, Painter, from Lomas de Zamora, Buenos Aires, Argentina
Anahi, an artist from Lomas de Zamora, Argentina, said, "Technically, the artworks look immaculate to me. It is very interesting how the artists work from the technique, from the message, and how they connect the two things. Besides, this is new for me, although I knew something about Qigong because I know people who practice it, I was not informed about this discipline."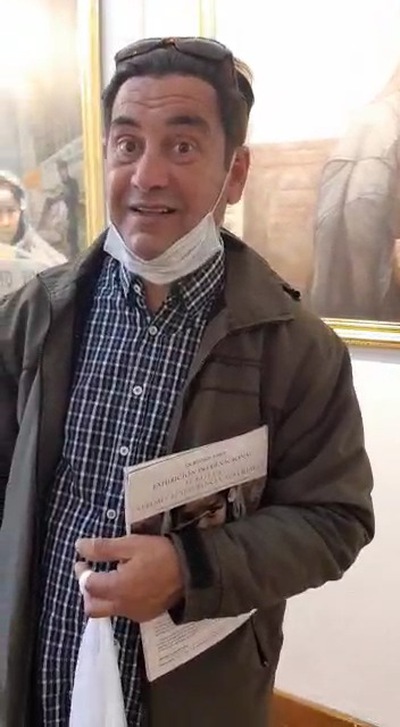 Roberto, Lawyer, Argentina
Roberto, a lawyer, was visiting the exhibition for the second time. He said, "I read about the Chinese government's killing of Falun Dafa practitioners. I think it is a horrible injustice. I am a lawyer. I've always dedicated myself to that, to try to get justice as much as I can, I think it's my mission in life and my vocation. I really empathize with the compassion of Falun Dafa practitioners."
History Teacher, Argentina
A history teacher who visited the exhibition was very surprised to hear the explanations of the Falun Dafa practitioners about the artworks. He knew about communist regimes and their killings. He said he was interested to learn more about communism and how it has persecuted people of faith during its history. He also asked the practitioners for reliable sources of information, because what happens in China is not told by any of the traditional media.
Many visitors shared their experiences of viewing the paintings:
Milagros, Bariloche, Argentina. "Painting 'Commotion' conveys what its name suggests."
Milagros from Bariloche, Argentina, said that the painting that most impressed her was "Commotion." "'Commotion' is the name of this painting, and that is what it transmits; it is incredible how only paintings on canvas can transmit so much. It is terrible and beautiful at the same time."
When asked if she learned anything new at the exhibition, she said, "Yes, I learned about culture, beliefs, and how despite so much evil, there is always a seed of hope. This exhibition conveys how to try to be a little better, to go out and not focus on the bad, to keep giving the best of yourself and even a little bit more, too."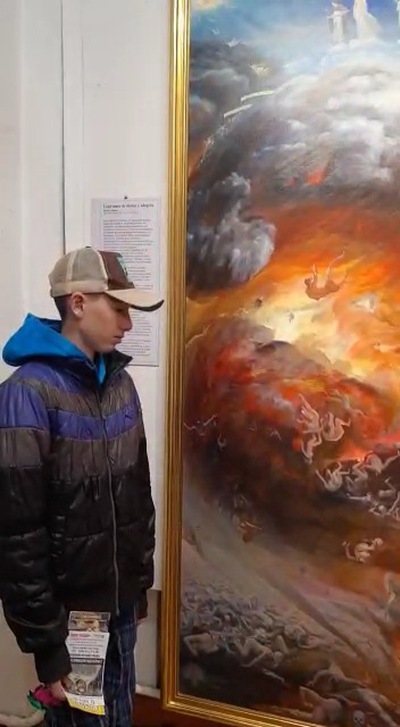 Iván, Tigre, Buenos Aires, Argentina, touched by the painting "Tears of Grief and Joy."
Ivan, 14, from Tigre, Argentina, said that he was most impressed by the painting "Tears of Grief and Joy:" "I think it represents that sooner or later justice will be done, because of what is happening now in China, and those who are doing good will be rewarded. I was really impressed by this painting. I thought it was a bit strong, the part about hell, the part about how justice will be done," Ivan said.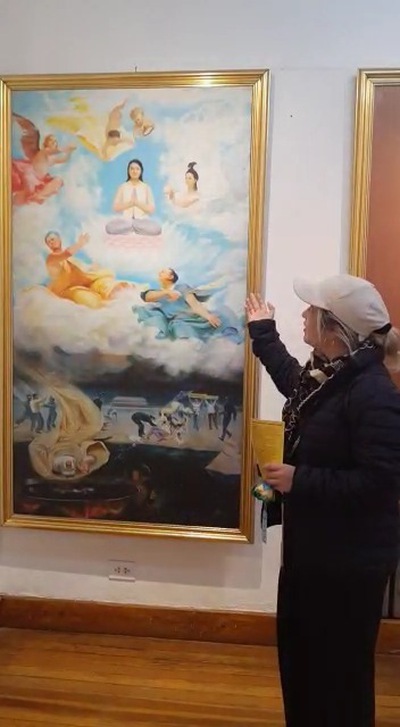 Virginia: "The painting 'Positioning' helps us become aware"
Virginia, a lawyer from Santiago del Estero, Argentina, said the following about the painting "Positioning:" "I especially liked this painting because it expresses the three levels of consciousness, depending on the space-time we have: the hell/underworld, terrestrial space, and the superior level." She added, "As in the terrestrial world, one can be carried away by the eternal souls of the superior level or by the underworld. So I think it helps to become aware of how we are acting today, to ascend to an evolved level and not to devolve."
Many visitors left comments in the guestbook:
"Incredible exhibition. I didn't know this was happening. I can see that the artists really knew how to convey their emotions," wrote Natalia, a visitor in the guestbook.
Another visitor, Valentina, wrote: "I entered the exhibition with no expectations, having no idea what I would find. These artworks made me go through many emotions, contemplation, fascination, helplessness, and sadness, but I ended with happiness and eagerness to learn more about the topic. Thank you."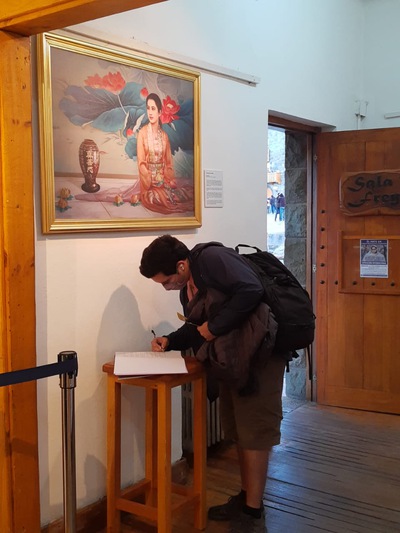 Visitor comments on his experiences in the guestbook.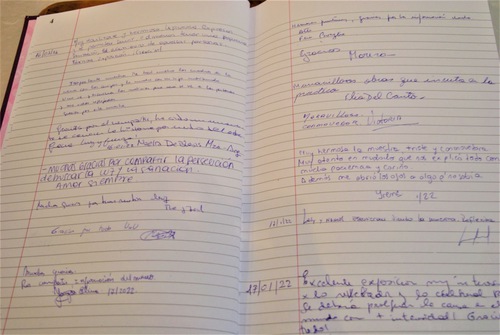 A sampling of comments left by visitors in the exhibition's guestbook.
All content published on this website are copyrighted by Minghui.org. Minghui will produce compilations of its online content regularly and on special occasions.