Magnitude 6.1 Earthquake Kills at least 1,100 in Afghanistan, Floods hit Bangladesh, India
(Minghui.org) A 6.1-magnitude earthquake struck Khost, a city in southeastern Afghanistan, on June 22, 2022. By June 24, the death toll had reached 1,100 and is still increasing. At least another 1,650 people were injured in the disaster.
A monsoon storm has battered Bangladesh and India, killing at least 59 people in both countries and causing catastrophic flooding that has left millions trapped.
Afghanistan's Deadliest Earthquake in Two Decades
According to data from the United States Geological Survey (USGS), the Afghanistan earthquake occurred at 1:24 a.m. on June 22. The epicenter was about 44 kilometers (27 miles) from the eastern city of Khost in Afghanistan, with a depth of 10 kilometers (6.2 miles). Severe disasters were also reported in Bakdika Province in eastern Afghanistan.
UN officials said that nearly 2,000 homes may have been destroyed. A lack of heavy equipment left rescuers scouring the rubble with their bare hands.
The strong earthquake caused cellphone base stations and power lines to collapse. Falling rocks and mudflow blocked roads in the mountains.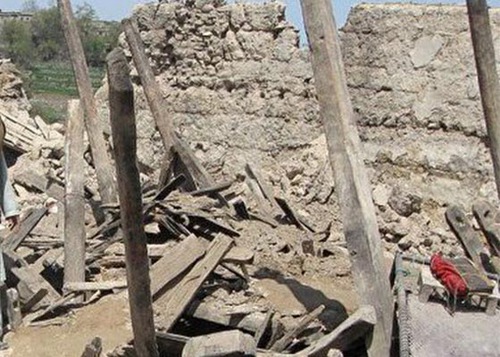 A 6.1-magnitude earthquake struck Afghanistan on June 22 (Internet photo)
According to the Associated Press, the earthquake was Afghanistan's deadliest in two decades.
The earthquake was felt for more than 500 kilometers (310 miles) by 119 million people in Afghanistan, Pakistan, and India, according to the European-Mediterranean Seismological Centre (EMSC).
The earthquake coincided with heavy monsoon rains in the region, making many traditional mud houses particularly vulnerable. Additionally, the earthquake occurred at night and the shallow depth of 10 km from the epicenter resulted in more casualties, according to an Afghan water management expert.
Floods Hit Bangladesh and India, At Least 59 Dead
A monsoon storm battered Bangladesh and India, killing at least 59 people in the two countries and causing catastrophic flooding that has left millions trapped.
Flooding has been a recurring threat to millions of people in low-lying Bangladesh. Torrential rains continued for a week by June 20, inundating large swathes of northeastern Bangladesh. Troops evacuated the local residents.
The river suddenly burst its banks within hours, flooding the entire village. Schools were turned into shelters to house the devastated villagers.
According to Bangladeshi police, lightning strikes caused by the storm killed at least 21 people in the country, including three children aged 12 to 14 in the town of Nandail.
Four people were killed after a landslide hit a house on a hillside in the port city of Chittagong.
At least 16 people have been killed since June 16 in India's remote Meghalaya, the state's chief minister Conrad Sangma wrote on Twitter, after landslides and surging rivers that submerged roads.
Over 2.6 million people were affected by flooding in the neighboring Assam Province, where it rained for five consecutive days.
The disaster relief unit reported that 18 people have died in Assam Province due to floods or landslides since June 16, and nearly 7,500 people have been rescued by the afternoon of June 18.
California Hit with Worst Drought in 128 Years
California's 2022 drought was the worst on record in the past 128 years, according to an update from the National Integrated Drought Information System (NIDIS) on June 14. At present, city governments have begun to impose strict water use restrictions in order to cope with the drought.
In March, California Governor Gavin Newsom issued a sweeping executive order calling on the California State Water Resources Control Board (SWRCB) to consider passing emergency regulations to enhance water conservation, including requiring city water suppliers to activate their local "Level 2" drought contingency plans, and ban watering of decorative lawns on businesses and public properties, etc.
The SWRCB passed the "Water Conservation Emergency Regulations" on May 24. The "Level 2" water use reductions plan also came into effect in various cities.
All content published on this website are copyrighted by Minghui.org. Minghui will produce compilations of its online content regularly and on special occasions.