Tian Guo Marching Band Visits Croatia for the First Time
(Minghui.org) The Rijeka Carnival has been held each spring for about 40 years. Participants from Croatia and the surrounding region were joined this year by the European Tian Guo Marching Band. Over 200 Falun Gong practitioners made up the largest contingent in the parade.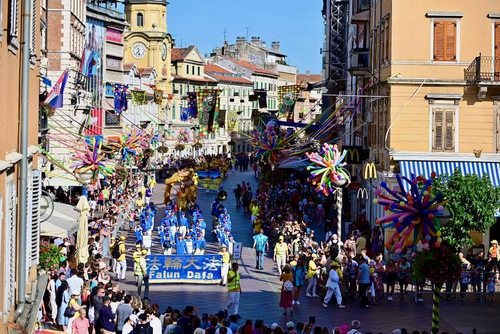 Tian Guo Marching Band at Rijeka Carnival
The Tian Guo band members are Falun Gong practitioners from various European countries, aged 9 to 70, who spread a message of peace with their music, and raise awareness of the persecution that Falun Gong has endured in China for over 20 years. They have performed in many European capitals, but this was their first performance in Croatia.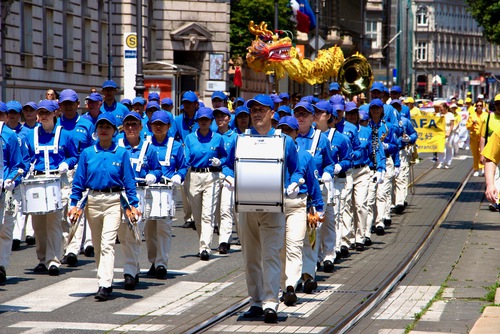 Tian Guo Marching Band in central Zagreb
In previous days, Tian Guo held a series of parades in the Croatian capital, Zagreb.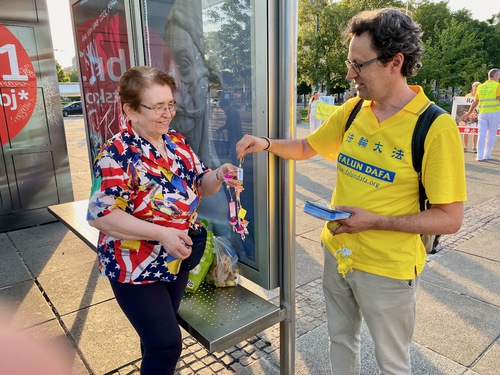 A passerby received a Falun Dafa amulet (Falun Gong is also known as Falun Dafa).
For many curious people in Zagreb, this was their first encounter with Falun Gong and they knew little about this spiritual discipline or why it is being persecuted in China. However, since Croatia was a communist country in the past, it was not difficult for them to understand that the Chinese Communist Party does not tolerate freedom of belief.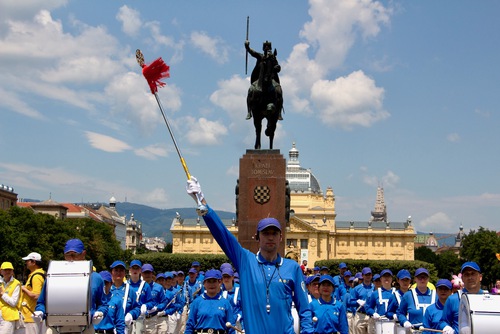 Tian Guo Marching band on King Tomislav Square in Zagreb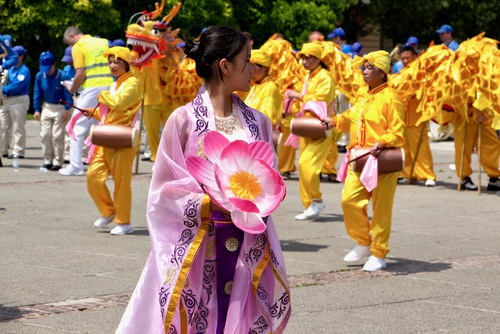 "Heavenly maiden"
Along with the music of the Tian Guo Marching Band, women dressed as "heavenly maidens" performed, dancing with lotus flowers. In Buddhism, the Lotus symbolizes the purity of body, speech, and mind, since it rises above the murky waters unsullied.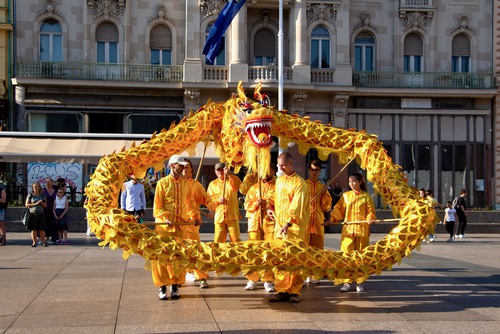 Chinese "dragon" in Zagreb, on Ban Jelačić Square
Passersby were also amused by the paper Chinese dragon, which in Chinese mythology, unlike the European dragon, represents a positive being.
The Rijeka Carnival gathered 57 troupes and almost 5,000 participants, while the number of spectators was many times higher.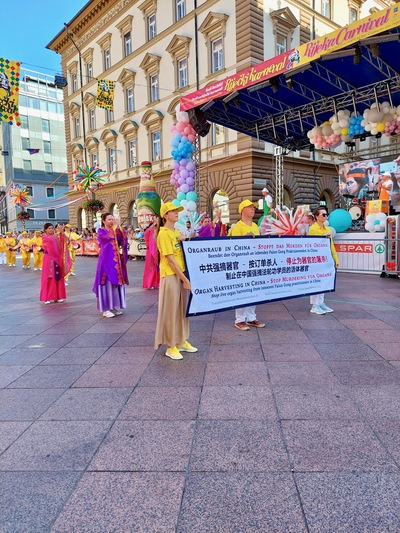 Stop harvesting organs
Local media covering the carnival events did not miss the banners about organ harvesting from Falun Gong practitioners in China. In an article on the portal Rijeka Today, the journalist referred to the history of the persecution of Falun Gong in China and wondered if Falun Gong's participation in the carnival might cause a diplomatic scandal with the Chinese embassy.
The article also mentions that in 2018, a participant of the carnival was the Confucius Institute, "a Chinese parastatal organization nominally founded to promote the Chinese language abroad, and has been part of Xi Jinping's attempt to promote China's soft power abroad."
The comprehensive report on the portal also mentions many scandals related to the institute, such as accusations of espionage and propaganda. The article concludes that the Confucius Institute has a "toxic reputation."
Activities concluded with peaceful appeal by the Chinese embassy in Zagreb.
All content published on this website are copyrighted by Minghui.org. Minghui will produce compilations of its online content regularly and on special occasions.