Once Incarcerated for 13.5 Years, Jiangxi Woman Arrested Again for Her Faith
(Minghui.org) A 66-year-old Jiujiang City, Jiangxi Province resident was arrested on June 11, 2022, after being reported for talking to people about Falun Gong. She has been held at the Jiujiang City Detention Center since June 13.
Since the Chinese Communist Party ordered the persecution of Falun Gong in 1999, Ms. Zhou Meili, a retired worker, has been repeatedly arrested. She served three labor camp terms and two prison terms, for a total of 13.5 years. Her family suspects that the police may intend to seek prosecution of her again following her latest arrest.
Three Labor Camp Terms
Ms. Zhou was first arrested on April 30, 2000, when she went to Beijing to appeal for the right to practice Falun Gong. She was taken back to Jiujiang and detained for 15 days. The authorities extorted 4,000 yuan from her.
Ms. Zhou was arrested again on the early morning of January 15, 2001, and taken to a brainwashing center. The authorities transferred her to a detention center three months later as she refused to give up Falun Gong.
Ms. Zhou was given three years at the Majialong Forced Labor on June 1. While serving time there, she was often hung up and forced to work without pay from 7 a.m. to 10 p.m. The authorities extended her term for six months because she remained firm in Falun Gong. She was released on October 21, 2004.
Her next arrest was on August 25, 2005, and she was later given 1.5 years at the Majialong Forced Labor Camp.
For talking to people about Falun Gong on the street, Ms. Zhou was arrested one more time on January 2, 2008. She was given one year at the Qingyunpu Women's Forced Labor Camp in Nanchang City. The guards once hung her up for seven days and denied her restroom use. She was monitored by the inmates around the clock until she was released on January 23, 2009.
Two Prison Terms
Only two years after she was released, Ms. Zhou was arrested yet another time on July 12, 2011. She was tied up on a tiger bench and burnt by cigarettes while being interrogated at the police station.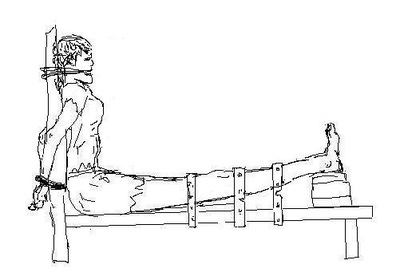 Torture illustration: tiger bench
Ms. Zhou was later sentenced to three years at the Nanchang Women's Prison. Because she didn't renounce Falun Gong, the guards often forced her to stand for long hours, sometimes up to 24 hours straight. She was once deprived of sleep for four days. The inmates constantly beat and verbally abused her. She was also starved and not allowed to wash herself.
Ms. Zhou's next arrest was on May 8, 2016, for talking to people about Falun Gong. She was sentenced to 4.5 years by the Xunyang District Court. The guards at the Nanchang Women's Prison denied her family visit, claiming that they would never approve her family visit if she didn't renounce Falun Gong.
Shortly after Ms. Zhou was released on November 8, 2020, she was ordered by the Jiujiang City Social Security Bureau to pay back the 110,000 yuan pension she received while serving time. The agency claimed that a new policy barred all retirees from receiving retirement benefits while serving time, although no Chinese labor law has such a stipulation. As Ms. Zhou couldn't afford to pay the fine, the social security bureau suspended her pension.
Related reports:
Jiangxi Woman Spends 13.5 Years Behind Bars for Upholding Her Faith, Now Has Her Pension Suspended
Ruichang Police Department in Jiangxi Province Arrests 13 Falun Gong Practitioners within Three Months
Police from Ruichang City, Jiangxi Province Arrest Several Falun Gong Practitioners and Some Family Members
Ruichang Court in Jiangxi Province Attempts to Frame Four Falun Gong Practitioners
All content published on this website are copyrighted by Minghui.org. Minghui will produce compilations of its online content regularly and on special occasions.