Former Electrician Dies After Enduring Seven Years of Torture in Prison and Subsequent Harassment
(Minghui.org)
Name: Jiang DerongChinese Name: 姜德荣Gender: MaleAge: 51City: DaqingProvince: HeilongjiangOccupation: ElectricianDate of Death: Mid-March 2022Date of Most Recent Arrest: August 7, 2012Most Recent Place of Detention: Ranghulu District Detention Center
After serving a seven-year prison term and being subjected to constant harassment and extortion for upholding his faith in Falun Gong, a Daqing City, Heilongjiang Province resident passed away in mid-March 2022. He was only 51 years old.
Falun Gong, also known as Falun Dafa, is a spiritual discipline that has been persecuted by the Chinese communist regime since July 20, 1999.
Arrested for Appealing for the Right to Practice Falun Gong
Mr. Jiang Derong previously worked as an electrician in the heating company associated with Daqing Oilfield. He took up Falun Gong in 1996 when he was 25 years old.
Mr. Jiang went to Harbin, the capital city of Heilongjiang Province, on June 19, 2000, one month before the one-year anniversary of the persecution, to appeal for the right to practice Falun Gong. He was arrested and taken back to Daqing. His workplace extorted 3,000 yuan from him and deducted it from his salary.
Mr. Jiang went to Beijing to appeal for Falun Gong in November 2000 and was again returned to Daqing. After 15 days of detention, he was transferred to a brainwashing center, where he was held for a week. He held a hunger strike to protest the persecution and was later released. His workplace extorted another 2,500 yuan from him, to cover the travel expense of the personnel who went to Beijing to take him back and the 1,000 yuan fine the petroleum administration imposed on his workplace.
With the excuse that he refused to renounce Falun Gong, Mr. Jiang's workplace also deducted 400 yuan each month from his salary for seven months, before he was forced to accept the employee buyout. To prevent him from going to Beijing again to appeal for Falun Gong, his workplace withheld 5,000 yuan from his severance package.
Another Arrest and Seven-year Prison Sentence
Suspecting that Mr. Jiang was involved in tapping into local TV signals to broadcast programs about Falun Gong, the police went to his home to arrest him on April 20, 2002. As Mr. Jiang refused to open the door for the police, they smashed his security door, but still couldn't get in. They claimed to his neighbors that he intended to kill his parents, and dispatched a fire truck with an aerial ladder. They smashed a window on the third floor, got into his home, and ransacked the place.
The police chained Mr. Jiang to a metal chair for six days and then took him to the Daqing City Detention Center. His mother was extorted of 1,000 yuan when she contacted Zhu Zunren, the security personnel for his workplace, for his whereabouts in early May 2002.
Mr. Jiang was later sentenced to seven years in the Daqing Prison by the Honggang District Court.
Tortured in Prison
Because Mr. Jiang refused to give up Falun Gong or wear the inmates' clothing, he was constantly beaten by the guards and held in solitary confinement. He went on a hunger strike to protest the persecution.
To reach a transformation quota, the Daqing Prison included Mr. Jiang's name on the list of practitioners who had renounced Falun Gong in 2005. He said he was shocked to see this and felt very angry.
Mr. Jiang was beaten on January 26, 2006, by the then prison director Wang Yongxiang and taken to a solitary confinement cell. He started a month-long hunger strike the day after and was force-fed with food mixed with saline water.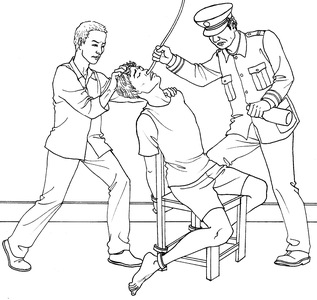 Torture illustration: Forced feeding
Mr. Jiang held another hunger strike to protest the persecution in late September 2006. The prison head denied him family visits, held him in solitary confinement, and beat him.
As Mr. Jiang refused to wear the inmates' clothing or answer the roll call on September 7, 2007, the guards ordered the inmates to beat him with a police baton for half an hour. He shouted "Falun Dafa is good" to protest and was again taken to solitary confinement.
The long-term torture caused Mr. Jiang to develop tuberculosis, cough, shortness of breath, and pleural effusion. He was taken to the hospital several times to pump the fluid out. He was emaciated and had trouble walking and talking. He often had trouble breathing if he slept on his back. He sometimes had to sleep face-down while bending his chest away from the bed.
Despite his condition, the prison refused to release him, holding him until his term expired in 2009.
Non-stop Harassment
After Mr. Jiang returned home, he resumed practicing Falun Gong, and his physical condition soon recovered.
While he was installing a satellite dish to receive uncensored news programs for another practitioner, Mr. Zhang Zenghai (who later died due to the persecution) on August 7, 2012, he was arrested again and taken to the Ranghulu District Detention Center. His family was extorted of 10,000 yuan in exchange for his release.
Mr. Jiang's workplace suspended his monthly 1,200 yuan subsidy starting in September 2012 and closed the bank account he used to receive the money.
As the police continued to harass him from time to time, he was under tremendous mental distress, and the lung condition he developed in prison relapsed. He had lung abscess, and he frequently coughed and vomited. He became emaciated and had tremendous difficulty breathing, a condition that eventually claimed his life. He passed away in mid-March 2022.
Related report:
All content published on this website are copyrighted by Minghui.org. Minghui will produce compilations of its online content regularly and on special occasions.