Audiences Across Two Continents Moved by Shen Yun: "Something That the World Needs to See"
(Minghui.org) From May 17 to 22, 2022, Shen Yun Performing Arts presented 25 performances in nine cities in Switzerland, Austria, Poland, Mexico, and the United States.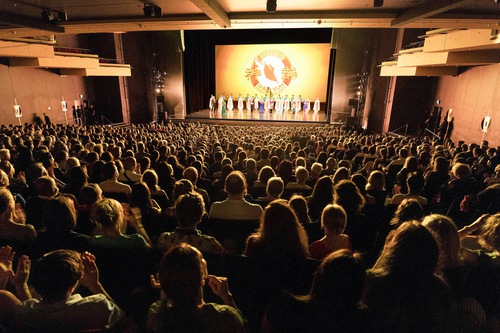 Shen Yun New York Company at the sold-out performance at the Musical Theater Basel in Basel, Switzerland, on May 22, 2022. The performers took three bows at the end of the performance. The company presented four performances in Basel May 20–22. (The Epoch Times)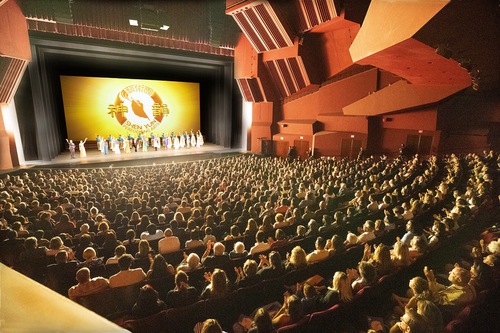 The Shen Yun Global Company at the sold-out performance at the Segerstrom Center for the Arts in Costa Mesa, California, on May 22. (The Epoch Times)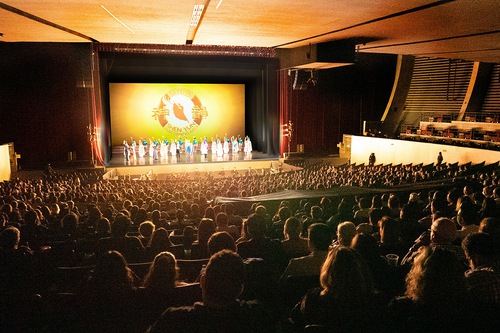 The Shen Yun Touring Company at the Auditorio Pabellón M in Monterrey, Mexico, on the afternoon of May 21. The company presented four performances in Monterrey May 20–22. (The Epoch Times)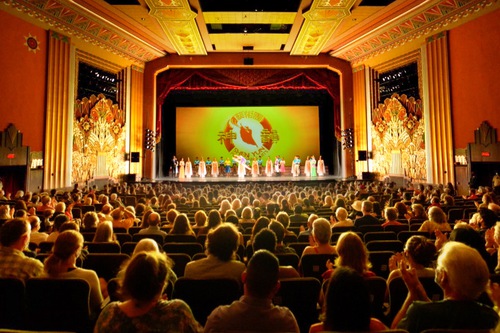 The Shen Yun New Era Company at the Flynn Center for the Performing Arts in Burlington, Vermont, on May 21. (NTD Television)
"The Artistry is Just Fantastic"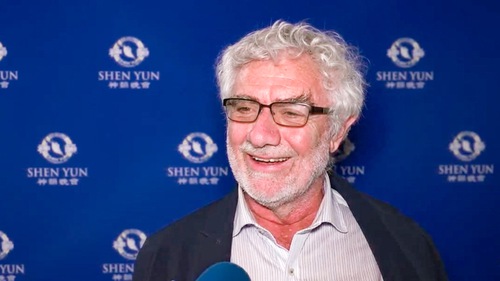 Daniele Struppa at the Shen Yun performance in Costa Mesa, California, on May 22. (NTD Television)
Daniele Struppa, the president of Chapman University, saw Shen Yun in Costa Mesa, California, on May 22.
"Oh beautiful, gorgeous. You could feel everybody sort of gasping in the audience. It was very nice," Mr. Struppa said.
"This is my first time. I find it very very interesting. The dance is beautiful. The costumes are amazing. I like the way which they combine the onstage dance and acting with the videos behind. The synchronization is just perfect. The first time that it happens you're really struck.
"I've been to several communist countries in my life. And there's no doubt that they're always, I have to say, there's no example of a communist regime that is not totalitarian, and ultimately, anti-human.
"We're always surrounded by challenges. And I think it's certainly the case that we see division among our society. So any message that inspires people to look at each other as partners in this world rather than enemies is a good idea. We want to try to overcome. The challenges we have are common challenges. Sometimes we get divided by politics and we're unable to recognize the brother and the sister in the other. And I think that's important that we remember even when we disagree on something. Trying to find ways to work together.
"I would thank them for a fantastic afternoon. I would compliment them because some of the stuff they do is unbelievable. I think there are lots of aspects. One should watch it probably multiple times to capture all of the aspects. But the artistry is just fantastic. I love seeing the acrobatics of the dance, but also the use of the clothing. One of my favorite pieces was the one with the long sleeves. They're really fascinating," he said.
"An Extraordinary Production"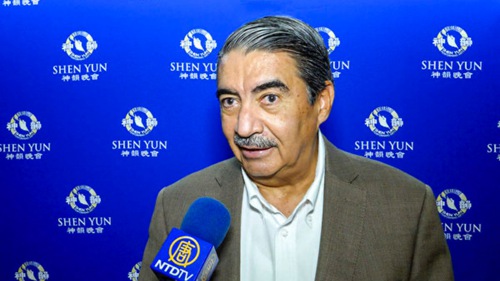 Alejandro Cermeño at the Shen Yun performance in San Luis Potosí, Mexico, on May 17. (NTD Television)
Alejandro Cermeño, the director of the Autonomous University of San Luis Potosí (UASLP), in San Luis Potosí, Mexico, where Shen Yun presented three performances, saw the show on May 17. He said that it was a show that brings people together.
"It is a very interesting experience, to see a culture very different from ours, very completely. An experience with an extraordinary production. It was great for me," Mr. Cermeño said.
"The artists are wonderful, and I think [Shen Yun] is something that should bring us together as people," he added.
Shen Yun "comes to transmit [its culture] to us, but in addition to that, it makes us see the spiritual strength of a people who have great intrinsic values in their very daily lives," he said.
"It is wonderful to see all the tradition, and also how they transport it to the present. I think it is a very, very interesting experience.
"Reviving those traditions is reviving the values—those traditions are intrinsic to the values of the peoples," he said.
The director also thanked Shen Yun for participating in the university space of the UASLP, which allowed them to spread the culture to the Mexican city.
"I think it's very pleasing... It is a situation to be grateful that they have thought of a city like us," Mr. Cermeño said.
Shen Yun "makes the community at large feel again that we are alive and that we take advantage of our life at this time," he said.
"Something That the World Needs to See"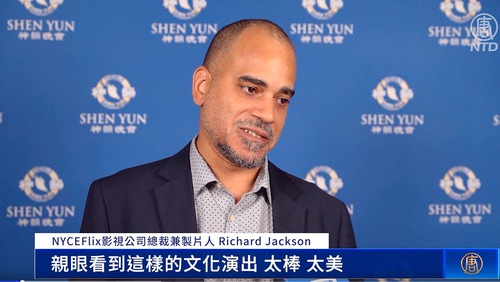 Richard Jackson at the Shen Yun performance in West Palm Beach, Florida, on May 18. (NTD Television)

Richard Jackson, the owner of NYCEFlix, a video production company, saw Shen Yun in West Palm Beach, Florida, on May 18.
"To see something and experience some culture. It has been fantastic, very nice," Mr. Jackson said.
"I love the choreography. The coordination with the movements, and the jumps and the splits, it's beautiful. Beautiful.
"Listening to the oboe and the bassoon and the bass drum, and even the little bells – everything has its place, and it blends so wonderfully," he said of the orchestra.
"The backdrops are very beautiful. I like that they're so interactive. And that you have somebody that's on stage and the next minute, they're in the background and this animation. It's very interesting, very clever. Didn't expect that.
"I think [the background] adds to the story and it makes it feel complete. It's one thing to see a dance and it being interpretive, but this is a full-on show. It's a spectacle they would say that it brings in so many different elements, and it brings it together so nicely. So it's very very beautiful," Mr. Jackson said.
Speaking of the persecution portrayed in the performance, he said, "Yes I was very intrigued. Because I know the conditions over in China are sometimes not the best as far as with the communism. And before any government structure, there's a people, there's a heart, there's a connection. And I believe that this show brings that together. And I think that's one of the most important things about this show. That it goes beyond any political climate but it talks about people, and it talks about history. So that's what's very exciting for me.
"Next to politics, religion is the next thing that separates a lot of people. But there's so much beauty, and we all have a connection to the divine. And I feel that through the dance. I feel that through the show, definitely.
"I do think it presents love, it presents a love for history, presents a love for culture. And it carries on the tradition. And it doesn't let it be closed in by what's going on in the world. It's expression. It's what theater should be. It's dance, it's lively, it's vibrant.
"I would just like to say, keep doing what you're doing. It's beautiful. Don't let anything stop you, and continue to share it with the world, because this is something that the world needs to see.
"It's a beautiful experience, one that you can bring your family to. One that is worth taking the time out to enjoy and to be a part of. And to just soak in the culture and just to appreciate everything, all the movement, the music, the dance, the animations, it's just an overall, total experience that's good for the heart," he said.
"Perfect" and "Stunning"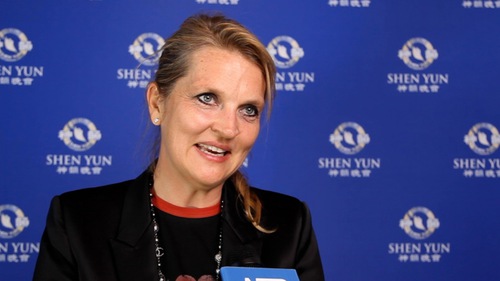 Anna Zakrzewski at the Shen Yun performance in Basel, Switzerland, on May 20. (NTD Television)
Anna Zakrzewski, a managing director and partner of the Boston Consulting Group (BCG) in Switzerland, and the company's Global Leader of the Wealth Management Segment.
"The show was excellent and perfect. The whole combination between the heavenly world and real world was fascinating. They jump into the backdrop and then come back to stage. It's truly brilliant. Also the coordination of colors, and the combination of the colors and the overall presentation, everything was so vivid and lively. Especially the classical dancing, it really was stunning. That was not ballet or gymnastics. That itself was a form of art," Ms. Zakrzewski said.
"Life-changing, Amazing, Beautiful"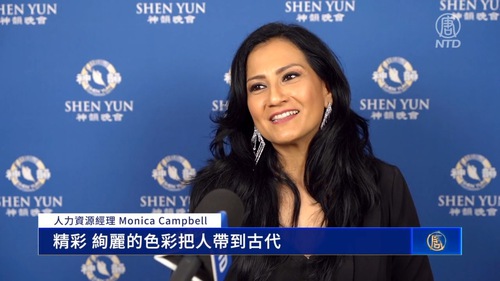 Monica Campbell at the Shen Yun performance in Orlando, Florida, on May 22. (NTD Television)
Monica Campbell, a human resources manager, saw Shen Yun in Orlando, Florida, on May 22.
"Absolutely brilliant. The colors. Takes you back in time. Cultural richness. It's absolutely impressive," Ms. Campbell said.
"The choreography is perfect. The faces of the performers are impressive. They're always so happy, smiling. It's just complete joy to watch it. Absolutely. I was just actually a little bit of crying. It was absolutely beautiful. Beautiful.
"Just brought me to tears. Just like, I'm here, I'm watching this. And this is something I've been wanting to watch for years. But I couldn't, for one reason or another. So I was like, this year, I'm gonna do it. And I was able to, so, absolutely amazing.
"You can tell that they're doing it because they love what they're doing... It's not so mechanical. They're enjoying it. The movements, I'm watching the movements of all the performers, and it's like, wow, impressive... The music is flowing in their arms. I see music flowing through their arms and legs. And the ladies. Oh my gosh, beautiful, gorgeous, absolutely astounding.
"The orchestra, oh my gosh, that's another thing that, I can't believe I'm listening to that live," she said.
She was also impressed by the tenor's bel canto performance.
"The tenor, yeah, amazing, amazing. Beautiful... One of the lyrics was about having a mission, we as humans having a mission. And that was impressive. I was like, that's it, that's what we need to do. We were created to do a mission," she said.
"I love Chinese tradition just because of the meditation. They're so poised, quiet. And I love that, I want that. I want to be able to be calm when speaking. Back in the day, that's what they did. They thought before they spoke. They were poised. And the meditation. They meditated for hours. This is something we don't have in this generation. We're so busy with so many things so I wish we can implement some of that stuff. Some of that, quiet down, take it slow, faith, it's just so many things that I wish that we implement now. We need it.
"I would say life-changing. Life-changing, amazing, beautiful. Once in a lifetime experience," she described her experience.
"Pure Art"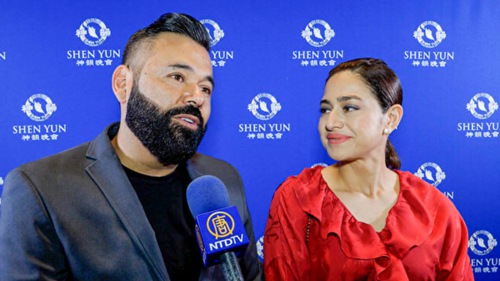 Paola and Norman Campos at the Shen Yun performance in Monterrey, Mexico, on May 20. (NTD Television)
School principals Paola and Norman Campos saw Shen Yun in Monterrey, Mexico, on May 20.
"I loved it. I didn't know exactly what I was going to see, but I loved everything they did, especially the dance," said Mrs. Campos, who was also fascinated by the music.
"It seemed like we were listening to a recording. It didn't seem like it was live," she added.
Mr. Campos commented on the dances portraying the ongoing persecution of Falun Dafa.
"It gave us a real picture of what they are currently experiencing in China... The persecution is something that one literally ignores, but it is super important through the arts to be able to understand what they are going through, understand the history of what they lived before, and what they live now," he said.
For her part, Paola congratulated the company for representing these stories through their art.
"I'm loving it. I think they can take a message to the whole world, and also be able to empathize with what they live in that part of the world... Tonight I take that message with me," she said.
The couple also spoke about the spiritual aspect reflected in the performance.
"I think it reminds us that everything has a connection, and through dance, art, we connect with inner peace and meditation," Mrs. Campos said.
Mr. Campos said that he liked the mixture of art and spirituality, and that it is a reminder of the existence of divine beings.
"I think it reminds us that there is a supreme being, which is God who is also there for us, to deliver us," he said.
As educators, the couple also highlighted Shen Yun's work in recovering the values for the next generation. Values such as morality, filial piety, compassion, and honesty were the essence of ancient Chinese society.
"I think we should promote it more," Mrs. Campos said, noting that Shen Yun can be "very inspiring" to young people because of the discipline and purity they could perceive in the performers.
"It is pure art. There is nothing but pure art there," she said.
"We definitely need these types of shows in our country, that inspire us, that challenge us, and that fill us with culture and knowledge and broaden our vision of the culture of other nations," said Mr. Campos.
"Worth Every Moment of Time"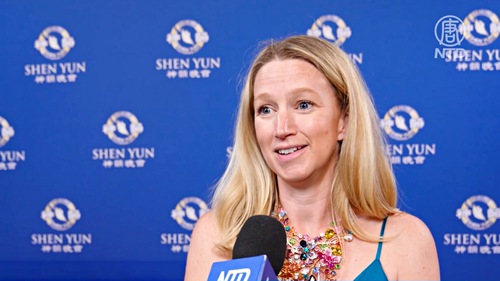 Sharon Buck at the Shen Yun performance in Burlington, Vermont, on May 21. (NTD Television)
Sharon Buck, a manager for a department in the New York state government, saw Shen Yun in Burlington, Vermont, on May 21. She and her mother traveled from Syracuse, New York, to Burlington just to see Shen Yun.
"It's dramatic, funny, and romantic—it's all of the things that you want to see," Ms. Buck said.
"The choreography is on point, the costumes are stunning, and the music really works to help you get into the mood of the piece that they're presenting.
"My mom called and said that she had read about the show in her local newspaper, and we booked tickets for the first closest show that we could find.
"It's worth every moment of time and anything that you need to do to get to the show, because it's stunning," she said.
Regarding Shen Yun's portrayal of the ongoing persecution of Falun Dafa, Ms. Buck commented that the company's use of storytelling through music and dance was a great way to reach audience members' hearts and illustrate the persecutions of faith taking place in China.
"It's an incredible way to do it through this art form. Because you're really drawing people in, you're entertaining them, you're creating a positive association with the story. And I think it's a great way to spread their mission and their message," she said.
"The fact that I'm able to see the story unfold in a sequence, I think, helps me to really understand what the message is... through song and dance, and shows they want to bring attention to the fact that this persecution still exists.
"It makes me feel hopeful, it makes me feel happy, and it makes me feel like I've learned something, which is the most important part of art," she added.
Upcoming Performances
Shen Yun continues its 2022 tour with upcoming performances in Florence, Italy, May 28–29; Prague, Czech Republic, May 28–29; Frankfurt, Germany, May 31–Jun 3; Udine, Italy, May 31–Jun 1; St. Petersburg/Tampa, Florida, May 28–29; Dallas, Texas, May 28–29; and Santa Barbara, California, May 28–29.
For more information on tickets and dates, please visit https://shenyun.com.
All content published on this website are copyrighted by Minghui.org. Minghui will produce compilations of its online content regularly and on special occasions.