Perth, Australia: Falun Gong Practitioners Express Gratitude to Founder at Falun Dafa Day Celebrations
(Minghui.org) To celebrate the 23rd World Falun Dafa Day, Falun Gong practitioners demonstrated the exercises and held cultural performances at the Murray Street Mall in Perth on May 7, 2022.
Practitioners talked about the positive changes they've made in their lives and thanked the founder of Falun Gong for his blessings.
Falun Gong practitioners in Perth wish Master Li a happy birthday
Young Practitioners: Falun Gong Brought Me Happiness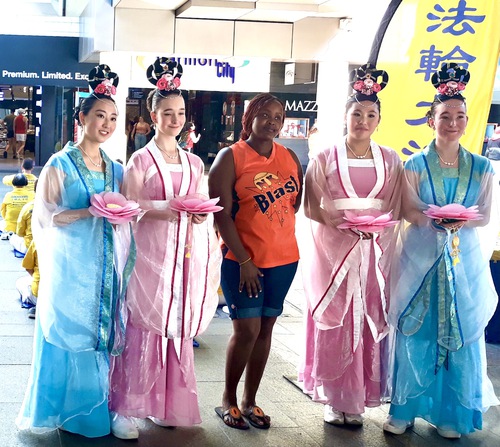 Ai Lian (first left) and Ashleigh (second left), two of the "Celestial Maidens," pose for a photo with a passerby.
Members of the "Celestial Maidens" team of Falun Gong practitioners posed for photos with passersby who admired their beautiful costumes.
One of the maidens, Ashleigh, said, "I began to practice Falun Gong when I was young. Falun Gong has brought me happiness and blessings, taught me many things, and answered a lot of questions I had about life. It made me a better person."
Ai Lian, another maiden, said, "I started to practice at a young age because my family members all practice Falun Gong. My skin was terrible—I had eczema. After practicing Falun Gong, my skin improved and my eczema was gone."
Falun Gong Helped Me Become a Patient Father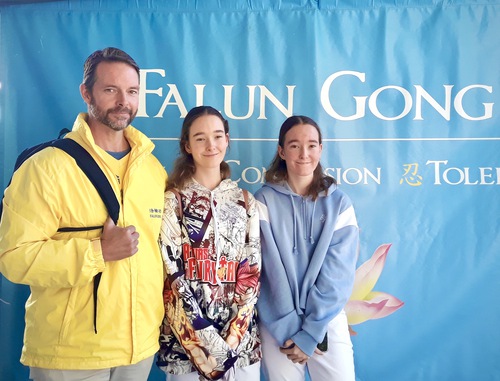 John De Beaux and his daughters.
Ashleigh's father John De Beaux spoke about his amazing transformation after he started practicing Falun Gong. "There was a time when my body and thoughts were in a rather bad way. I was suffering from sports injuries, and my mental health had become unstable," he said.
"One night I thought, 'I, too, was a good person when I was young. I became lost when I grew up. I want to return to my original, good self.' I used to tell lies all the time, but from then on I tried to speak the truth. I loved to swear. I tried to stop that, too, but it was hard to get rid of these shortcomings. I tried to quit drinking but failed at that, too. I was distressed," he said.
Several weeks after this, John's coworker told him he saw a display about Falun Gong and thought of John. The coworker had taken a flier and gave it to John at work. When John saw the three words "Truthfulness-Compassion-Forbearance" on the flier, he recalled thinking, "Wow. This is just what I want.
"I began to practice Falun Gong. Soon, my thoughts became clear and I became fit and healthy.
"My character and patience improved. As a single parent, I need a lot of endurance to educate my children. Falun Gong taught me how to forbear, to look at my faults. It helped me forge a peaceful relationship with my children. My daughters and I communicate openly. We trust one another. This is what Falun Gong has given to our family. When my daughters do something wrong, we sit down and discuss things sincerely. I would not have been able to do this if I did not practice Falun Gong," he said.
My Whole Existence Has Benefited from Practicing Falun Gong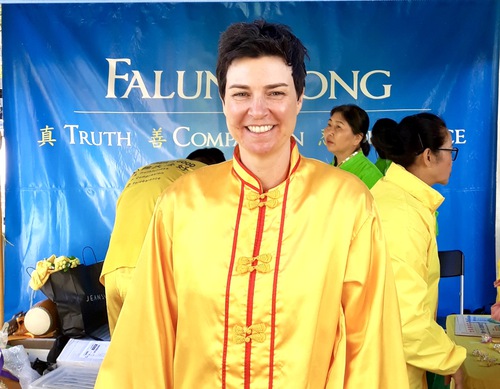 Karen Dunscombe
Karen Dunscombe is grateful to the founder of Falun Gong, Mr. Li Hongzhi, for teaching the Fa.
"It is hard to describe in words the benefits Falun Gong has brought me. Because I have gained from the practice not only physically, mentally, and spiritually—my whole existence has benefited," she said.
"A friend I knew for many years rung me one day in 2010. He said, 'You must learn this. It is called Falun Gong. It is amazing, the best I know.' I thought it seemed wonderful. Then he told me that it was banned by the CCP [Chinese Communist Party]. I was then certain this was good. He asked if I wanted the phone number for the practice sites in my area because he lived in a rural area. I said, 'No need. I can look it up myself.' Because I knew I would go and learn the exercises, I didn't need anyone's help," she said.
"My mind is cleaner, my body is cleansed, I feel more relaxed. I used to have a lot of negative thoughts before, and I was arrogant. Falun Gong taught me to be humble, it made my body stronger internally, rather like the kind mentioned in traditional Chinese culture and unlike physical exercises. The energy in my body has become stronger, therefore my body is healthy, my mind is healthy, everything is in its best state."
Truthfulness-Compassion-Forbearance in My Heart
Jia Jie
Jia Jie first learned about Falun Gong in 1996. "It was the summer of 1996. I was in high school then and loved to read. I liked to browse book stalls. The first time I saw the book Falun Gong was at a book stall. I opened the book and read in the table of contents: "The Meaning of Character; Loss and Gain; Practicing Zhen, Shan, and Ren All Together." I stood there reading these chapters. I did not know what qigong was but I understood that the book taught one to be a good person.
"The first time I saw a practice site was in a park near my house. I thought, 'Isn't this the qigong I read about in the book?' I went to learn the exercises. No one asked my name, I didn't know anyone. I went home after learning the exercises. Later on, I realized there was a practice site where they did the exercises in the morning and rode my bicycle to join them, bringing along a mat my mother had sewn. More and more people went to the practice site to learn the exercises. My relative had taken up Falun Gong as well. I also participated in several group study sessions. The seeds of Truthfulness-Compassion-Forbearance were thus planted in my heart.
"I knew how to be a better person by reading Zhuan Falun. The more I read, the more I loved it. I felt my moral values improving. I felt Falun spinning and an energy field when I did the exercises. I experienced many things that cannot be explained," she said.
Falun Gong Improves One's Physical and Mental Wellbeing
Ms. Tian, who is nearly 80, said her health improved greatly by practicing Falun Gong. "I used to suffer from ailments from head to toe and often had to take sick leave from work. I hardly went to work for two years from 1994 and 1995 due to sickness. A coworker told me that he practiced Falun Gong and the results were excellent. He gave me the book Zhuan Falun. That is how I started to practice it.
"Around five months after I took up the practice, all my illness disappeared. Now, more than two decades later, I have still not been ill. It has greatly reduced the burden on my children," she said. "I am 77 now and in great health. I can do all the household chores and take care of myself. Also, Falun Gong teaches one to live by the principles of Truthfulness, Compassion, and Forbearance, so I have nothing to worry about. Falun Gong improves one's physical and mental wellbeing."
All content published on this website are copyrighted by Minghui.org. Minghui will produce compilations of its online content regularly and on special occasions.