Missouri: Practitioners Celebrate 30th Anniversary of Falun Dafa's Public Introduction
(Minghui.org) Falun Dafa practitioners in Missouri held a celebration of Falun Dafa's 30th public introduction at the state capital on May 13, 2022.
Prior to the event, the practitioners received greeting letters from Missouri Governor Mike Parson, Secretary of State Jay Ashcroft, Congresswoman Vicki Hartzler, as well as congratulatory resolutions from the Missouri House of Representatives and Senate, proclamations from nine Missouri cities, and greeting letters from another two cities. Missouri State Senator Steven Roberts spoke at the event.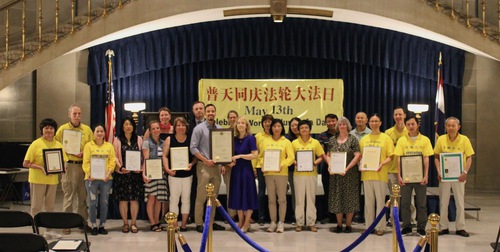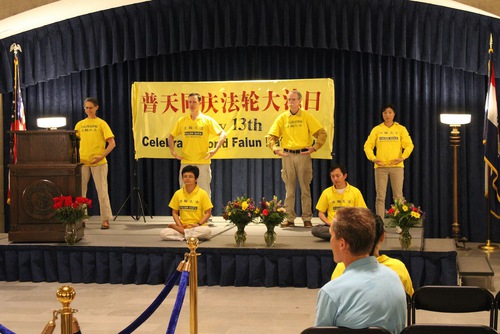 Falun Dafa practitioners and supporters celebrate World Falun Dafa Day at the state capitol.
Missouri Governor Mike Parson said in the greeting letter, "On behalf of the six million citizens of Missouri, it is my pleasure to welcome you to the Missouri State Capitol to celebrate the World Falun Dafa Day and the 30th anniversary of the public introduction of the practice of Falun Dafa. This ancient holistic practice, also known as Falun Gong, will allow practitioners and supporters to enter a realm beyond our visible world, opening a portal to improving mind and body, better health, and inner peace to millions.
"These slow-moving qigong exercises adhere to the principle of truthfulness, compassion, and forbearance; therefore, bringing a positive energy force to body and mind. I extend my thanks to all involved and send best wishes for an enjoyable anniversary event celebrating wellness and positive values."
Secretary of State Jay Ashcroft wrote, "Today, May 13th, as you recognize and celebrate the 30th anniversary of a religion that is deeply significant to many worldwide, it is important to remember those who are not able to celebrate because of religious persecution. People have an inherent right to think and believe what they choose. As a Missourian, and as a Christian, having the freedom to express my religion is vitally important to me and I know it is to you as well. Today, I hope you will join with me to remember and pray for those who, because of tyrants and false ideologies, are persecuted for their faith."
The practitioners in Missouri are of different ethnicities and from all walks of life, including scientific researchers, home care providers, a chef, and a retired engineer. Some practitioners are in their 80s and still full of energy. There are also new practitioners who just took up the practice two years ago, but are very diligent with the practice. 
Barbara Gay from Clinton, Missouri, gave a speech during the celebration. She said that she used to be very ill in her 20s. "As a single mother, attending college, working, and commuting, I felt unusually tired, with aching joints and a low-grade fever."
She thought the symptoms were caused by stress, only to find out later that she had lupus and rheumatoid arthritis. She struggled with depression and often contemplated suicide. One day, a flyer about Falun Dafa at a library changed her life forever. She said Dafa gave her "a second chance at life" and she has since no longer needed to take medications. Dafa also changed her from being a selfish person to someone who has strong faith and a broader mind. The changes helped her to navigate her work, marriage, and other stressful things in life. Words can't express her gratitude to Master, and she just wanted to say "Falun Dafa is good!"
Nathan Miller, a practitioner from Columbia, Missouri, said he began to practice Dafa in 1999 while attending college. He used to suffer frequent gout attacks, with swelling and painful joints. Practicing Dafa almost immediately cured his condition. His diabetes also disappeared. He quit many bad habits, such as drinking. He realized that life's meaning is to be a better person and all the other things were less important.
Although he stopped practicing three years later for various reasons, he still checked the Minghui website to learn more about Falun Dafa's recent developments from time to time. In 2019, he read the new lectures by Master Li published on Minghui and had strong feeling that Master was talking to him personally. He realized that he should never have left Dafa. He has since been practicing very diligently.
Nathan works as an executive chef. He used to be very demanding and results-driven, without considering the needs of others. But practicing Dafa helped him to become more peaceful and a better manager. Just a few days ago, when he decided to leave his previous job, his manager said to him, "We will miss your positive attitude about everything. Seeing how you handle things also helped me grow as a person."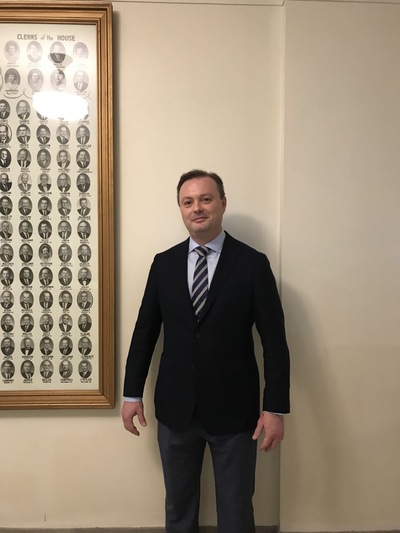 Nathan Miller
Me Neuyen, from Vietnam, has been practicing Dafa for six years. She used to have a tumor in her liver, but a year after she began practicing Dafa, the tumor disappeared. Her skin became more delicate and fine. She said that practicing Dafa brought holistic and positive changes to both her family life and work.
Another Vietnamese practitioner, Hanh Nguyen, has been practicing Dafa for two years. The generalized pain he had soon disappeared. He now gets up at 5 a.m. to do two hours of exercises and study the Fa every day. His two children also study the Fa with him once every week.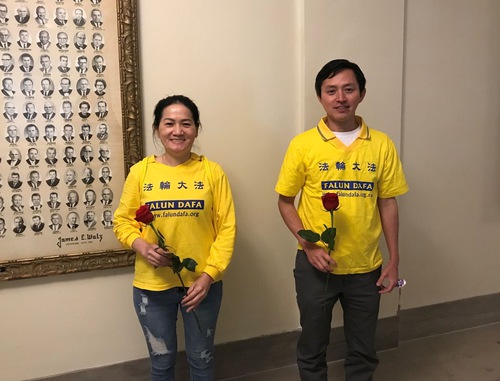 Me Neuyen and Hanh Nguyen are both full of gratitude for Falun Dafa.
The celebration on May 13 was reported by the local TV station KRCG. The report said that Falun Dafa practitioners in Missouri held a rally at the state capital in Jefferson City to celebrate World Falun Dafa Day. In the past two decades, Falun Dafa has been subjected to widespread persecution under the Chinese communist regime. In remembrance and resilience, May 13, the day when Falun Dafa was made public, has been celebrated as World Falun Dafa Day since 1999.
All content published on this website are copyrighted by Minghui.org. Minghui will produce compilations of its online content regularly and on special occasions.