U.S. Congressional Hearing Calls to End Organ Harvesting in China
(Minghui.org) The Tom Lantos Human Rights Commission (TLHRC), a bipartisan caucus of the U.S. House of Representatives, hosted a hearing on May 12 urging a stop to the atrocity of forced organ harvesting by the Chinese Communist Party (CCP).
"What compounds the shock to the conscience is not simply the execution of people declared enemies of the state (by communist China), as if on order to provide certain organs to meet transplant needs, but that this is also an apparent form of punishment, and indeed a tool of genocide meant to cull minority populations deemed "undesirable" by the State," said Rep. Christopher Smith in the opening remark, "Thus we see religious dissidents targeted for harvesting, first and foremost the Falun Gong, whose peaceful meditation and exercise practices unfortunately make their organs desirable."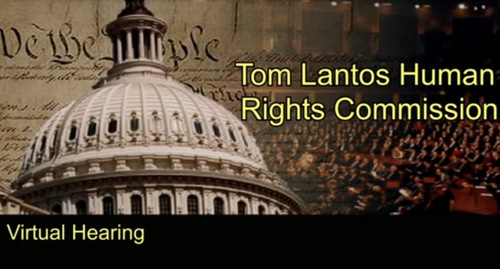 Hearing of the Congressional Tom Lantos Human Rights Commission on May 12, 2022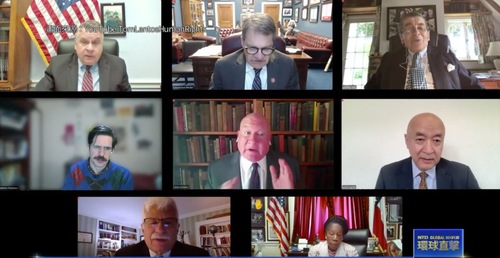 Panel discussion during the hearing (NTD Television)
Hosted by co-chairs Christopher Smith and James McGovern, speakers at the hearing also included Sir Geoffrey Nice QC from the China Tribunal, Matthew Robertson from the Australian National University, author Ethan Gutmann, Dr. Enver Tohti Bugdha, and Robert A. Destro, former assistant secretary of the State Department.
Stop Forced Organ Harvesting
"Last month, the American Journal of Transplantation – the top peer-reviewed publication on the subject – published a large-scale computational textual analysis of 2,838 Chinese-language articles published in Chinese academic journals between 1980 and 2015 which supports the inference that transplant surgeons in the People's Republic of China (PRC) removed organs including hearts and lungs," wrote the TLHRC website about the event. This has violated the internationally-accepted "dead donor" rule.
That is why he worked with Representative Tom Suozzi and Senator Tom Cotton introducing the bill, Stop Forced Organ Harvest Act in 2020, explained Smith. In particular, they proposed sanctions to deny visas and freeze assets, prohibiting exports of certain surgical devices to entities involved, and requiring the Department of State to document these practices.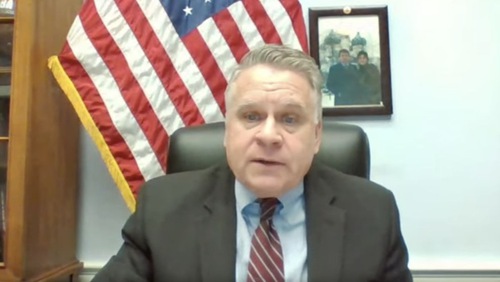 Representative Christopher Smith at the hearing
"Does the search for that elixir of immortality – the transplantation of a new heart or liver or another organ that is failing – lead recipients to turn a blind eye to where such organs come from?" he continued, "We need a concerted effort to stop this barbaric practice—not only in China, but also by its global enablers."
"A Strong and Unwavering Message"
"While this heinous practice (of organ harvesting) has been used against a variety of ethnic and religious groups like the Uyghurs, Tibetans, Muslims, and Christians, Falun Gong practitioners in particular have been the target of the CCP," said Representative Bilirakis, one member of the TLHRC.
"Falun Gong practitioners suffer from persecution, intimidation, imprisonment, torture, and even death at the hands of the CCP, solely because of adherence to their personal beliefs," he explained, "They are the main source of organs illegally harvested by the Chinese government and are particularly targeted for other brutal treatment and torture while being held in Chinese prisons, concentration camps, and detention facilities."
The tragedy has extended to his constituents. One of them is You Zhou, whose father was arrested for no reason, and the family received no notice. "Weeks later, You finally heard news of his abduction, but the local police station and detention center would not confirm his father's status or allow anyone to communicate with him," Bilirakis added. It was not until pressure from the congressman that Chinese authorities finally revealed the imprisonment and charge.
"The United States and our allies must send a strong and unwavering message in defense of basic human rights and protections for all people," he added, "No person should ever be intimidated, forced from their ancestral homeland, imprisoned, or murdered because of their beliefs." He explained that this was why he was proud to be a cosponsor of the Stop Forced Organ Harvesting Act as well as the Falun Gong Protection Act.
Testimony from Witnesses
Sir Geoffrey Nice QC, chair of China Tribunal, is also the former lead prosecutor of the UN International Criminal Tribunal for the former Yugoslavia. Citing the conclusion reached by the China Tribunal, he said, "Forced organ harvesting has been committed for years throughout China on a significant scale and Falun Gong practitioners have been one – and probably the main – source of organ supply."
As the forced organ harvesting continues to today, the Tribunal found it to be genocide. "For the Falun Gong, the following elements of the crime of Genocide are clearly established," he added. This includes "killing members of the group" and "causing serious bodily or mental harm to members of the group."
Oncology surgeon Dr. Enver Tohti Bugdha told a story which took place in 1995, in which he was ordered by the Chinese government to carry out live organ harvesting.
"My scalpel finds its way cutting his skin, blood can be seen. It implies that his heart was still pumping blood, he was alive! My chief surgeon whispered to me: Hurry up! His word was the command, and also, I felt it was a kind of assurance that I did this by his order," Bugdha recalled.
The whole operation took around 30-40 minutes, the chief surgeons were happy to collect the organs. One of them then said to Bugdha, "Now you take your team back to the hospital. Remember nothing happened today."
Matthew Robertson from the Australian National University (Canberra) is a co-author of "Execution by Organ Procurement: Breaching the Dead Donor Rule in China" published in the American Journal of Transplantation.
Robertson said he and his team examined thousands of Chinese-language medical papers. "Of these, 71 papers gave explicit descriptions of surgeons appearing to violate the dead donor rule while procuring hearts from prisoners," he said, "In plain language, the papers appear to show that the donors, who were prisoners, were alive at the time of surgery, and were killed by the transplant surgeons in the process of heart extraction."
"These findings show a uniquely close and long-running collaboration between the PRC's medical establishment and its public security system. Further, it is likely that many of these transplants were from political prisoners. This would make PRC surgeons, many of whom were trained in the West, involved in medicalized extrajudicial killing," he added.
Stopping the Crime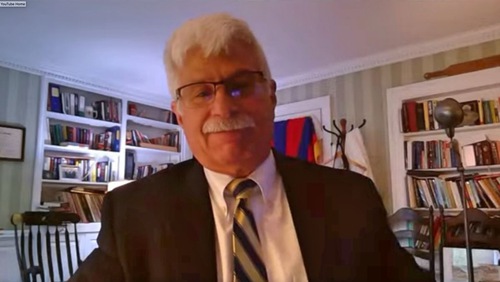 Robert Destro, former assistant secretary for Democracy, Human Rights and Labor, spoke at the hearing.
Professor Robert Destro is former assistant secretary for Democracy, Human Rights and Labor in the Department of State. "Because my fellow panelists are the acknowledged experts on both the evidence adduced to date and the methods used to gather that evidence, I will limit my testimony to a very simple question: What should United States Government officials do when presented with credible evidence of government-sanctioned organ harvesting?" he said in his speech.
"One must know and understand who sits across the diplomatic table. The fact that those on the other side of transactions – whether for trade in solar panels, electric cars, or other business transactions – have turned their own citizens into 'commodities' and run the human equivalents of auto 'chop shops', are not to be trusted," he continued.
"As the late President Reagan famously said: 'Trust, but verify.' H.R. 1592 and S. 602 are steps in the right direction," he concluded.
All content published on this website are copyrighted by Minghui.org. Minghui will produce compilations of its online content regularly and on special occasions.