Michigan, USA: Senate Passes Resolution to Recognize Falun Dafa Day
(Minghui.org) May 13, 2022, was World Falun Dafa Day and the 30th anniversary of Falun Dafa's introduction to the world. Several representatives from the Michigan Falun Dafa Association went to the State Capitol in the City of Lansing on May 12 to receive Michigan Senate Resolution 126 from Senator Dale W. Zorn. The resolution recognizes May 13, 2022, as Falun Dafa Day.
Senator Zorn said that the principles of Truthfulness-Compassion-Forbearance are indeed what society should have and are noble values. He said that these principles are also an important factor in enabling a community to sustain its own prosperity and development.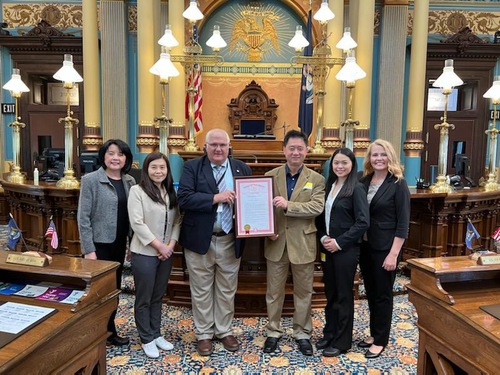 Senator Zorn (third from left) with Falun Dafa practitioners. 
Regarding the Chinese Communist Party's (CCP) more than 20-year-long persecution, Senator Zorn said it was important for the Western world to understand how other governments respond to their people. There are still governments who persecute their own people. 
The senator said that he wished people would remember those who were persecuted in China and across the world. He added that persecution should not happen and we need a world with mutual understanding. 
At the end of their meeting, Senator Zorn told the practitioners it was important for the United States and the Western world to know how Falun Dafa practitioners uphold their beliefs. He believes that it's important to understand Dafa practitioners and their ideas and respect them.
Michigan Senate Resolution 126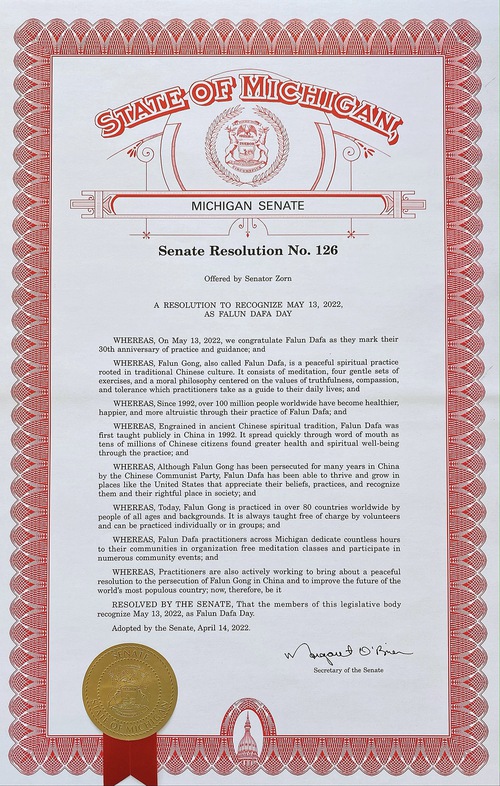 Michigan Senate Resolution 126
The resolution was sponsored by Senator Zorn. The resolution reads, "Although Falun Gong has been persecuted for many years in China by the Chinese Communist Party, Falun Dafa has been able to thrive and grow in places like the United States that appreciate their beliefs, practice, and recognize them and their rightful place in society." 
"Falun Dafa practitioners across Michigan dedicate countless hours to their communities in organizing free meditation classes and participate in numerous community events."
Background: What Is Falun Dafa?
Falun Dafa (also known as Falun Gong) was first introduced to the public by Mr. Li Hongzhi in Changchun, China, in 1992. The spiritual discipline is now practiced in over 100 countries and regions worldwide. Millions of people who have embraced the teachings—which are based on the principles of Truthfulness, Compassion, and Forbearance—and learned the five exercises have experienced improved health and well-being.
Jiang Zemin, former head of the Chinese Communist Party (CCP), perceived the spiritual discipline's growing popularity as a threat to the CCP's atheistic ideology and on July 20, 1999, issued an order to ban the practice.
Under Jiang's personal direction, the CCP established the 610 Office, an extralegal security organization with the power to override the police and judicial systems and whose sole function is to carry out the persecution of Falun Dafa.
Minghui.org has confirmed the deaths of thousands of practitioners as a result of the persecution over the past 22 years, though due to the difficulty in getting information out of China, the actual number is believed to be much higher. Many more have been imprisoned and tortured for their faith.
There is concrete evidence that the CCP sanctions the harvesting of organs from detained practitioners, who are murdered to supply the organ transplant industry.
All content published on this website are copyrighted by Minghui.org. Minghui will produce compilations of its online content regularly and on special occasions.