Quebec: Grand Parade Held to Celebrate World Falun Dafa Day and Master's Birthday
(Minghui.org) On Saturday, May 7, 2022, Falun Dafa practitioners in Quebec, Canada, held a grand parade to celebrate the 30th Anniversary of the public introduction of Falun Dafa and Master Li Hongzhi's birthday.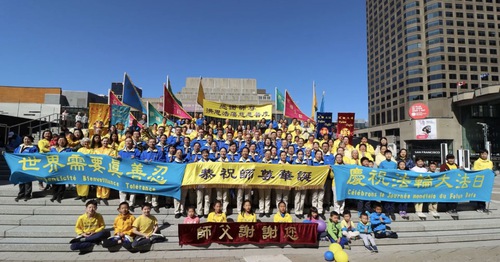 Practitioners wish Master Li a Happy Birthday.
Government Officials Send Congratulatory Letters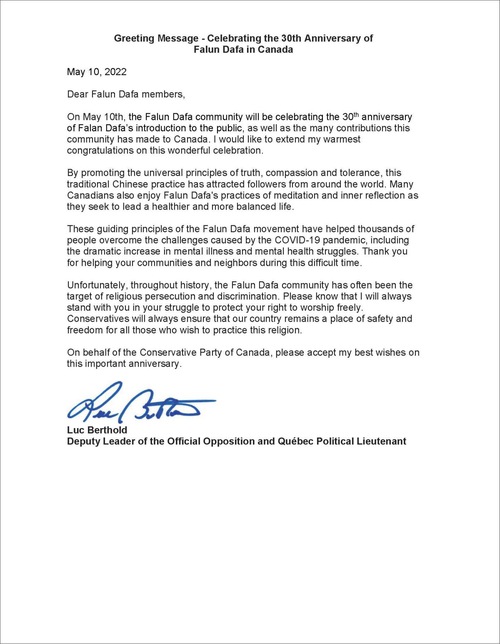 Deputy leader of the official opposition and the Quebec Political Lieutenant Luc Berthold thanks practitioners for their efforts to help local citizens through the COVID pandemic.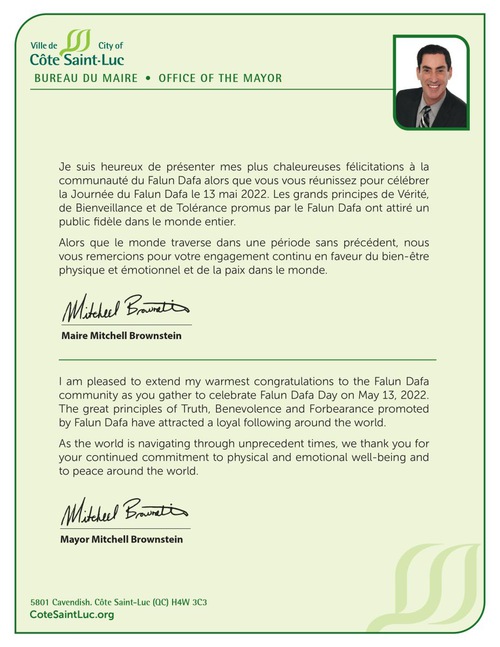 Mitchell Brownstein, the mayor of Côte Saint-Luc, thanks Falun Dafa for its contribution to world peace.
The parade, consisting of practitioners' Tian Guo Marching Band, a banner team, and exercise demonstration, kicked off at 2 p.m. It started from the heart of Quebec, went through the busiest streets, and ended at the art center.
Alain Marcotte, a local bus driver, thanks Falun Dafa for changing his life.
In 2003, Alain Marcotte discovered Falun Dafa on the Internet. When he learned there was a practice site near his home he decided to learn the exercises.
After practicing, he met a tough new neighbor, who threatened to hit him in the head with a shovel, and twice drove the truck into the sidewalk, almost knocking his wife down. In accordance with Falun Dafa's teachings of tolerance, he never fought back.
He is grateful to Falun Dafa for bringing him peace and kindness. "It was Master's teachings that changed my life," he said, "If I hadn't practiced Falun Dafa, I would have clashed with them and fought endlessly."
Not only did he not resent his neighbor, he also kept good thoughts about him in his heart. After four years, the neighbor's attitude suddenly changed overnight, and he became friendly and respectful towards Alain.
Alain said that practicing Falun Dafa made him more calm and patient, "Thank you, Master, for passing on Falun Dafa to us. I feel very happy and lucky to be able to cultivate Falun Dafa."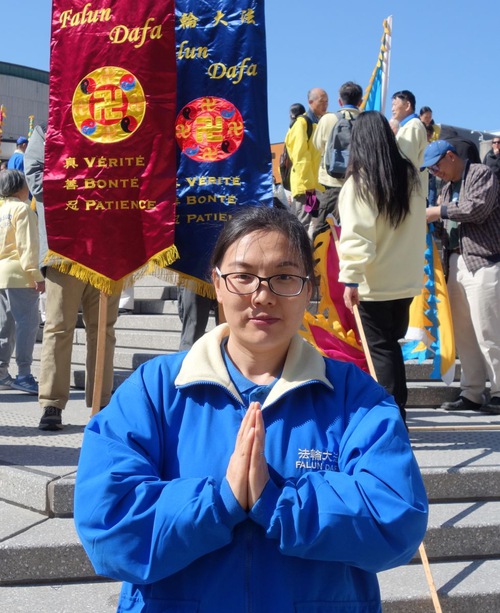 Ivy thanks Master Li for teaching people how to follow Truthfulness-Compassion-Forbearance.
Ivy, a local data analyst, said when she was young, she had a thought: social morality is deteriorating, and people in the future will have disasters. She always felt anxious and uneasy throughout her childhood, and she was always looking for a way out.
When she saw the three words Truthfulness-Compassion-Forbearance for the first time in Zhuan Falun, the main book of Falun Dafa, at the age of 15, her heart suddenly felt at ease. She decided to be a good person according to these principles.
She sincerely hopes that people in mainland China, who did not yet understand Falun Dafa, also known as Falun Gong, are able to put aside their prejudices, open their hearts, understand what Falun Dafa is, and give themselves a beautiful and peaceful future.
She is infinitely grateful to Master and said, "I know that I still have many attachments, but I know that as long as I have the desire to be good, and constantly assimilate to Truthfulness-Compassion-Forbearance, I am walking on a road back to the truth. I wish Master a happy birthday."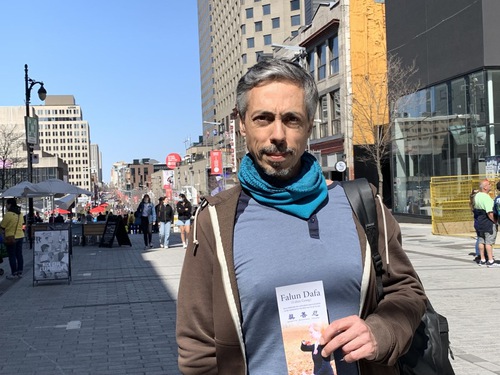 Oscar, a local resident who works in the movie industry, wants to tell people around him about the persecution of Falun Dafa that he learned from the parade.
Mounif is happy to see the parade.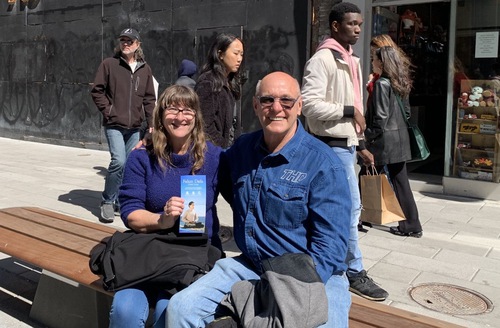 Diane Plouffe thanks practitioners for bringing beauty and peace through the march.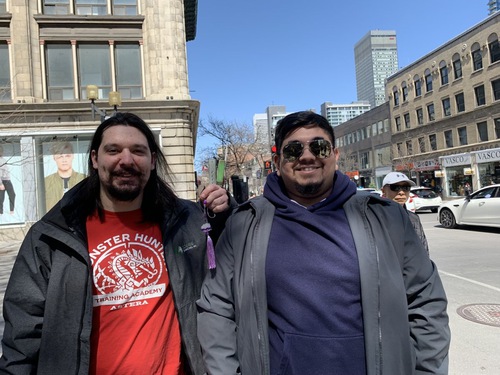 Marouf Zaid (right) supports practitioners' effort to end the persecution.
Marouf Zaid, a local financial counselor, said, "I know that many people who believe in Falun Dafa in China have been persecuted and killed and these have not been reported."
"Practitioners can only practice freely outside of China. It is very good that they can show their faith in a country like ours. The parade showed people that they were united and still firmly believed in Falun Dafa."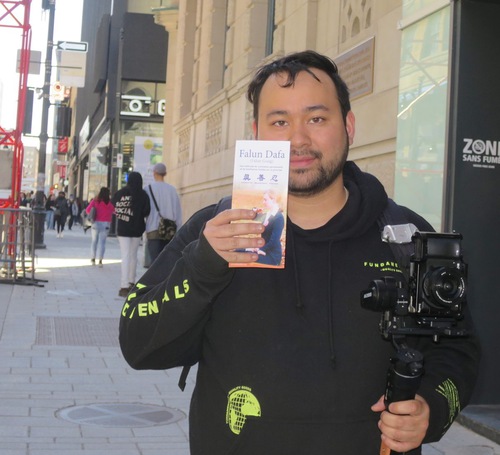 Local resident Julien Lapointe likes the principles of Truthfulness-Compassion-Forbearance.
Background: What Is Falun Dafa?
Falun Dafa (also known as Falun Gong) was first introduced to the public by Mr. Li Hongzhi in Changchun, China, in 1992. The spiritual discipline is now practiced in over 100 countries and regions worldwide. Millions of people who have embraced the teachings—which are based on the principles of Truthfulness, Compassion, and Forbearance—and learned the five exercises have experienced improved health and well-being.
Jiang Zemin, former head of the Chinese Communist Party (CCP), perceived the spiritual discipline's growing popularity as a threat to the CCP's atheistic ideology and on July 20, 1999, issued an order to ban the practice.
Minghui.org has confirmed the deaths of thousands of practitioners as a result of the persecution over the past 22 years. The actual number is believed to be much higher. More have been imprisoned and tortured for their faith.
There is concrete evidence that the CCP sanctions the harvesting of organs from detained practitioners, who are murdered to supply the organ transplant industry.
Under Jiang's personal direction, the CCP established the 610 Office, an extralegal security organization with the power to override the police and judicial systems and whose sole function is to carry out the persecution of Falun Dafa.
All content published on this website are copyrighted by Minghui.org. Minghui will produce compilations of its online content regularly and on special occasions.