Delaware, United States: State House of Representatives Issues a Tribute to Celebrate World Falun Dafa Day
(Minghui.org) May 13 is World Falun Dafa Day and the 30th anniversary of Falun Dafa's introduction to the world. The Delaware State House of Representatives issued a tribute to celebrate World Falun Dafa Day. 

From left to right: Speaker Peter C. Schwartzkopf, State Representatives Debra Heffernan and Michael Smith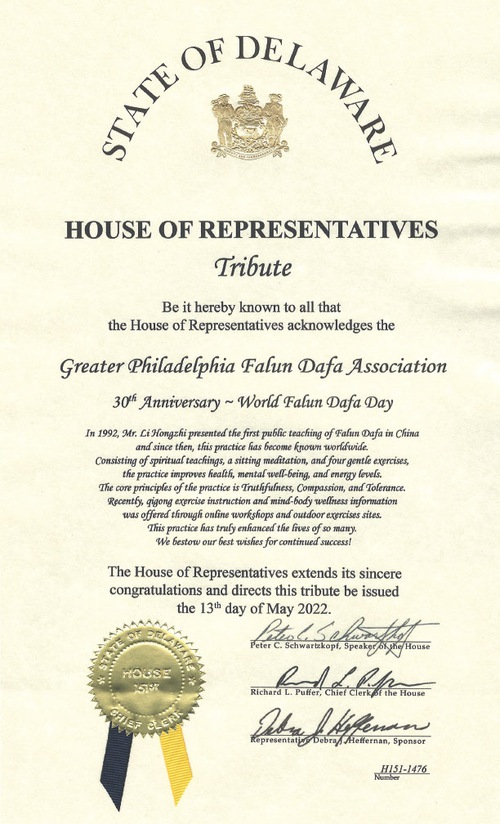 Tribute from House of Representatives, State of Delaware
The tribute reads, "In 1992, Mr. Li Hongzhi presented the first public teaching of Falun Dafa in China and since then, this practice has become known worldwide. Consisting of spiritual teaching, a sitting meditation, and four gentle exercises, the practice improves health, mental well-being, and energy levels. The core principles of the practice is Truthfulness, Compassion, and Tolerance. Recently, qigong exercise instruction and mind-body wellness information was offered through online workshops and outdoor exercises sites. This practice has truly enhanced the lives of so many. We bestow our best wishes for continued success!"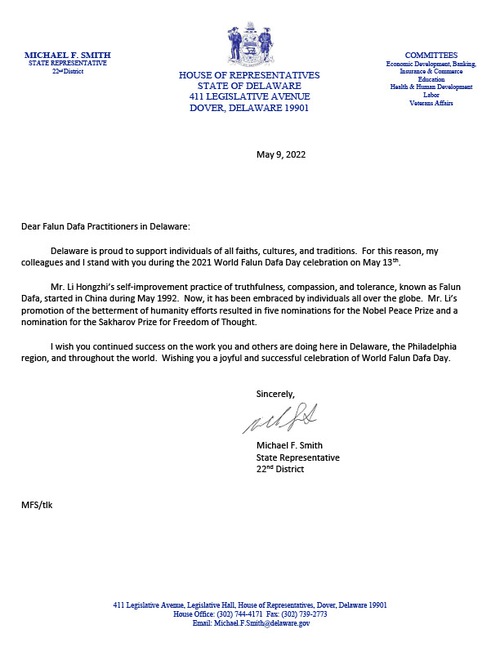 Letter from Representative Michael F. Smith
Representative Michael F. Smith stated in his letter, "Mr. Li Hongzhi's self-improvement practice of truthfulness, compassion, and tolerance, known as Falun Dafa, started in China during May 1992. Now, it has been embraced by individuals all over the globe. Mr. Li's promotion of the betterment of humanity efforts resulted in five nominations for the Nobel Peace Prize and a nomination for the Sakharov Prize for Freedom of Thought." 
All content published on this website are copyrighted by Minghui.org. Minghui will produce compilations of its online content regularly and on special occasions.