Chicago: Falun Dafa Practitioners Celebrate the 30th Anniversary of Falun Dafa's Public Introduction and Express Their Gratitude to Master
(Minghui.org) "Dafa practitioners in Chicago wish Master Li a happy birthday! Falun Dafa is good! Truthfulness-Compassion-Forbearance is good!"
Falun Dafa practitioners in the greater Chicago area gathered beside Lake Michigan on May 7, 2022, to express their gratitude to Falun Dafa's founder, Mr. Li Hongzhi. The practitioners held a group exercise session in lakeside park to celebrate the 30th anniversary of Falun Dafa's public introduction. The peaceful and graceful exercise movements attracted many people and tourists to watch and learn more about the event.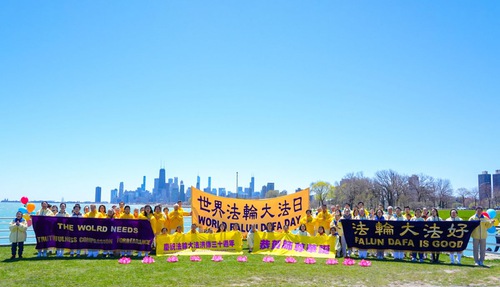 Practitioners from the greater Chicago area celebrated the 30th anniversary of the introduction of Falun Dafa to the world and wished Master a happy birthday on May 7, 2022.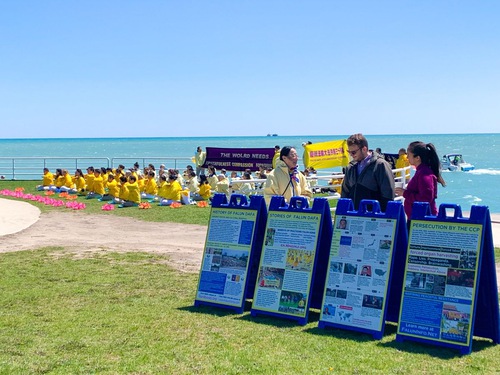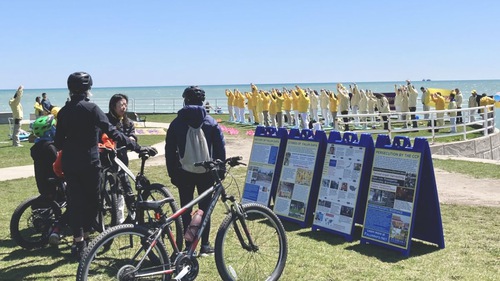 Practitioners held a group exercise session by Lake Michigan, and many residents stopped to find out more about Falun Dafa.
Thank You Falun Dafa for Returning My Health!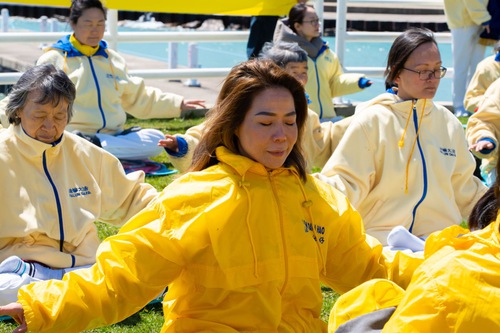 Savina Tran
Ms. Savina Tran, who has lived in Chicago for 32 years said that her life hit rock bottom in 2021. However, in that year, she also started her cultivation in Falun Dafa.
That year, apart from going through a rough time with her family and marriage life, Ms. Savina also experienced health anxieties, something she had never experienced in the past.
"I became sick, and did not get better for 6 months, I often fainted for no reason. A second before I may be walking and the next second, I would faint. After that, for 10 or even 20 minutes, I was unconscious."
Ms. Savina shared that these fainting spells happened once every week. Apart from fainting, she would often suffer from headaches and dizziness. There were at least 7 times when she was taken to the hospital's emergency department. "However, the worst throughout these 6 months was that I had been visiting doctors and hospitals. Yet, none of the doctors was able to diagnose what was wrong with my body!"
Ms. Savina did not dare to drive as she was afraid that she might faint while she was driving. She took the test that the doctors suggested, but the situation did not improve.
"One day, I lay on the bed to browse on my mobile phone, "she said. Suddenly, a thought came into my mind telling me to call my aunt. My aunt reminded me during that call that she had already given me the book Zhuan Falun about five or six years ago. She suggested that I take a look at this Falun Dafa book." During the four days after that, Ms. Savina finished reading Zhuan Falun and started to cultivate Falun Dafa. After cultivating for about a month, her fainting and dizzy spells disappeared. The headaches also gradually disappeared."
Ms. Savina said, "Now, I feel that 2021 is the best year of my life. Since I started cultivating in Falun Dafa, my life and my living state all started to change."
"Cultivating Falun Dafa helped me become a better me!"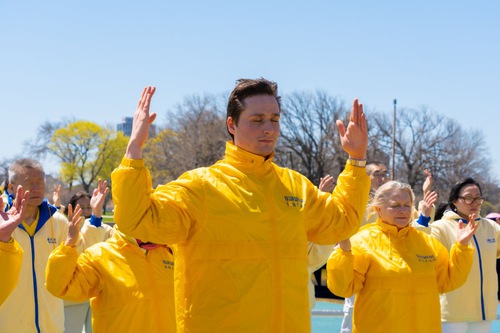 Jasha Sommer-Simpson
Mr. Jasha Sommer-Simpson is a computer engineer, who is also starting his own business. He thanked Falun Dafa's Master for introducing Dafa to the world.
Mr. Jasha Sommer-Simpson said, "I want to thank Master for bringing us such a wonderful cultivation practice. Given this cultivation, I felt peace and bliss. Cultivating Falun Dafa also helped me let go of my stubbornness. I am able to get along better with my family and friends now. My father even said that since I started practicing Falun Dafa, I've become a person who shows more responsibility."
"I finally understood what cultivation is!"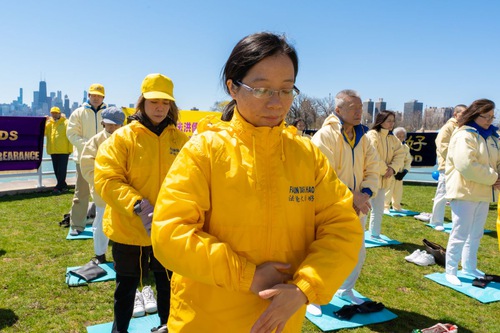 Ms. Van Quach
Ms. Van Quach, who is Vietnamese, works as a product manager in a software company. Before cultivating Falun Dafa, she often had health problems due to the great stress from her computer-related work. She took all sorts of tonics to improve her condition. To her, although the tonics showed some effects quickly, the illness symptoms came back very quickly, too.
Ms. Quach said, "After cultivating Falun Dafa for just a short few months, my immune system and health turned for the better. I always feel that I am full of energy such that I can work during the day and when needed at night without feeling tired. At times when I do well in my cultivation, Dafa gave me a lot of wisdom which helped me complete my work faster, and my work efficiency improved significantly. Needless to say, I enjoy my life very much every day because my psychological life keeps improving every day."
Since she was young, Ms. Quach lived in a family environment that believes in Buddhism. Therefore, she has heard many things about fortune-telling, Fengshui, or spiritual phenomenon. However, her knowledge of Buddhism was just superficial.
She said, "After learning Falun Dafa, apart from understanding how to make myself become a truly good person, I finally understood what cultivation is and the purpose of cultivating. No words can describe my gratitude for Dafa's Master!"
"The Principles of Truthfulness, Compassion and Forbearance is the guiding light for the world"
It has been 26 years since Mr. Tu Jingan heard about Falun Dafa from his relative in 1996. Mr. Tu said that what left the deepest impression on him is that Falun Dafa not only improves people's health, but the practice also teaches people how to follow the principles of Truthfulness, Compassion, and Forbearance, and to be a good person. For those people who want to cultivate to a higher realm, Dafa also displays higher and more sophisticated Fa principles.
"In this chaotic world today, morals and virtues are generally going downhill, and war and pandemics are happening at the same time. The great harm that all these phenomena bring to the world has never been seen before. People are losing their direction in life and cannot see hope for the future. Actually, the principles of Truthfulness, Compassion, and Forbearance that are being taught by Falun Dafa are the guiding light for this world."
All content published on this website are copyrighted by Minghui.org. Minghui will produce compilations of its online content regularly and on special occasions.